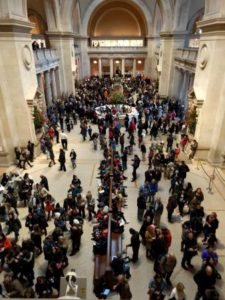 I won't link to all the stories on the Metropolitan Museum's new policy of charging out-of-state residents $25 for daily admission – if you're reading this you've seen them already. Here are few additional considerations:
A common refrain is that the museum can "afford" to have free admission for all, either through better management of costs, or through increased donations from the very rich. I don't doubt this. But is it a good idea? When a museum chooses free admission it is making a choice on how to use its limited resources. It is sacrificing revenue – and in this case we are talking about $millions per year – it would otherwise have, and which could have been used for another purpose, whether in research, restoration, targeted free admission for specific groups, or in such mundane things as office and cleaning staff. It might be a good choice for some museums, but it is a choice. If Joe and Jane from Rhode Island would have been willing to pay $25 each to visit the museum, and they are let in for free, that's $50 less for other things. This is true regardless of how wealthy your donors are, or how much more one thinks they could give. "If only very wealthy donors gave more we could have free admission and not cut other things" is true, but it doesn't necessarily mean that would be the best use of those additional donated funds. If someone wants to argue for free admission, they need to make the case that it would be the best use of new money to let Joe and Jane in for free than to use the funds for other purposes.
Second: when Joe and Jane visit the museum, they are imposing costs: it's a crowded place (at least in my experience), and additional visitors increase the crowding, and lessen the enjoyment for other visitors. A study by Maddison and Foster of the British Museum found the "congestion costs" imposed by an additional visitor to be non-trivial. For many visitors, increasing the admission charge can actually leave them better off. Not all museums are crowded, and so this doesn't apply everywhere. But it certainly does apply to large, metropolitan "superstar" museums, and ought to be an additional consideration. There's a reason no one is calling for free nonprofit theatre or orchestra tickets – space is limited.
Here's an older post of mine on the subject (spoiler – I keep saying the same thing).