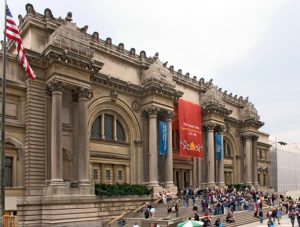 The New York Times reported that the Metropolitan Museum of Art is looking at options to make its "suggested" entry fee into something a little stronger than a hint, at least for people who live outside the city or state. A few years ago Derek Thompson reported that about six out of ten visitors do not pay the full suggested fee, and so the numbers at stake are large.
What can we say about this? It's a bit over the top to refer to charging those visitors who reside outside the local tax base that supports the museum, but not residents, as "xenophobia"; many cities do this, and to my knowledge state higher education systems charging differential tuition fees to out-of-state students are not subject to the charge of xenophobia.
But consider another aspect: why should visitors pay anything when the museum has such a large endowment, largely financed by the very rich. Why not let the 0.1% pay? I wrote about this in a recent paper of mine on museum pricing, and here's what I had to say:
…if a museum suddenly had a significant financial asset that it did not previously have, would moving to free admission be the best use of the returns from that asset? There are opportunity costs, in terms of other types of programming that could be financed from the asset sale, such as covering the costs of lending (or giving) works to smaller, poorer museums, programs for school children, creation of studio space and workshops, expanding paid internship programs, and so on. That some museums may be sitting on collections-in-storage [or endowments] that could be used as an asset to fund free admission does not in itself make free admission a sound use of funds.

There is an interesting parallel with the case of wealthy universities. In what has become a very publicly contested election to Harvard University's Board of Overseers, one slate of candidates has taken the position that Harvard's endowment of over $36 billion generates so much revenue that there is no reason to charge tuition to any undergraduates (New York Times 2016; The Economist 2016). The arithmetic of Harvard's being able to afford free tuition is beyond dispute. Harvard, like most large American universities, already engages in significant variation in net tuition (tuition minus gift aid) at the individual student level (Waldfogel 2015), and the option of free tuition for all is "affordable."

Without wanting to overegg the analogy, the use of the financial returns from Harvard's endowment, like the returns to the endowment of a museum, comes with opportunity costs. It is not enough to say free tuition (or admission) is feasible given the wealth of the institution; we also must ask whether it is a prudent use of funds given the alternative possible uses.
So, yes, many large museums could manage with free admission. But that's a choice on the use of endowment proceeds with an opportunity cost. Is it the best use of those resources? Maybe it is, but consider the alternatives. I'm not sure the Met giving me free admission, when I'm perfectly willing to pay, is optimal.