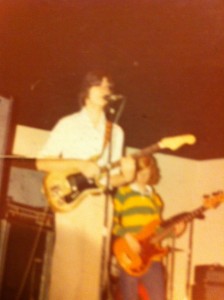 A few folks now have linked to the fascinating piece by Jack Conte of the band Pomplamoose (the high-school French student in me smiles) on an accounting of the costs and revenues, to the dollar, of mounting a month-long tour. Spoiler alert: even with good crowds, they lost money (just under $12k). Their three revenue sources of ticket income (just shy of $100k), net revenues from merchandise (small) and a small sponsorship couldn't meet the costs of mounting the tour, with all the production and labor and contracting costs. The piece is not a dirge in the least:
But this isn't a sob story. We knew it would be an expensive endeavor, and we still chose to make the investment. We could have played a duo show instead of hiring six people to tour with us. That would have saved us over $50,000, but it was important at this stage in Pomplamoose's career to put on a wild and crazy rock show. We wanted to be invited back to every venue, and we wanted our fans to bring their friends next time. The loss was an investment in future tours.
This seems sensible to me – the tour was not really expected to make money, but (1) it might pay off in the future, with more audience (and willing to pay more for tickets), although no guarantees there, and (2) it's fun to be in a band.
Neither of these are new to the music economy – I knew a lot of people in bands in Vancouver in the 1970s and the previous paragraph held true for all their ventures then as much as it does now: it costs money to roll this particular pair of dice, but it's worth a shot.
And so I think blog neighbor Scott Timberg gets it wrong here when he writes, in response to the Pomplamoose article:
If you've followed the debate about the post-label, post-album music world, you've heard the cries of the optimists: Just get in the tourbus! Even digital utopians will concede that revenues from recordings are way down, but they assure us that bands can make up the different by playing shows. It is part of a larger neoliberal gospel that says all that creative types need to do about the rigged new economy is to "adjust."
I'm not sure where to find that chapter in the gospels, but no cultural economist I know has ever said that bands can make it if only they tour. It's true that revenue sources have shifted towards a greater share from performance relative to recordings, but that doesn't mean success awaits all those who put a deposit down on a tourbus. A tiny percentage of bands will ever make – have ever made – money, and that's not a fact that resulted from Spotify or a rigged new economy. Trying to make it is a gamble, just like trying to make it as a professional athlete, or a novelist or playwright or actor, but it's fun and the rewards are big if you do end up at the summit, if only briefly. That's the economy, old and new. And people who never quite get to the position where they can earn money at this eventually move into day jobs, some interesting, some boring. But nobody serious ever said if you just take the band on the road it will pay off.