Merce Cunningham Dance Company / BAM Howard Gilman Opera House, Brooklyn, NY / December 7-10, 2011
In addition to showing us wonders we'd never even dreamed of, Merce Cunningham (1919-2009), that inscrutable genius of modern dance, taught us a tough, valuable lesson: Dance is not forever. Its very evanescence increases its intensity at the moment of performance. It may register profoundly with the spectator but it inevitably disappears. Cunningham knew this and he made his plans.
Members of the Merce Cunningham Dance Company
Photo: Julieta Cervantes
According to the reports circulated after his death in 2009 (which are now, unsettlingly, being re-examined), the choreographer had decided that, once he was gone, the Merce Cunningham Dance Company would dissolve. The repertory that Cunningham had created for it was to be made available to other qualified companies, with a former Cunningham dancer sent to stage and coach it. The recipient company would also be given information in text and visual form to help make the production as "authentic" as possible. (This process has already been tried out with American Ballet Theatre's performances of Cunningham's Duets, staged by Patricia Lent, during its week-long season at the City Center in November.)
Further, MCDC would begin a "long goodbye" by touring the world for two years. This is now all but accomplished. The penultimate performances of repertory–Roaratorio, Second Hand, BIPED, Pond Way, RainForest, and Split Sides–just took place at BAM. A week of shows in Paris follows. Still to come are six Events (Cunningham's familiar kaleidoscopic arrangements of excerpts from his dances) to be held in New York's Park Avenue Armory, December 29-31. Foreseeably the company's most ardent fans will be spending New Year's Eve cheering and weeping as they witness the end of something immensely important and the beginning of something unknown.
Meanwhile, some comments on the performances at BAM, where the spectators in the packed house focused laser-beam attention on a community of glorious dancers nurtured by a grand master. Come New Year's Day, most of them will be unemployed.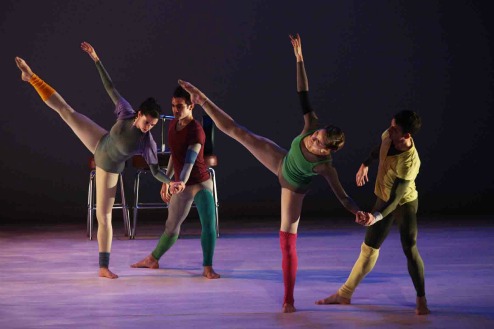 Roaratorio: Desjardins, Riener, Weber, Crossman
Photo: Julieta Cervantes
The first of the programs given at BAM was devoted solely to Cunningham's hour-long Roaratorio, created in 1983. It was a perfect choice because of its ebullience, its sheer joy in the fertile–even crazy–mix of the casual happenings that constitute everyday, ordinary life. The full title of the John Cage score that plays in tandem with the choreography gives a "local habitation and a name" to the culture the dance evokes: "Roaratorio, An Irish Circus on Finnegans Wake." The reference, of course, is to James Joyce's unconventional epic novel, set in Dublin.
The Irish strain crops up continually in Cunningham's dance, most obviously in the airy, precise footwork that relates to Ireland's traditional step dancing and in the casual embraces of folk dancing, such as the Irish jig. The costumes, however, tell a different story. They're sleek, bright-hued rehearsal outfits, with three different colors allotted to each body. The performers add to and subtract from this get-up in the wings, which have been bared so we can see ostensible off-stage activity simultaneously with the onstage performance. When they're officially onstage, a few dancers at a time spell themselves by perching on high stools, where they look like mid-20th century teens at the soda shop, eyeing their peers.
Throughout this long dance there isn't a moment when the steps and the incessantly shifting stage patterns aren't interesting. They may suggest this or that kind of situation to you or make you feel this or that, but these effects (or even their possibility) aren't essential. What counts is that the 14 moving bodies of the piece and their relationships to one another and to the space they're in seize your attention and refuse to let it go. Meanwhile, Cage is supplying the sounds of urban street life: infants wailing, dogs barking, chatter in various languages, the rumble of traffic, laughter. The entire affair is brims with vitality.
A musical note: As is Cunningham's standard practice, Cage's score for Roaratorio was created independently of the choreography. The relationship of what we see and what we hear in a Cunningham production is that the two elements, created separately, share a chunk of time. In the case of Roaratorio, however, the music was not commissioned by Cunningham, as is usually this choreographer's practice, but created in 1979; Cunningham adopted it for his production. And, certainly, the two elements seem to be fused, not by the dancers' setting their moves to the score step for note, but in what looks like a celebration of the same matter in two different but miraculously compatible languages.
It's hard to resist reading a story–a terribly old-fashioned one–into the 1970 Second Hand. I didn't resist, just happily gave in to temptation. I took the piece to be about an aging artist who, having achieved marvelous things in his prime, is now looking at the person he has become and the role he has played in his relation to the rising generation. Admittedly, the theme I imagined is hopelessly corny, yet Cunningham's choreography is all subtle understatement.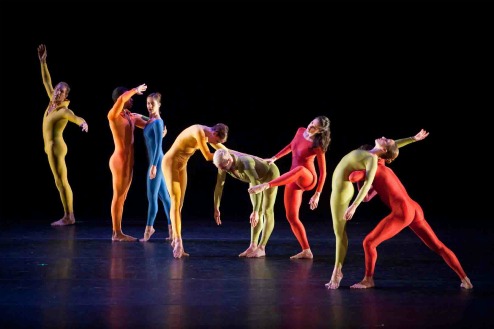 Second Hand: (far left) Robert Swinston
Photo: Stephanie Berger
Second Hand opens with a remarkably long solo for Robert Swinston, in pale practice clothes. Swinston is, quite visibly, the company's senior member and has become a key figure in its administration. Here he's performing the role Cunningham choreographed for himself. He remains center stage, all but rooted in place, trying out minuscule moves that displace a part of his body just a few inches. In the solitude of the huge blank stage space, he seems to be examining the enormous differences such small distinctions make. Intermittently he tries out challenging balances that suspend him calmly between earth and air, that space being a dancer's true environment.
The light that falls on him brightens; a woman in rose enters, all springtime buoyancy. Swinston watches her from far upstage, as if not to disturb her lovely aura, and finally she comes to him. May and December, they run side by side, faster and faster, their path an oval loop, until she suddenly breaks away, leaving him alone.
Now a bevy of dancers floods the stage. Swinston keeps to the background, observing them intently. He might be their creator or director. Eventually he integrates himself, partially, into their dance. Finally he rests on the ground, half reclining, like an ancient Greek statue, admiring the moving figures and their ravishing arrested poses.
Gradually–as if inevitably–the dancers pace off into the wings, leaving slowly, one by one. Alone once again, Swinston, the "Merce" figure, stands center stage, feet planted well apart, legs and chest stretched taut, arms lifted high. It's a pose of heroic triumph, but somehow without ego.
John Cage's score for this piece, which the composer archly called Cheap Imitation, came into being when he was refused permission to use Satie's Socrate for Cunningham's choreography. Inventively Cage kept the structure of the Satie, while altering its pitches through chance procedures.

BIPED
Photo: Stephanie Berger
The dance I enjoyed least on the BAM programs was BIPED (1999). Its title is the name of the motion-capture system that Cunningham used to choreograph once his own range of movement had been severely diminished by arthritis. Mind you, there was nothing to suggest the mechanical in the way the dancers moved, as one might have expected. What I found so off-putting was Cunningham's insistence on calling the wrong kind of attention to the tool that served him so well. He used it as decor, projecting BIPED's drawn moving images, as well as unrelated drivel that might have come from a Colorforms kit, onto a front scrim that remained obdurately in place throughout the piece. The scrim itself mildly obscured the live dancers behind it, diminishing their physicality and making them look far away.
Perhaps because these factors milked life from the dance, BIPED ran the risk of other Cunningham pieces that seem too repetitive and/or too long–it let your attention flag. Aaron Copp's lighting, which bronzes the dancers' flesh, is fine, and Suzanne Gallo's costumes are superb–variously cut unitards in fabric that lends its panoply of jewel tones a metallic glaze. I love the moment in which the dancers add gauzy grayish jackets to their outfits, making you think of brightly-hued butterflies setting time in retrograde by creeping back into chrysalis form.
The music was by Gavin Bryars.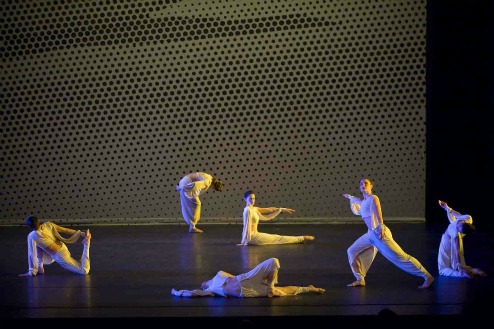 Pond Way
Photo: Stephanie Berger
Like several important choreographers of the Pacific Northwest (Trisha Brown and Mark Morris come first to mind), Cunningham was acutely tuned to the workings of nature. His 1998 Pond Way, which opened the third and final repertory program at BAM, finds him turning toward the gentle and lyrical. Thirteen dancers clad in a white version of Arabian Nights garb move softly and lightly, their "landscape" an infinitely pleasing backdrop by Roy Lichtenstein that suggests rippling water through an ordering of black dots against a pale ground. Tucked, almost invisibly, into a corner, there's a rough sketch of one end of the crudest fishing boat imaginable (complete, however, with fisherman).
Gradually the dancers, whose footfalls make no sound, persuade the viewer that they're a flock of creatures–insects, fish, or birds seem most likely–whose little society retains its own communal life, all the while being embedded among a host of other groups sharing the same territory.
As it runs its course Pond Way offers many an opportunity to observe tactics that Cunningham invented or co-opted for his choreography. For one example: Five women do a particular phrase in unison, but each displays herself to the viewer at a different angle so that the phrase looks different on each, while remaining, strictly speaking, the same. For another: A group of dancers working together suddenly divides its function into two complementary parts. Some of the dancers, still moving busily but now rooted in place, become a maze; the remaining dancers become Theseus-clones, threading their way through it.
Finally a group exits, one dancer after another, performing a striking version of classical ballet's grand jeté (the leap adds a minute but brilliant flash of motion when it reaches its height). When the last leaper goes, the dance is over, as a school of fish or flock of birds vanishes if something disturbs the element in which it swims or flies. That finish seems abrupt if you love this dance, because you wish (expect, even) that it could go on forever as do the processes of nature.
Brian Eno's score for Pond Way is peaceful yet haunting. It suggests the cries of animals, howling winds muted by being distant, gongs echoing through endless corridors.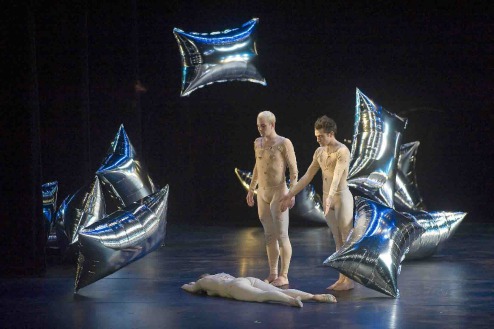 RainForest: (standing) Brandon Collwes and Silas Riener; (prone) Krista Nelson
Photo: Stephanie Berger
The 1968 RainForest offered a diametrically opposite view of nature–a tooth, claw, and sex version. Andy Warhol's stunning decor is, in a way, a distraction from what's going on among the proto-humans onstage. It consists of a flock of gleaming Mylar pillows, inflated to the bursting point. Some hang from above on all but invisible threads. Others loll on the stage floor (at times, spookily, just inches from it), moving lazily or in instant retreat as the cast of six makes arbitrary contact with them. The dancers wear skin-toned, roughed-up body stockings; Warhol had wanted them nude.
An initial couple seems to represent lovers-in-innocence until the twosome is disturbed by a violent man whom the woman takes quite a shine to. After that intrusion one figure replaces another in La Ronde fashion and the sexual activity becomes a sensuous account of unquenchable lust, trailing brutality in its wake. Memorable images include a pairing in which a man drags himself painfully across the floor on his belly with a spent woman laid out on top of him; they seem to be made of one flesh. Another is the appearance of a woman who's an iconic Lilith, her thick dark hair whipping around her face like a curtain of evil. She's swift, avid, and utterly reckless.
The animal cries that emanate from David Tudor's score reinforce the feral behavior of the people. The soundscape also includes birdsong, whistles, drumming, and other forms of percussion.
Obviously, this stunning piece is open to many another interpretation. No matter what one's reading of it is, it remains a forceful argument against the notion that all Cunningham's works are the same.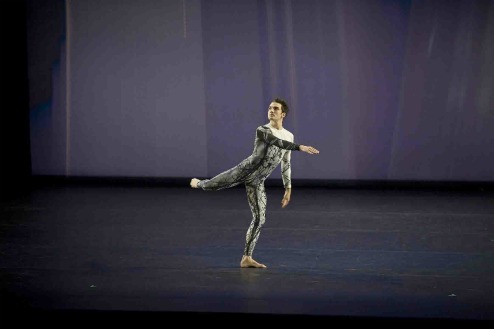 Split Sides: Silas Riener
Photo: Stephanie Berger
As a preface to Split Sides, the final work in the BAM series–presumably the last New York would see of Cunningham's repertory as performed by his own company–David Vaughan, the troupe's archivist, presided over a passel of VIPs' casting of a die. The results would determine the order of the two versions that had been created for each of the elements in the production–choreography, music (one score from Radiohead, the other from Sigur Rós), costumes, decor, lighting. Making this invitation-to-chance a public stunt instead of a privately used creative tool struck me as a lapse of taste uncommon on Planet Merce.
From its premiere in 2003, I thought Split Sides a lamentable effort to make Cunningham appear "with it," when this choreographer had been Mr. With It himself from the start of his career. Only Vaughan could have made the public die-casting palatable. Not only a distinguished dance writer but also a dapper veteran performer, Vaughan was witty and utterly compelling. I'm not going to comment further on Split Sides; what I wrote about it just after its premiere is what I still think. Except that, this time, Silas Riener aced a solo–reworked for his particular gifts–that had the audience gasping in amazement.
Astonishingly, when the curtain fell on the company for what was ostensibly the last time it would be performing the Cunningham repertory in New York, its home town, nothing special happened. Was this an example of elegant stoicism? The curtain calls were pretty much the same as they had been throughout the four-day run. The dancers stood shoulder to shoulder in a single horizontal line and bowed. None of them was singled out as being more important than the others. A good part of the audience stood to applaud enthusiastically. There was perhaps one extra call this time, maybe two. No flowers were presented onstage or thrown from the audience. One dancer kept gesturing toward the musicians in the pit. Then the curtain fell for good and that was it. At least for now.
The performers for the BAM engagement were: Brandon Collwes, Dylan Crossman, Emma Desjardins, Jennifer Goggans, John Hinrichs, Daniel Madoff, Rashaun Mitchell, Marcie Munnerlyn, Krista Nelson, Silas Riener, Jamie Scott, Robert Swinston, Melissa Toogood, and Andrea Weber. They are remarkable in themselves and even more so as a collective.
© 2011 Tobi Tobias