New York City Ballet: Ocean's Kingdom / David H. Koch Theater, Lincoln Center, NYC / September 22, 24, 25, 27, 29
Much touted in advance, New York City Ballet's just-premiered $800,000 Ocean's Kingdom is a once-in-a-lifetime (please, god) collaboration by Paul McCartney (first a Beatle, now a knight) and Peter Martins (first a superb dancer, now a company director, a choreographer, and a Danish knight to boot).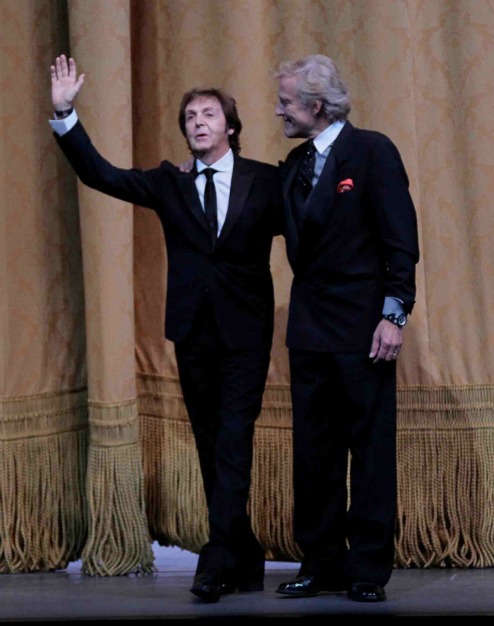 Pas de Deux No. 1: Paul McCartney and Peter Martins, creators of Ocean's Kingdom for New York City Ballet
Photo: Paul Kolnik
On the side of Good in the new ballet is an undersea population devoted to peace and love, featuring Princess Honorata (Sara Mearns). Representing the Bad–aggression, abduction, violence, and threatening hair-do's–are the invading terrestrials, among whom the only nice guy is Prince Stone (Robert Fairchild). He falls in instant, Romeo & Juliet-style love with the Princess, and of course she, requiring a shade more persuasion, with him. But his nasty elder brother, King Terra (who plagued these characters with their names?) wants this trophy naiad for himself.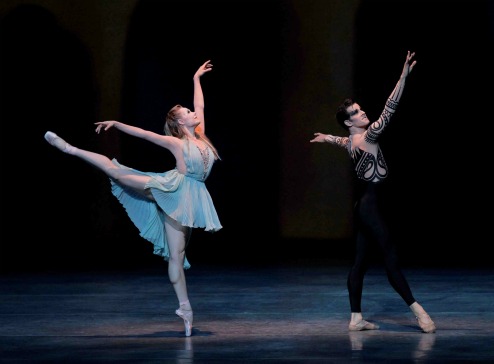 Pas de Deux No. 2: Sara Mearns and Robert Fairchild, heroine and hero of Ocean's Kingdom

Photo: Paul Kolnik
When the ballet winds down its 55-minute reign, it ends happily, without for one moment having earned the right to call itself a fairytale, its dramatic and emotional range being picayune. Real fairy tales–a powerful literary genre–take good and evil seriously and enact them with force. Observe any kid in their thrall.
When it comes to classical-music credits on his résumé, McCartney's been there and done that for nearly a decade. Nevertheless, his score for Ocean runs the gamut from movie music to faux-Broadway. The fashion designer Stella McCartney, daughter to Sir Paul, did the costumes, which range from limply imagined blue tunics for the ladies from the sea to gaudy tattooed cat suits for "The Baddies," as the composer deftly nicknamed them. The scenery, for which the program blames Perry Silvey, is weightless, almost non-existent, consisting of unconvincing projections. Does the feeble decor reflect City Ballet's making a last-ditch gesture toward keeping expenses down just in case the ballet fails to prove immortal?
The pre-curtain efforts of the City Ballet's chief music man Fayçal Karoui and his orchestra to make a case for the score were well brought off but unconvincing. The little teaching session served to fill in time because, I'm told, McCartney refused to have any other ballet share the gala opening-night program, (not even Balanchine's Union Jack, which was originally scheduled).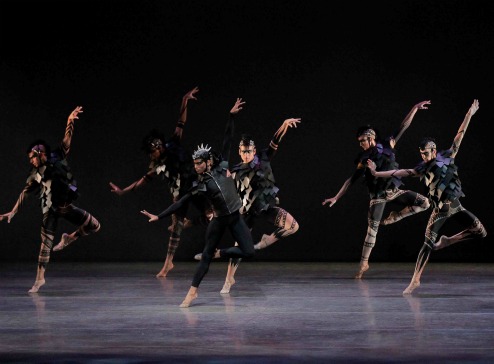 "Baddies": Amar Ramasar (in black tights) heading up the gang of villains in Ocean's Kingdom
Photo: Paul Kolnik
The choreography is instantly forgettable. Even the magnificent Sara Mearns offers merely a stymied sampling of the gifts that make her one of the most riveting dancers of our time. Instead of using her full-bodied emotional power, for example, she just acts with her face, now sweetly in love (Sara Mearns? Sweetly?), now vapidly sorrowful. Her suitor, Robert Fairchild, looks benumbed by the choreographic vacuity and seems to be doing nothing beyond what he's been told to do. This is hardly the dancer–ardent, witty, alive to every event–who last year originated the hero role in the City Ballet's far-better venture into the waves, Alexei Ratmansky's Namouna.
The couple have the requisite love duets in which Mearns fleetingly recalled her fluent, sensuous, and imaginative self–and one duet that briefly suggests apache dance. Yet not a single phrase that Martins choreographed for the pair is likely to be remembered once the curtain falls.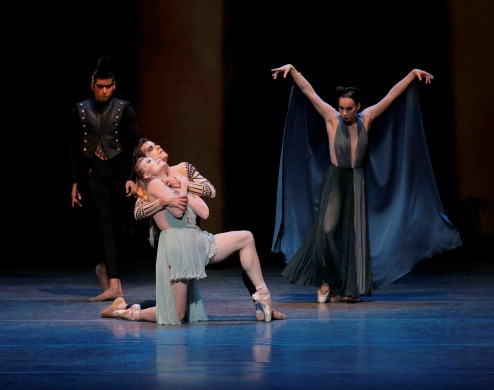 Dark Angel: Georgina Pazcoguin (r.) in Ocean's Kingdom
Photo: Paul Kolnik
The only distinguished dancing in the show came from the veteran corps dancer Georgina Pazcoguin, in the role of Scala, a handmaiden of Honorata who, for reasons negligently kept secret, first betrays her mistress and the lady's suitor, then saves their lives, sacrificing her own on their behalf.
Pazcoguin stood out among the more than 45 dancers trapped in Ocean by following her usual method of building a full persona for her character. In her starkly cut black gown she looked like a Graham dancer from days of yore, the confidante who tries to warn the heroine that the situation is dire. Needless to say, this approach didn't fit in stylistically with anything else going on, but, for me, it was the only meaningful action on stage. Pazcoguin should have been made a soloist long ago.
For some reason, there's a grand party–to pep things up with some acrobatic, exotic, and comic dancing, perhaps–but its raison d'être, plot-wise, is obscure. It features Daniel Ulbricht, the company's expert in the acrobatic mode. He shines far more, however, when he's used as a regular dancer, not a freak, or when the antics of a jester are part of the character he's dancing.
Would I recommend this product to a friend, as the Internet so often inquires? Rhetorical question. No need for a reply.
© 2011 Tobi Tobias