Mark Morris Dance Group / Rose Theater, Lincoln Center / August 18-20, 2011
Who does Mark Morris think he is, Bronislava Nijinska? George Balanchine? These superlative choreographers are among the several who preceded him in providing the choreography for Igor Stravinsky's foxy music-and-dance entertainment, Renard. Nijinska was the first to do so, in 1922, for Sergei Diaghilev's Ballets Russes. Balanchine choreographed the first American production in 1947 for Ballet Society, a forerunner of New York City Ballet. Last week Morris brought his own version, recently premiered at Tanglewood, to the annual Mostly Mozart Festival at Lincoln Center.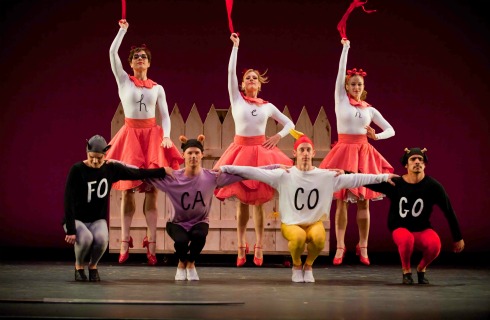 Who's Who: Members of the Mark Morris Dance Group in Morris's version of Stravinsky's Renard: (l. to r.) Dallas McMurray, Laurel Lynch, William Smith III, Jenn Weddel, Aaron Loux, Rita Donohue, Domingo Estrada Jr.
Photo: Stephanie Berger
Stravinsky based his jaunty opera-ballet on a Russian folk tale and French stories that stem from the Middle Ages. It gives a simple account of a barnyard trickster, Fox, who is typically out to capture Cock for his dinner. Cat and Goat come to their poultry pal's rescue–twice. After the second round they prevent a third by offing the villain. Of course Fox is resurrected as the ballet closes; evil is irrepressible.
In Morris's version the piece has seven dancers enthusiastically covering the original's cohort of "clowns, dancers, and acrobats." In the pit are four singers–two tenors, one baritone, and a bass–along with the Mark Morris Dance Group Music Ensemble, conducted by Stefan Asbury. The exuberant score, composed in 1916, derives from a rich mix of musical traditions ranging from folk to classical. It has a colorful, rough-hewn instrumentation featuring the cimbalom, a stringed instrument played with mallets.
The composer wrote his own libretto, which–apart from a couple of cheerfully lewd moments–would make a great comic book for the very young. (No doubt Renard's designer, Maira Kalman, has already thought of this). The piece is also said to retain a hint of satire, aimed at the clergy and aristocracy. That's hard to see today but, as in Æsop and La Fontaine, the "characters" are all animals because that has proved to be a safe device for exhibiting a spectrum of human foibles.
The Princess Edmond de Polignac (daughter of Isaac Singer, who made his fortune with the sewing machine), commissioned the score from Stravinsky for her salon. Hence, perhaps, its brevity; the piece is about 15 minutes long. Instead, Diaghilev's Ballets Russes co-opted it, staging it in Paris in 1922, with Bronislava (Les Noces) Nijinska providing the choreography. Serge Lifar choreographed the company's revival of the piece in 1929. And so on. What enticed Morris to try his hand? As so often happens, I assume, the music made him. And, as he told Robert Johnson, of the Star-Ledger, he finds Renard "interesting because of the folk references: the folk theater, and the clowning, and the tragedy."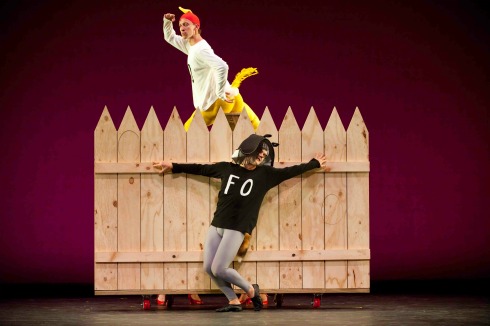 A Game of Cock and Fox: Aaron Loux (peering) and Dallas McMurray (hiding) in Morris's Renard
Photo: Stephanie Berger
The value of Morris's version lies largely in its apt and amusing details. There's little of the stuff we call choreography to ogle, but each of the animals gratifyingly moves according to its species. (You don't have to read their t-shirts, which spell out their names in a divided way, to identify them.) Cock sits atop his fence radiating self-importance (though dissolving into self-pity with quotes from The Dying Swan when the sneakily prowling Fox attacks him). Being birds of very little brain, the three Hens (Morris's addition to the romp) work as an indivisible trio, pecking at any available grain and flustered by every event. As for Cat, he is simply adorable, velvety in every pawfall.
I was especially fond of the quotes from Martha Graham, which Morris doesn't usually indulge in. Fox replicates the scuttle in kneeling position that Graham often used to indicate pleading, and the doing in of that wily fellow parodies the murder of Agamemnon in Clytemnestra. Armed with a gargantuan butcher's knife and a hangman's rope, Cat and Goat move their victim out of sight, as is the custom in classical Greek drama. While the "fatal" assault is taking place behind the picket fence, it's indicated by blood red streamers rippling frantically from the talons of the Hens.
The set and costumes were provided by Maira Kalman, author-illustrator of two blogs for the New York Times and, better yet, a series of brilliantly drawn-in-paint and whimsically written books for kids. (See the end papers of Ooh-la-la [Max in Love], which feature sketches of the Ballets Russes era, including portraits of, I believe, Stravinsky and Balanchine.)
For Renard, Kalman designed a simple set of home bases for the characters (a tactic Noguchi used for Graham). Center stage is a picket fence with disappearing peepholes, which rotates to reveal how Cock manages to sit atop it and serves as a hideout when mayhem threatens. The bright, cheery costumes look like mid-twentieth-century threads for gung-ho teens, with ears and tails as appropriate.
While Renard is merely a bagatelle, the balance of the program was devoted to a pair of recent Morris masterworks, Socrates and Festival Dance, which I wrote about here and here.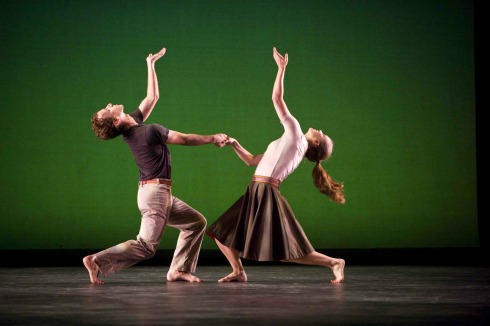 Emblems of Dancing: Aaron Loux and Rita Donohue in Morris's Festival Dance
Photo: Stephanie Berger
Even if your life seems to be full of sly foxes (and/or cunning vixens), I'm sure Festival Dance would improve your outlook. Set to a piano trio by Johann Nepomuk Hummel that cries out to be danced, its ingenious use of stage patterns (advanced math in motion) never once distracts your attention from the tender love between the leading couple, Laurel Lynch and William Smith III, and the community of six pairs to which they belong. The bond between personal and communal love is one of Morris's perennial themes and the piece expresses it touchingly.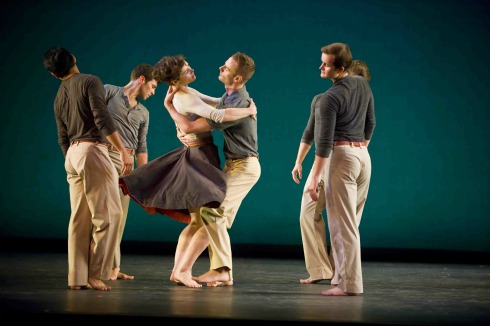 Heart to Heart: (center) Laurel Lynch and William Smith III in Morris's Festival Dance
Photo: Stephanie Berger
While Festival Dance is entirely accessible, Socrates is a profoundly subtle dance that, accompanied by Satie's reticent, haunting music of the same name, takes you into the philosopher's world and mindset. Watching the dancers represent the situation with movement that unites the sober grace of Greek statuary and literal gesture, the susceptible viewer is gradually led into experiencing Socrates' calm, courageous death just as the dancers portray it: as his or her own.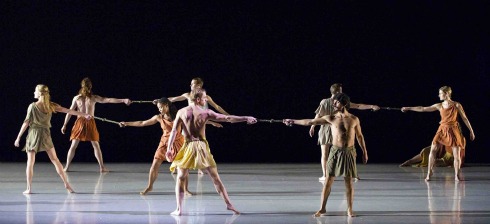 Bound Together: Members of the Mark Morris Dance Group in Morris's Socrates
Photo: Gene Schiavone
Nothing is dramatized in this process, you understand. It has nothing to do with acting and everything to do with action. The performers' attitude is completely neutral. Throughout the piece, by turns, each of the dancers has appeared to be the pivotal character for a fleeting moment. At the close of the piece, every one of them is Socrates. Fifteen bodies lie supine, filling the stage in orderly lines, finally bereft of the motion that made them eloquent, And the empathic spectator is no longer a looker-on but one of their number.
Note: Jacques-Louis David's 1787 painting The Death of Socrates was part of the inspiration for Morris's choreography and indeed provided the palette for Martin Pakledinaz's beautifully understated Grecian-style costumes. The picture is in the permanent collection of New York's Metropolitan Museum of Art. To discover more of Maira Kalman's work, go here.
© 2011 Tobi Tobias