Mariinsky Ballet / Metropolitan Opera House, Lincoln Center, NYC / July 11 – 16, 2011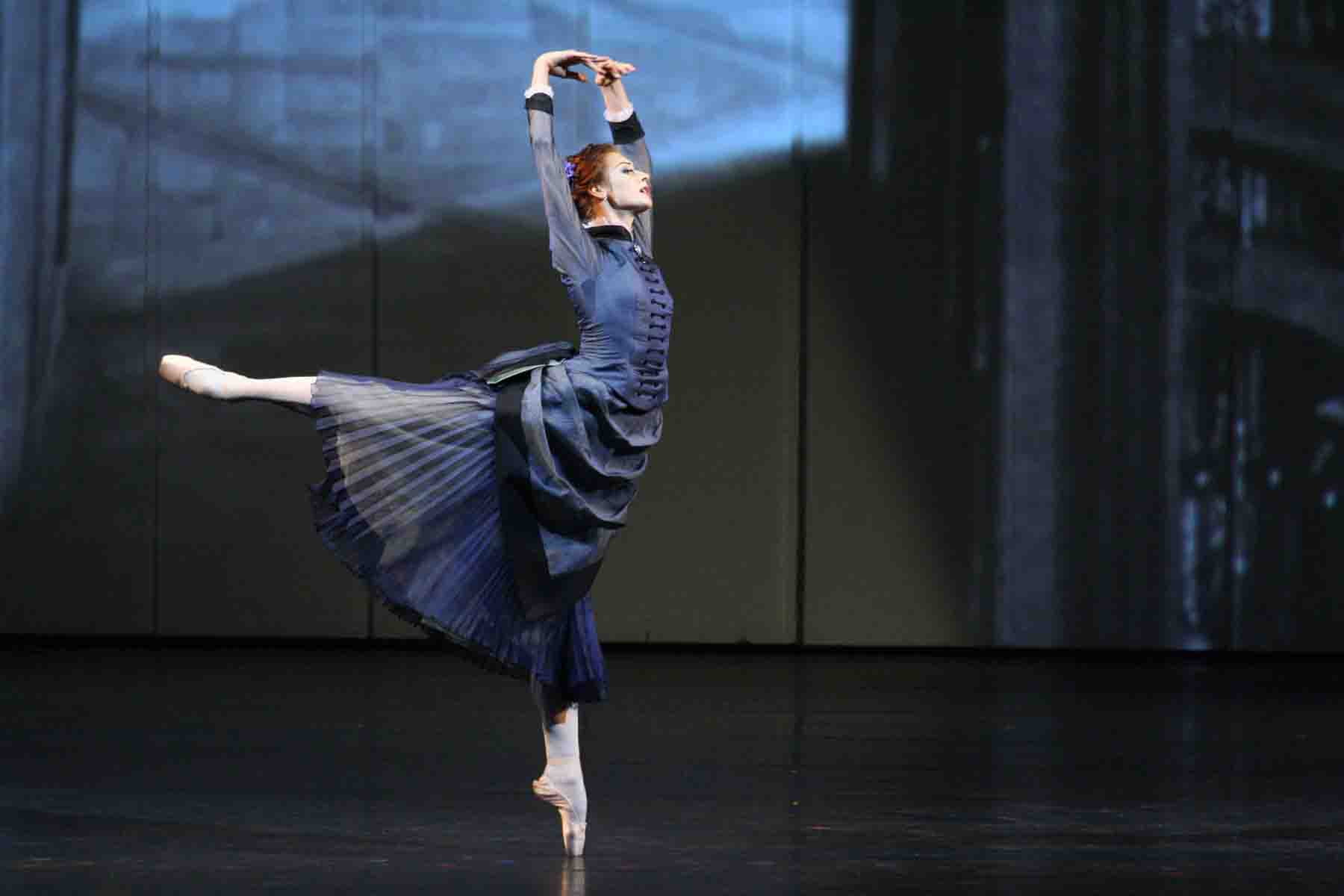 A Is for Arabesque: The Mariinsky Ballet's Yekaterina Kondaurova in the title role of Alexei Ratmansky's Anna Karenina
Photo: Natasha Razina
When New York's dance fans heard "The Russians are coming, the Russians are coming!" they were duly aroused to fever pitch by the news. As part of this summer's Lincoln Center Festival, the Mariinsky Ballet (having officially gone back to its birth name) arrived at the Metropolitan Opera House for a week. From July 11 through 16, it rotated three programs that–surprise!–didn't have a swan, a wili, or a beautiful dreamer in sight.
The company brought its own orchestra as well as Valery Gergiev, the celebrated conductor who is also the artistic director and general director of the Mariinsky Theatre. The vibrant sound and fervor Gergiev drew from his musicians put our best known local ballet maestros to shame. His taste in composers, however, is questionable. Gergiev was having a field day celebrating the work of one of his long-time favorites, Rodion Shchedrin.
Opening night was devoted to Alexei Ratmansky's Anna Karenina, created for the Royal Danish Ballet in 2004. The ballet was, quite simply, a flop, despite its inventive Mikael Melbye décor and the admirable efforts of the dancers. When the curtain fell and it was time for American dance enthusiasts to rise, applauding and bravo-ing madly–well, in my countless visits to the Met, I have never witnessed such a tepid response.
What's wrong with this ballet? Well, for one thing, it doesn't have much of a relationship to Tolstoy's novel. It blithely ignores setting off the doom-eager adulterous relationship between Anna and Vronsky with the quiet domestic contentment achieved by Kitty and Levin. Taken together, the two pairs make a profound statement about human nature; Anna and Vronsky alone encourages melodrama.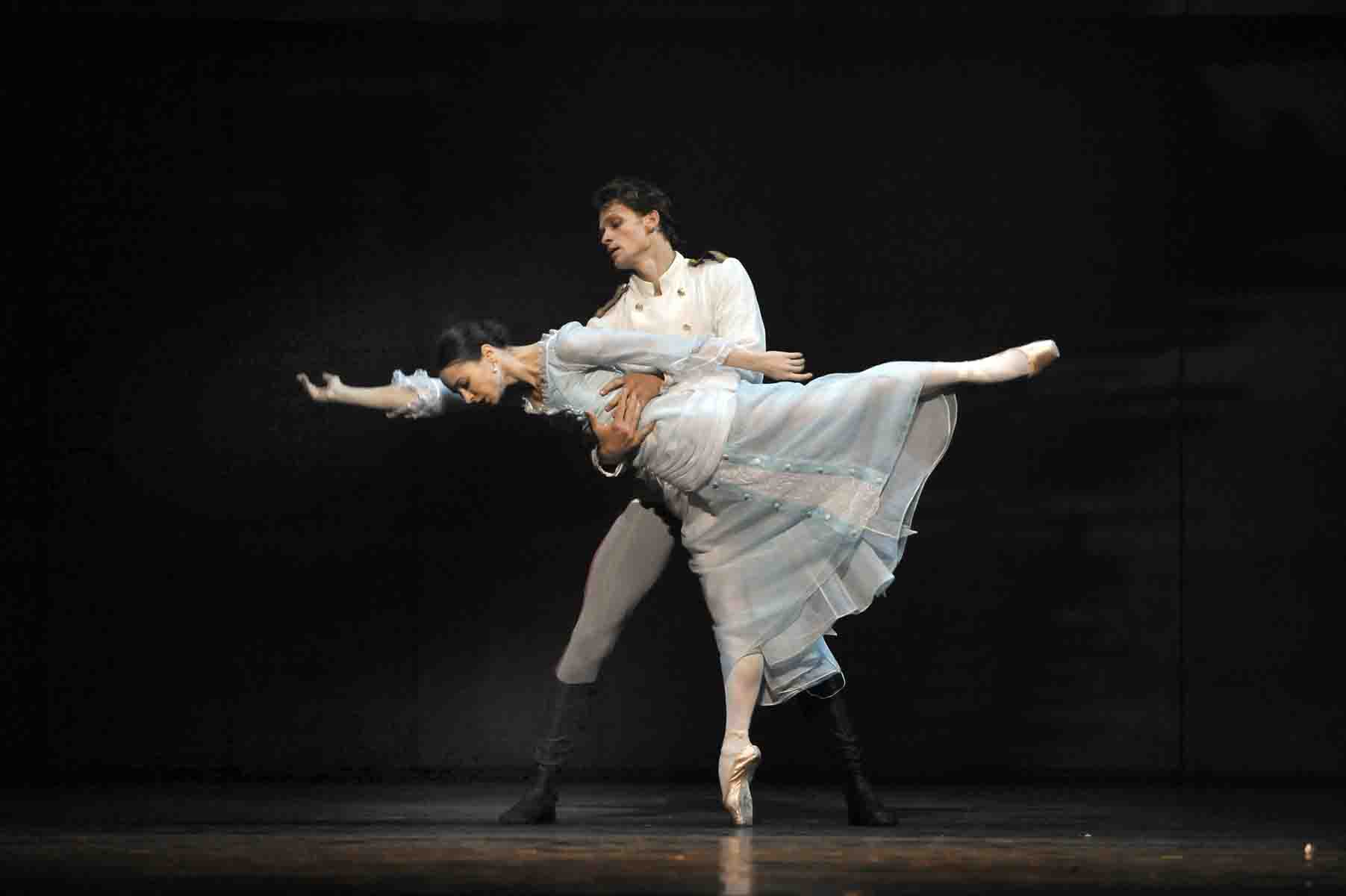 Heartbreak House: Anna Karenina with Diana Vishneva (as Anna) in the arms of Yuri Smekalov (as Vronsky)
Photo: Stephanie Berger
What's more, the piercing detail with which a character's inner life is explored in the novel finds no equivalent in Ratmansky's choreography. (Given the rich and complex work this choreographer has produced in recent years, I suspect he could do a better job on the material today.)
Worse still, even if you're willing to forget about Tolstoy, the ballet doesn't offer the satisfaction of watching a heady illicit romance come to the grief for which it's clearly destined. The choreography keeps on making gestures toward feeling–setting you up, as it were–but it's always so fragmented that nothing peaks or resolves. Just when you assume the ballet is about to deliver a solo, duet, or trio for Anna, Vronsky, and Anna's husband (the father of the child that is Anna's strongest link with domesticity), things begin and then abruptly break off, as if the muse had come to the choreographer on union time.
The dancers did their best under the unfavorable circumstances. Typically, Diana Vishneva's Anna was thoughtfully constructed to convey the heroine's driving emotions–here erotic passion, anguished indecision, and despair. If Vishneva didn't quite own these emotions, the Mariinsky's current stylistic preferences hardly encourage her to do so. As Vronsky, Yuri Smekalov, substituting at the last moment for Vishneva's usual partner in the role, did a credible job playing a generic irresistible lover. Islom Baimuradov made an appropriately arid husband, who lives by traditional rules of conduct, unable to deal with events lying beyond these boundaries.
They say that you never leave a show humming the scenery but, given the movie-music nature of the score and the failure of the choreography to offer a rich, fluent narrative, let alone convey emotional depth, the audience is left to admire Mikael Melbye's décor. Melbye relies heavily on projections onto bare walls to indicate place–from the upper-middle-class lavishness of Anna's home to the dismal street on which Vronsky lives. Three-dimensional objects are kept to a bare minimum, for example, the child's toy train (symbolizing, first, the railway accident that coincides with the lovers' fateful meeting, and then Anna's suicide) and Karenin's handsome desk (a safety zone from which he tries to keep control over things that are tragically beyond his grasp).
Melbye's tour de force is the projection of a dark train moving heavily through a gloomy dusk, headlights glowing, then swiveling to reveal a lighted interior populated with passengers. It prophesizes Anna's suicide of course, but also plants the idea that the train that will kill Anna will be carrying ordinary people, going about their ordinary lives. This kind of irony is something the choreography could use more of; as we know, irony used in an amusing vein has become a Ratmansky specialty.
You Go, Girl! Viktoria Tereshkina in Alexei Ratmansky's The Little Humpbacked Horse
Photo: Stephanie Berger
Ratmansky's The Little Humpbacked Horse, was not only the hit of the Mariinsky's New York engagement, but quite possibly the hit of the New York dance season. Like this choreographer's much enjoyed The Bright Stream, recently adopted by American Ballet Theatre, it's a transforming remake of an old ballet. Like his Namouna, created for New York City Ballet last year, it juxtaposes so many elements of dancing–classical ballet, folk dance, popular dance, traditional mime with some literal additions, quotes from ballets we already know, bits of pedestrian action–expertly weaving them together, that you want to see the show again, right away, so as to fully grasp its delights.
The history of the ballet, neatly compressed in the program note, begins in 1864 with choreography by Arthur Saint-Léon to a score by Cesare Pugni and continues with a revival by Petipa in 1895 and a Petipa-derived version by Gorsky in 1901. In 1960, Alexander Radunsky created his own production, which featured a new score provided by Shchedrin and starred the composer's wife, the celebrated ballerina Maya Plisetskaya. Ratmansky's version had its premiere in 2009.
From the first, Horse has been based on a mid-19th century story by Pyotr Yershov, presented in the manner of a folk tale. Every Russian child, apparently, is exposed to it. Only long experience with tweeting could enable a succinct account of the narrative. Here's the best I can do: Old farmer has three sons, the elder two no better than they should be and the youngest, Ivan, thought to be a fool. (In Russian literature a "fool" is often an inept stripling who hasn't yet grown up to be a hero.)
Wild horses are ravaging the family's wheat field. Uninvited, Ivan goes out to cope, catches a mare who gives him a pair of magnificent horses and a puny hunch-backed one in exchange for her freedom. In the course of these events Ivan encounters a flock of Firebirds and comes away with an outsize feather purported to work wonders (think Fokine's Firebird).
Ivan's ne'er-do-well brothers steal the fine horses and repair to the town square–where much ebullient activity is carried on (think Petrushka)–to sell them. Ivan repossesses the steeds just in time for the Tsar–a short, puny man of a certain age with a childish sense of entitlement–to commandeer them for himself, in return giving Ivan the powers of his present right-hand-man, the Gentleman of the Bedchamber. Said Gentleman is justly resentful and connives to send Ivan on three impossible errands. (As you knew already, everything in fairy and folk tales comes in threes.)
Task #1 is to seek out the Firebirds in their home at "the outer edge of the world," where they harbor the Tsar Maiden, whom the Tsar has seen in a vision and yearns to marry. Result: Ivan falls in love with the TM and she with him. Task #2: Back at the palace, the TM staves off the Tsar's advances by saying she must have a special engagement ring that lies under the sea. Away goes Ivan and gets it, with the help of his magical little horse, a cooperative Princess of the Sea, and a whole underwater community (think Bournonville's Napoli, Act II, and Ashton's Ondine). Task #3: The TM informs the Tsar that she can only marry a man who's young and handsome. One can achieve such a make-over, it seems, through immersion in boiling water. The Gentleman makes Ivan try it first, the little horse casts a temporary spell on the water, and our hero emerges unscathed, still young, more polished, and better dressed. The Tsar goes next and the burning bath conveniently does him in. After the court and general populace indulge in the briefest of mourning periods, Ivan gets his just deserts: the hand of the Tsar Maiden and the tsardom itself.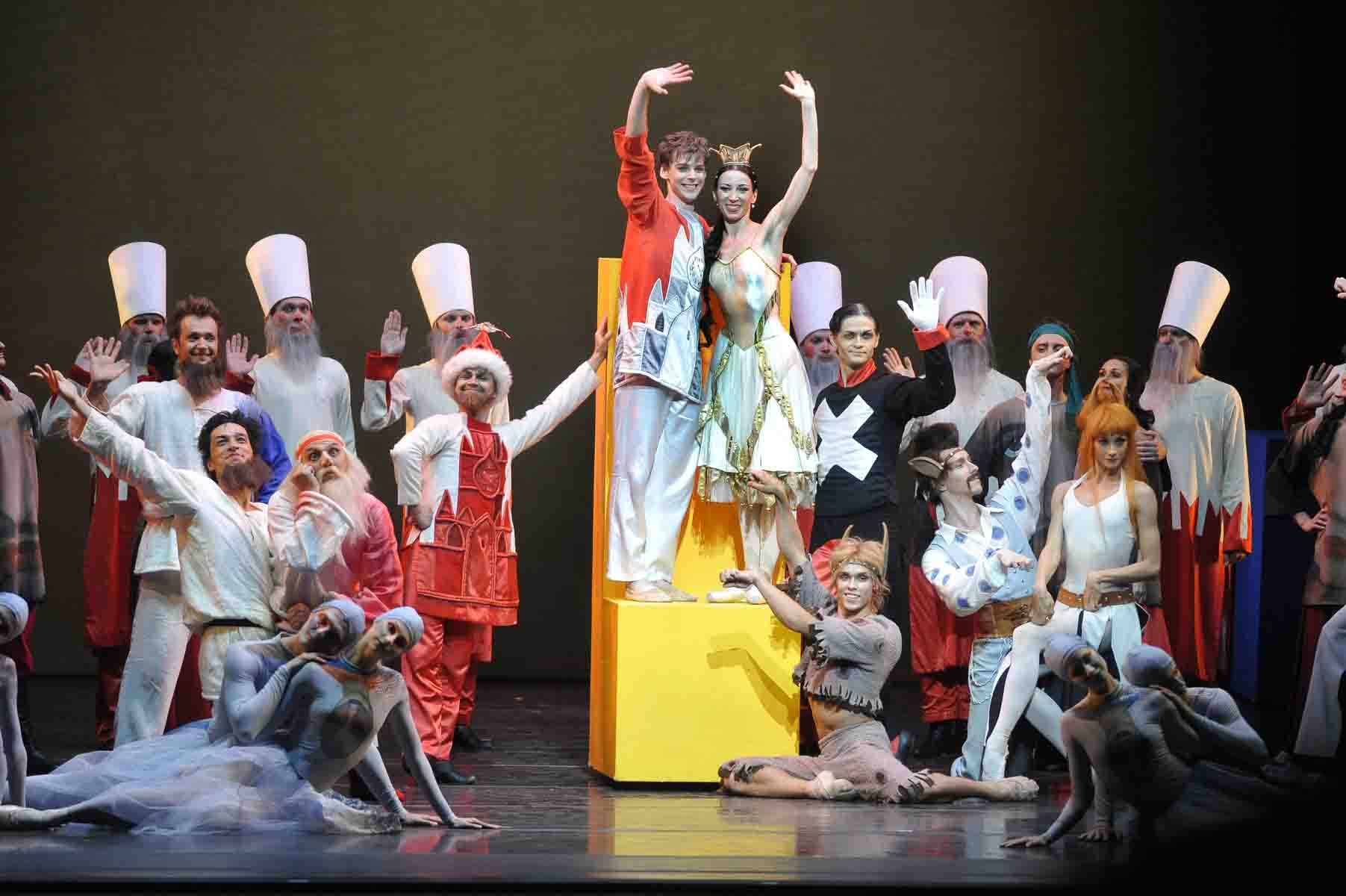 All's Well That Ends Well: Vladimir Shklyarov (as Ivan) and Tereshkina (as the Tsar Maiden) in The Little Humpbacked Horse. The white-bearded man just above the pair of water nymphs on the left is Vladimir Ponomarev.
Photo: Stephanie Berger
In a glorious finale everyone in the story returns to the stage, alive, joyous, and the very best of friends.
Despite the whacky, complicated narrative, which is played out with robust enthusiasm, the ballet provides lots of dancing. The virtuosic and lyrical passages, which include a couple of crackerjack pas de deux, are matched with theatricalized folk dances that only Mark Morris could equal. Ratmansky's dance for an octet of Gypsies is a major proof of how wild, sensuous, and yet communal such a generically trite entry can be. Ensemble dances follow this choreographer's innovative custom of allowing no formations composed of lines that are straight and evenly spaced, creating an imprisoning grid, but rather letting the lines swoop, curl, or track back on themselves here and there, and having a group of twelve re-form not just into the obvious three fours or four threes but, say, a five and a seven.
Ask a a bunch of Horse enthusiasts to name their favorite section of the ballet and you'll get widely various answers. Let me tell you mine. It's the scene in which the wet-nurses (if you've got a young kid with you, it's simpler just to say "nannies") feed the Tsar and settle him down to sleep. Since he's childish, the nurses respond with instinctive empathy, tenderly treating him like a child. We've met them earlier–a sextet of gentle young women modestly dressed in plain cardigans and longish dark skirts, as innocent as girls who might soon be joining a nunnery. Although they're radiantly beautiful, they prefer to keep their heads bowed, their eyes downcast. As they tend the Tsar, they cluster and re-cluster. One of them eventually feeds him (with a spoon), as one would feed milky porridge to a baby. To amuse him, they tickle him, then settle him down to sleep, one of them reading him a bedtime story as the others tiptoe away (on pointe, of course). The event is ludicrous, yet the atmosphere is straight out of Goodnight Moon.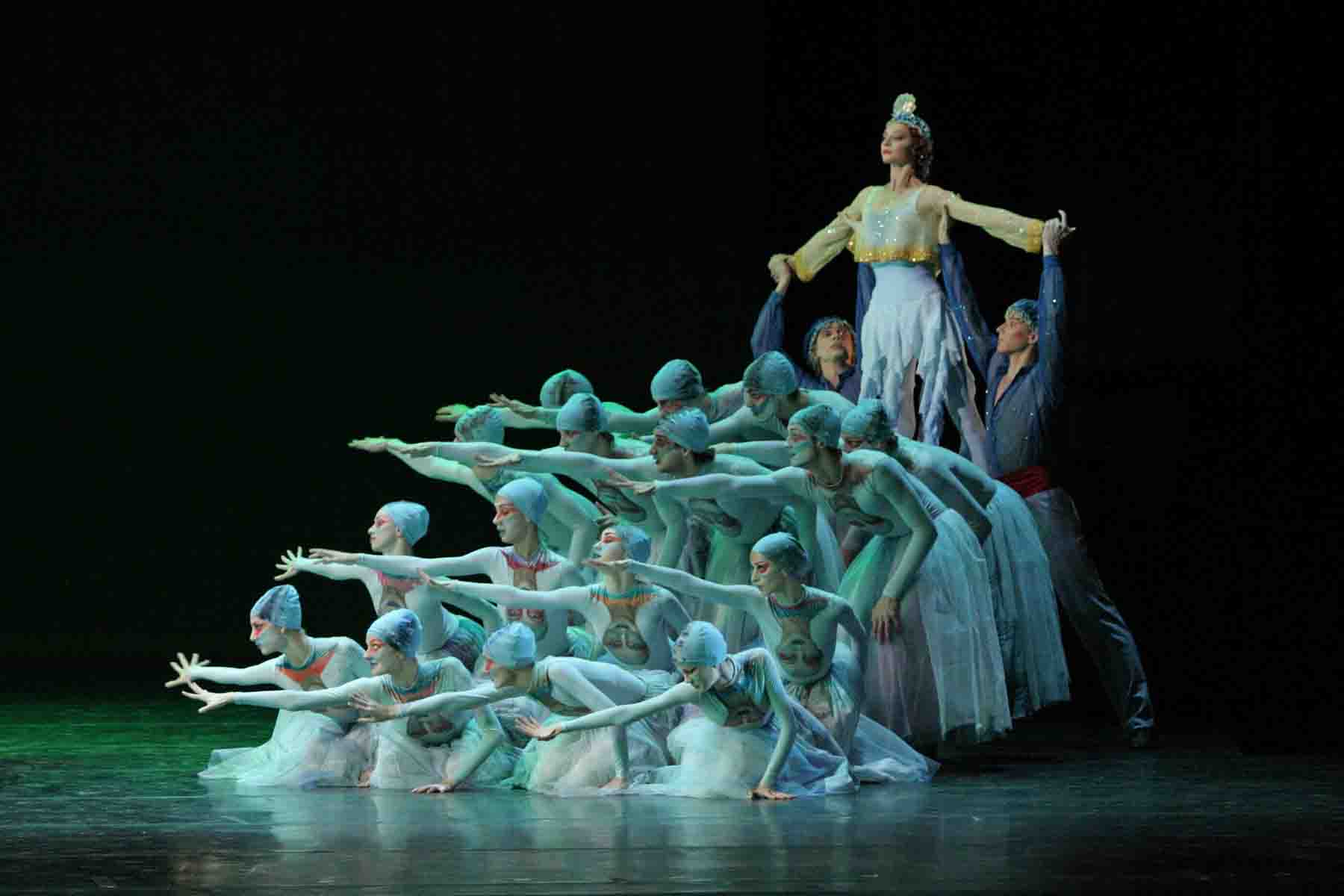 Full Fathom Five: Yekaterina Kondaurova as the Queen of the Sea in The Little Humpbacked Horse. The grouping of the underwater community recalls Nijinska's Les Noces and Balanchine's Prodigal Son
Photo: Natasha Razina
At their most engaging, Maxim Isayev's sets–radically pared down and striking–derive from the work of avant-garde Russian artists in the Supremacist and Constructivist movements, Kasimir Malevitch and Alexander Rodchenko, for instance. His costumes are drastically simple, boldly colored, and occasionally plain weird. Example? The undersea folks, male and female alike, are clad in bathing caps and long tulle skirts; each chest is emblazoned with an upside-down image of the owner's face–that is, the individual's reflection in the water. Both kids and sophisticated adults with a bent for whimsy will appreciate them mightily.
The dancers seemed to be enjoying themselves to the hilt. Vladimir Shklyarov, the epitome of boyish charm and breathtaking technique, took top honors as Ivan, though his alternate, Alexander Sergeyev, was fine, too; it's a great role. Alina Somova was delectable as the Tsar Maiden; she got the tone of the character just right–funny and adorable in equal parts, the right tsar's perfect mate. I must admit that I didn't care for Victoria Tereshkina in the part. She may be the company's mistress of steely technique, but when she tried to be goofy she turned into Carol Burnett. Andrei Ivanov was perfect as the Tsar, ridiculously self-involved yet with an undercurrent of pathos. Islom Baimuradov, playing the Gentleman of the Bedchamber, made a villain with a sense of humor. These last two characterizations are prevalent in Ratmansky's mature work, which is generous and humane. No figure is dismissed by being labeled.
Ratmansky will no doubt work further on this piece, as I understand he will do on his Nutcracker for ABT and has done with Namouna. He may well tie up some of the loose ends and edit flights of fancy that are just too bizarre. He might even improve the ballet by shortening it a bit. If Horse is taken on by ABT, such fixes would be useful, but they're not imperative. Just as it stands, this ballet generates a helluva lot of happiness.
The single mixed-repertory program in the Mariinsky engagement was as mixed as you can get. The tenuous connection between the two ballets on offer was their being set to music by Bizet. Sort of. Balanchine's ravishing Symphony in C was wisely content with echt Bizet; Alberto Alonso's 1967 Carmen Suite, was set to a score by the overly prominent Shchedrin that re-orchestrates parts of Bizet's ever-popular opera and interpolates excerpts of two other Bizet pieces.
Can You Forgive Her? Yevgeny Ivanchenko in Alberto Alonso's Carmen Suite, as the Toreador, whom the lady can't resist
Photo: Stephanie Berger
A matter of red and black ruffles and ruffled passions, Carmen Suite was surely intended to be about sex and death. Yet it turns out to be about female legs as an erotic fetish, a weapon brandished as a means of enticement. The ballet's prominent motif appears to be stalking, which the music admittedly encourages. Alonso gives us the three familiar main characters–Carmen (a gal who spells trouble) and her two (let's say) boyfriends, Don José (who loves her truly, despite or because of her tempestuous nature) and the Toreador (who–well, you know how it is). A fourth personage, a woman unitarded in black from the tip of her toes to the top of her skull, was announced by the program to be Fate. I would have guessed Death, but–whatever. The ballet is arranged as a string of vignettes, no doubt intended to hit just the high points of the tale. It uses a paltry vocabulary and is exasperatingly mechanical, almost robotic, besides. As the heroine, Vishneva was fluid, luxuriously slow, only toward the close of the ballet, when Don José stabbed her. Then, dying, she slipped from his arms to the floor, all sensuous flesh.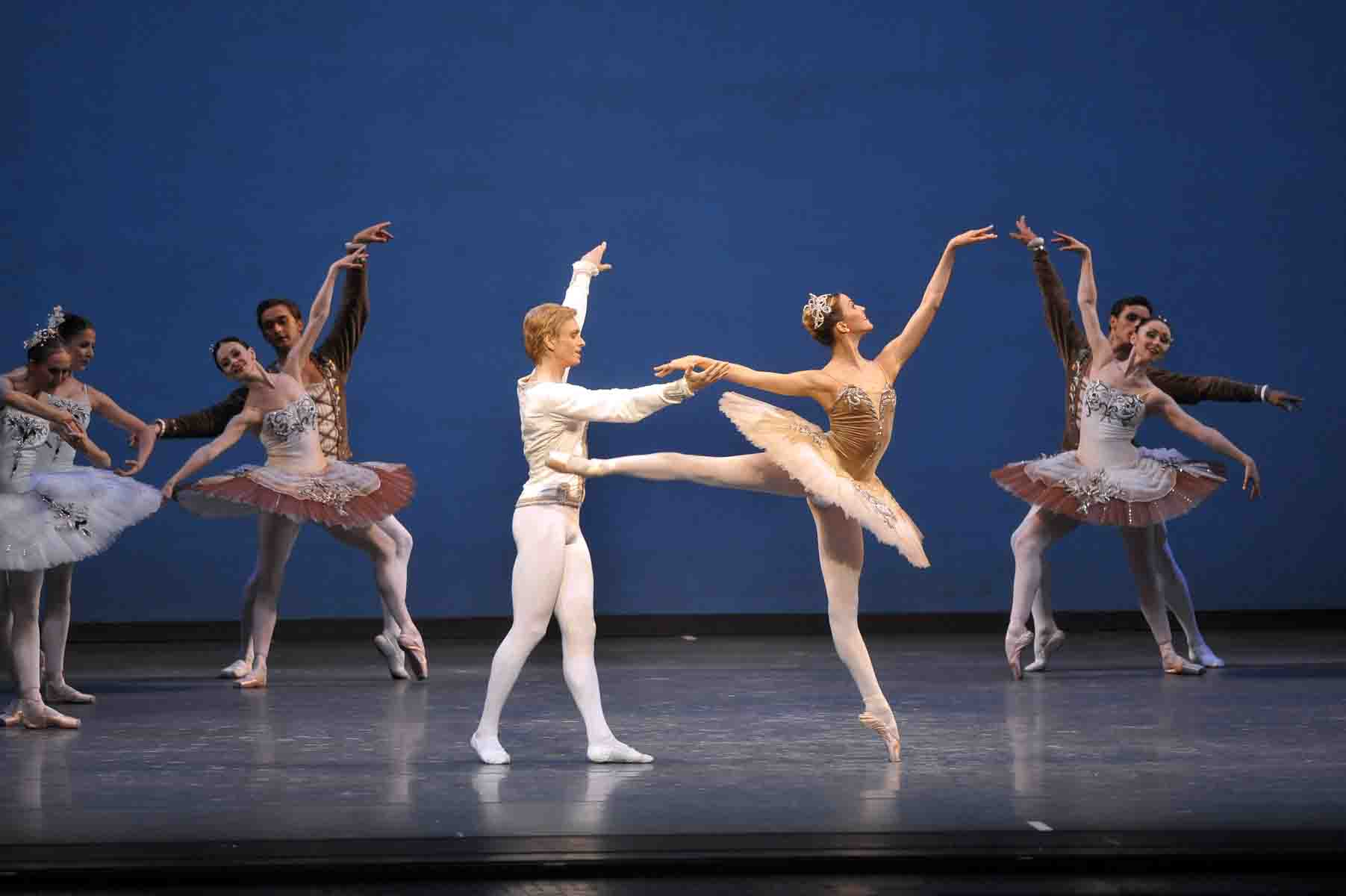 Bizet à la Russe: Andrian Fadeyev partnering Alina Somova in the first movement of Balanchine's Symphony in C
Photo: Stephanie Berger
Balanchine's 1947 Symphony in C–with its sublime second movement and its glorious evidence overall of the range classical ballet can encompass–was the lone traditional work the engagement presented. It came as no surprise that the Russians should dance the piece very differently from the New York City Ballet crew whose predecessors danced it for decades after it was created on the Paris Opera Ballet. The Mariinsky's production emphasizes delicacy (even in the pastel hues of the costumes), precision, and mastery, rather than the spontaneity and barely contained energy of the New Yorkers. Of course I prefer "our" style, but that may be partly because I grew up with it.
Alina Somova and Andrian Fadeyev led the first movement, she with tremendous fluency and ease (and few of her old show-offy habits), he with clarity and naturalness. Yevgenia Obraztsova was perky and peppy in the third, allegro vivace, movement. Her partner, Vladimir Shklyarov, showed once again why he's the guy everyone's been talking about.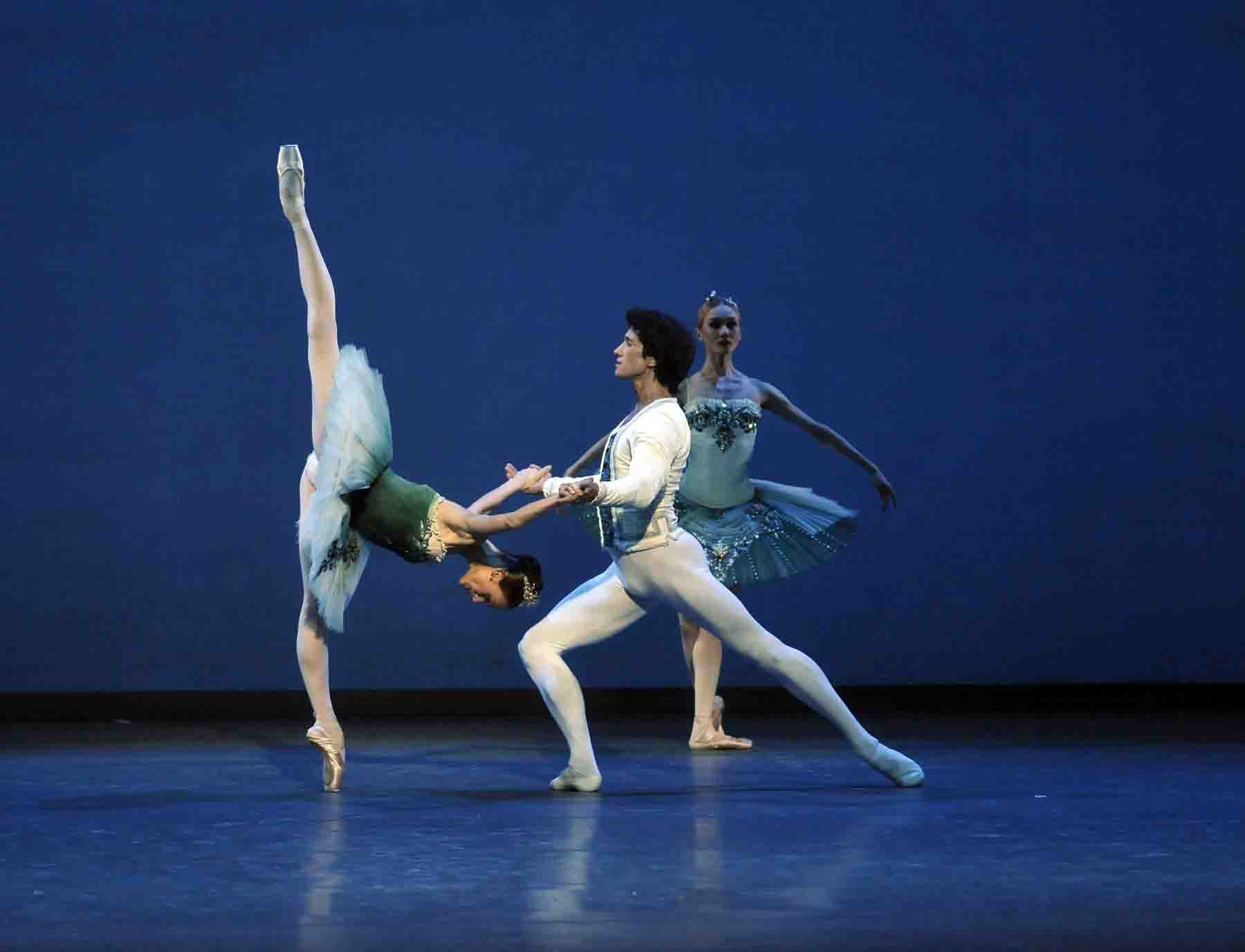 Our Object All Sublime: Ulyana Lopatkina partnered by Daniil Korsuntsev in the second movement of Symphony in C
Photo: Stephanie Berger
What counts most, though, in Symphony in C is the second movement. The Mariinsky first showed the ballerina role cast to type, with Ulyana Lopatkina, the company's undisputed queen of adagio. Her interpretation was eerily unearthly, her face tilted slightly toward the heavens, her piercing gaze fixed on a faraway point visible only to such a being as she. I assumed this was an interpretation rather than a rigidly set personal style, since she smiled engagingly once she was participating in the work's grand finale. Her performance in the duet had the rarefied beauty and the exaggerated, compelling refinement that make many fans love ballet and naysayers loathe it.
A second rendering of the piece was far more musical and relaxed than the first, the company having already proved that it could successfully bring a crucial Balanchine work to the town in which the choreographer's career matured. It was Yekaterina Kondaurova's dancing in the second movement that made me decide she's my favorite in the company's flock of ballerinas. The others I saw are unquestionably amazing, each in her own way, but often so intent on a high degree of artifice that they seem estranged from humanity. Kondaurova is the only one who makes substance equal to style.
A small but splendid treat of the Mariinsky's visit was the chance to watch the company's senior mime, Vladimir Ponomarev, work his subtle Stanislavsky-esque magic. In Anna Karenina he played the elderly servant of uncertain gait and trembling hands who doted, almost pathetically, on Anna. Ponomarev is the sort of artist whose work beguiles you into inventing a character's past because he makes the figure's present so believable. I gave the nameless, faithful old man he created a back story of having been with Anna's family even before she was born and having begged to join her new household when she married. No wonder he's now reduced to tears by her plight.
In Horse, Ponomarev played the aged, work-ridden farmer, who was father to the three disappointing sons, but I believe he deliberately played the role at one remove, imagining himself to be an over-enthusiastic actor who was part of the multi-referenced fantasy Ratmansky had concocted. When we saw this rural paterfamilias with his boys–two lazy and dishonest, one presumably a fool–he made his gestures rough and exaggerated, the way an itinerant trouper might execute them, feeling all the while very proud of his skills. Simultaneously, he showed another quality, a positively Biblical one, bending his offspring to his will with utmost gravity, like the father in Balanchine's Prodigal Son. Ponomarev seems to agree with Ratmansky's idea that people's personalities and actions can indicate one thing and yet another, even a third, and that this infinite richness is one of life's gifts.
© 2011 Tobi Tobias