American Ballet Theatre: Alina Cojocaru / Metropolitan Opera House, Lincoln Center, NYC / MAY 16 – July 9, 2011

She's a darling, Alina Cojocaru–petite, pretty (without being pert or saccharine), fragile-looking as a waif. Her secret, which, of course, she reveals almost immediately after her entrance on stage, is a technical proficiency that would impress you even if her appealing personality–that joy that's always slightly tinged with sorrow–hadn't already captivated you.
Cojocaru, who has just completed a third guest stint with American Ballet Theatre in its May 16 – July 9 season at the Metropolitan Opera House, was born in Bucharest, Romania, and trained in Kiev for seven years, eventually joining Britain's Royal Ballet, where she became a principal dancer in 2001. Today, the lyricism, the exactitude in small things, and the graceful manners of the English style predominate in Cojocaru's dancing. Still, if you watch closely, you can also see the virtues–such as the projection of both movement and feeling on a large scale–that she acquired from the Russian style of dancing she absorbed in Ukraine.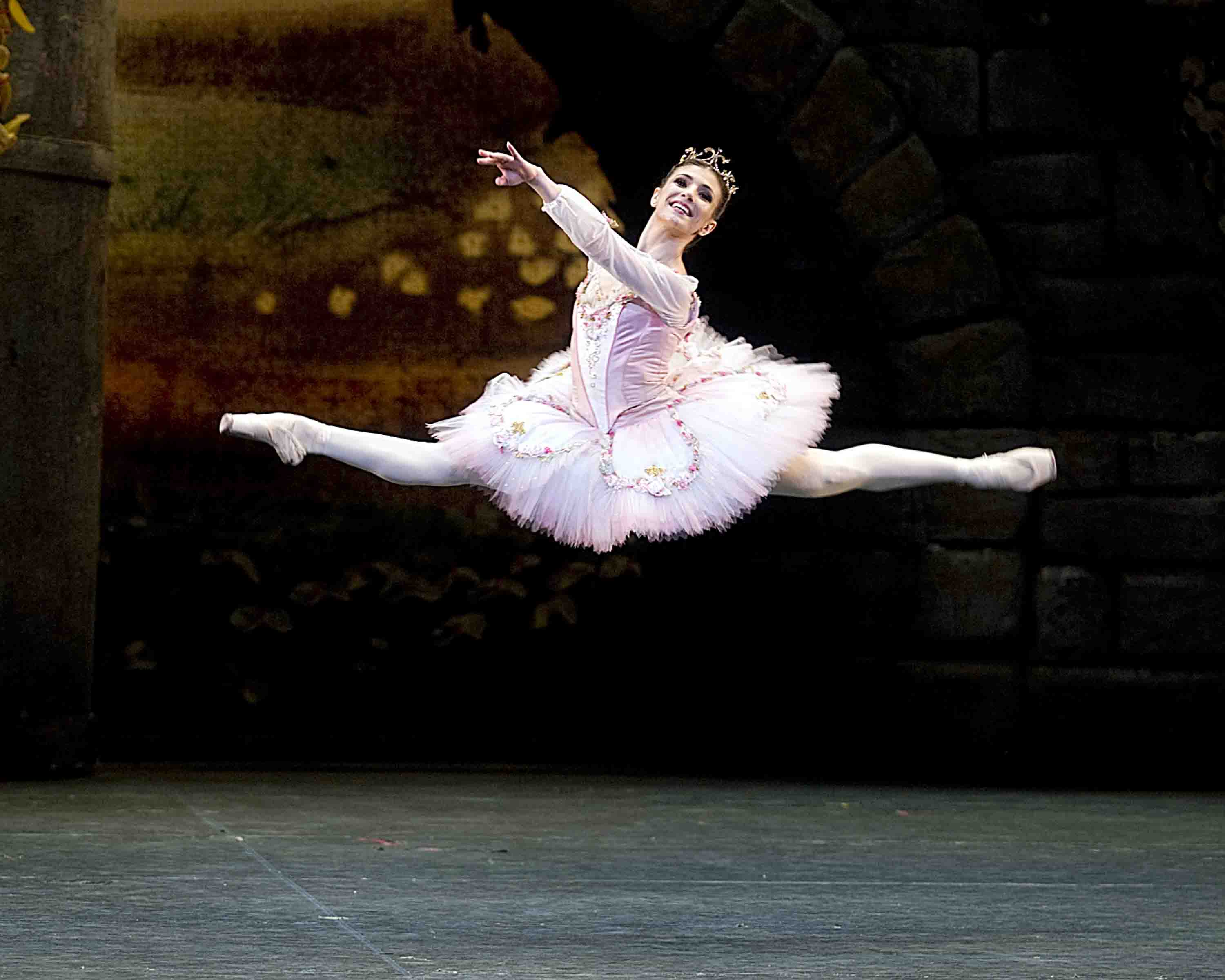 Split-second Timing: Alina Cojocaru
Photo: Gene Schiavone
Her technique is formidable. Although she's small, she makes a terrific impact on space, floating or slicing through it, as the occasion demands, churning the air in turns. Her petit allegro, precise and delicate, makes you think of a hummingbird.Ours is an age of superlative technicians. Among the ABT women, triple fouettés are a current fixation and, as inevitably happens, once a single ballerina masters a new feat, a flurry of her sisters will be seen following in her footsteps. ABT's men have been enjoying a friendly competition as they invent wicked (and sometimes witty) variations on the multiple pirouette. Some–certainly not all, but some–of these marvels make both dancer and audience forget about artistry.
Cojocaru is not likely to forget what she's about. For one thing, she can act. The commitment to make wordless motion expressive naturally puts an artist on the side of subtlety. What's more, Cojocaru's acting isn't limited to creating a persona and then just hitting the high spots–love, trouble, joyous or tragic outcome–of that persona's story. No, Cojocaru acts in phrases, each one displaying her character's response to the situation of that particular moment. And she invariably fuses the series into a whole. The effect makes me think of Virginia Woolf's stream-of-consciousness tactics.

Soul Mate: Cojocaru and David Hallberg in Giselle, Act II
Photo: Rosalie O'Connor
New Yorkers got to see Cojocaru in three ballets this season. She offered indelible effects in each. Take Giselle, where she was paired with David Hallberg: Once Albrecht's perfidy is revealed, Cojocaru begins the Mad Scene as a trusting, now betrayed child, miming "He promised to marry me" and then, for a moment, becoming radiance itself as she recalls their love in broken, feeble mime gestures. The whole stage is hers in this scene–Albrecht, mother, Hilarion, villagers, aristocrats seem to grow dim. She lives entirely in her own world of memory and imagination while, before our own shocked eyes, she slowly self-destructs into madness and dies, in both senses, of a broken heart.

Look, No Hands! Cojocaru and Jose Manuel Carreño in Don Quixote
Photo: Rosalie O'Connor
Dancing Don Quixote with Jose Manuel Carreño, whose Basilio is one for the history books, Cojocaru gave no hint that she was cast against type. She shot onto the stage in a burst of energy and played a saucy little spitfire–all verve and sparkling footwork. Only once she had laid claim to that type did she begin to show off her exquisite fluidity. Did she manage the Plisetskaya trick, on an exuberant grand jeté, of arching her torso and kicking the back of her head with the trailing foot? Of course she did.
Cojocaru's balances are famous for the length of time in which she can sustain them without either wobbling or, even more disquieting, visibly worrying about wobbling. In Act III of Don Q, Carreño, obviously acquainted with her mettle, positioned her into a balance on one foot–on pointe, of course–one arm flung up triumphantly, the hand like a tiny waving flag. He then unobtrusively stepped backward and left her there, connected to the earth only by the toes of one foot. They did this twice.
The crowning glory of Cojocaru's work with ABT this season was her Aurora in The Sleeping Beauty, a portrayal of such beauty, finesse, and dramatic depth, it almost made the awfulness of the production disappear.
Wonderfully musical, she used her keen sense of timing to create a dialogue between the choreography and Tchaikovsky's score.
As is her wont, she kept the small things small (and as precise as the work of a jeweler), letting the large things flare out so that their images seem to fill the whole stage space and beam out through the house.
She gave a fully nuanced interpretation of Aurora's experiences at her Sweet Sixteen party–where we first meet her. The princess's introduction to her quartet of suitors via the Rose Adagio had the look of a real human event with a wide spectrum of believable emotions. Even the (in)famous balances appeared to be a dimension of dancing.
When Aurora pricked her finger on the near-fatal spindle, Cojocaru showed her ricocheting between the fear and confusion she felt as Carabosse's curse enfeebled her body and attempting to retain her familiar carefree gaiety. She was like a cosseted teenager into whose life nothing bad had fallen until this terrible moment.
In the Vision Scene, looking impalpable was the least of Cojocaru's achievements. More riveting was her expression of the sorrow and mystery of sleeping (and no doubt dreaming) for seemingly endless hours, days, and years.
The Wedding Scene in this production is such a disaster (blame Kevin McKenzie, Gelsey Kirkland, and Michael Chernov) that not even Cojocaru's tenderness and incandescence could save it. The grand pas de deux was admirably executed but the surrounding event was so devoid of logic and taste that I began to wish the lovers had simply eloped.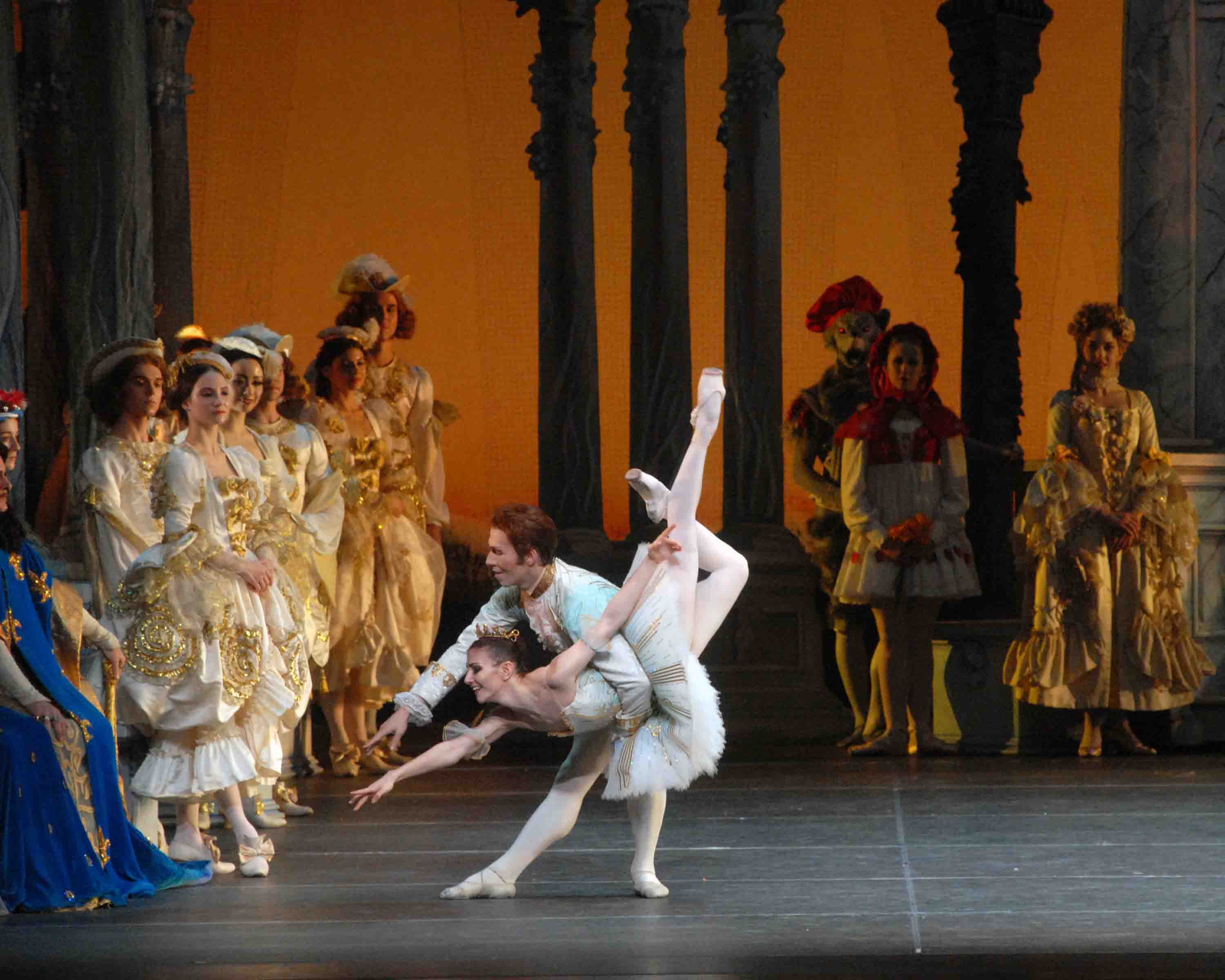 Wedding Belle: Cojocaru and Johan Kobborg in The Sleeping Beauty
Photo: MIRA
Cojocaru's Prince Désiré was Johan Kobborg, a fellow principal with the Royal Ballet and her real-life partner. Kobborg was born and trained in Denmark, where classical dancing has traditionally been understood to encompass acting. He may not be quite a world-class dancer, but his dramatic skills are superb. When he and Cojocaru dance together you see a dual example of fluctuating mood brought to life, each moment hinting at an emotion that arouses the imagination of the spectator.
Cojocaru is well mated with Kobborg, actually enlarged by him, but he's compelling on his own, too. He introduces suggestions that may well be his alone (not his coach's, not memories or videos or photographs of his predecessors). These are not egoistic intrusions; they make you understand the character he's playing–even the whole ballet–more deeply. For instance, Désiré has his eyes covered by a length of black cloth in a game of Blind Man's Buff with the frivolous society of his milieu. The moment the blindfold is removed, he sees everything anew–his companions, their trivial world, and himself as an odd man out, a dreamer not yet certain of his dream.
Kobborg doesn't equal Cojocaru's stardom but together they make a marvelous theatrical team. Since the newspaper of record has already announced their plans to marry, I'll take the liberty of wishing them godspeed.
© 2011 Tobi Tobias