Sasha Waltz & Guests: Gezeiten / BAM Howard Gilman Opera House / November 3-6, 2010

Three doors, phantasmagorically mismatched, open onto an empty room. The paint on its walls has peeled away in jagged fragments to reveal two previous colors. This derelict space could provide shelter only to the desperate. One of the doors has a thick brick frame that juts into the room. It's easily imagined as the entrance to a crematorium; instantly you think Holocaust. It turns out that Sasha Waltz, who choreographed this dance-theater piece–Gezeiten (Tides), at BAM's Howard Gilman Opera House, November 3-6–has been thinking about a more inclusive range of crises and catastrophes: 9/11, Katrina, earthquakes, tsunamis, genocide–all the disasters, natural and man-made, that the human flesh and spirit are heirs to.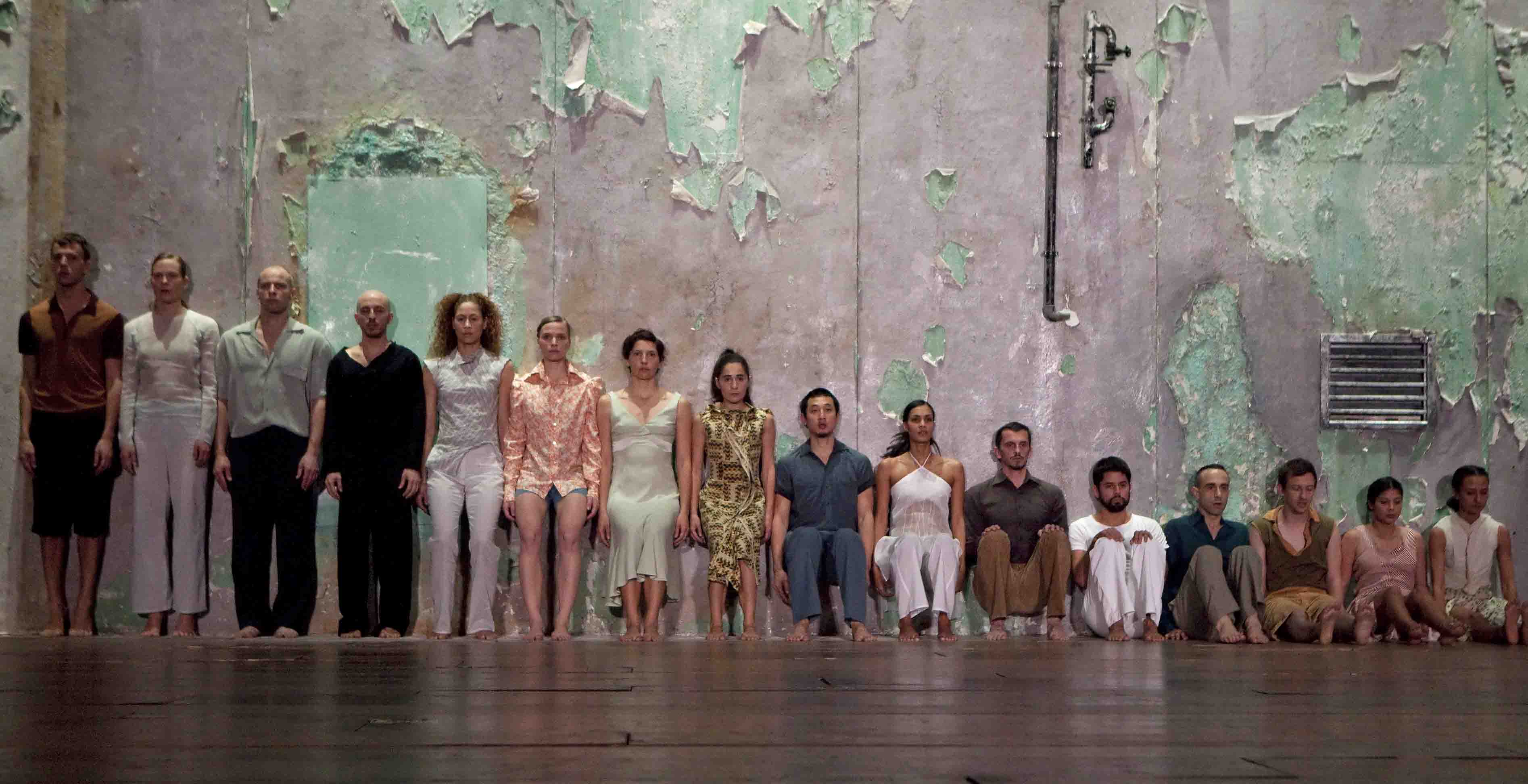 Line-up: Sasha Waltz & Guests in Gezeiten
Photo: Richard Termine
Gezeiten is divided into three sections. The first is the most recognizable as dancing. Its mood is set by a man and woman who enter first, one body tightly behind the other, like sardines in a can. The pair paces the room cautiously, staring straight ahead, as the blind might. Other couples join them, replicating the first couple's posture and gait, but soon the whole group flares out into bold motion, limbs partitioning the air, one partner propelling or cantilevering the other, exiting and reentering, then beginning to run–away from what? toward what? They toss each other's bodies into the air with increasing vehemence. In between these wildly accelerating moves they return to order in a series of long line-ups. Rooted to the floor, they rise and sink in simple patterns. Pattern itself segues into the mechanical, then obsessive repetition of a single gesture. All the dancers flee but one, who remains in a slowly failing light, mindlessly reiterating the group's last move.
Some of this material is accompanied by silence, some by fragments of Bach's music for the cello, played by a man in a downstage corner, as if to remind us that bodies still able to respond to rhythm and melody by dancing retain some aspect of their humanity. Then the ambient sounds of war and destruction take over.
The second section is more literal, like silent film or naturalistic pantomime. The doors are now shut. Furniture has appeared–tables, chairs with screaming-red plastic upholstery as if from a cheap mid-20th century luncheonette, and a worn-out bed with an iron bedstead. The dancers–settlers in this closed camp–battle amongst themselves, then stack the furniture and climb onto its precarious safety. One guy becomes self-elected bully-in-chief, urging the mob to join in the abuse of his scapegoat, even after the helpless man has fallen. The agitated crowd gabbles in a cacophony of languages (the cast actually comes from many different lands). Another man starts tearing up the floorboards, eventually erecting four tombstone-like crosses on the site. A small woman hunched over a black pail–containing what?–sobs unremittingly. A woman in a white clinician's coat tries to comfort her (in vain of course).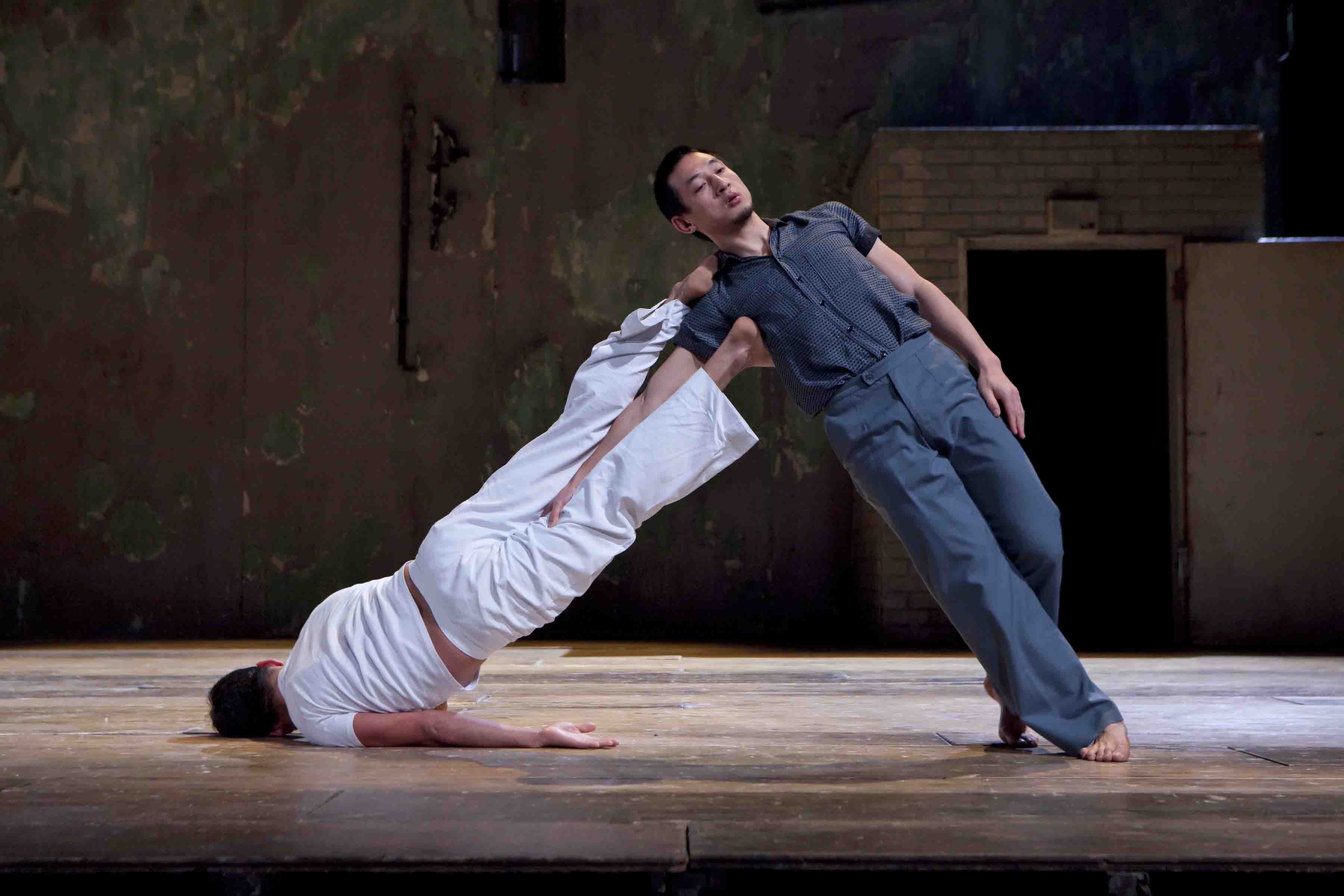 Lean: Sasha Waltz & Guests in Gezeiten
Photo: Richard Termine
The group quiets down, eats, drinks, forms a docile chorus to sing a little folk song sotto voce, then turns against its own members once again. Suddenly they're besieged from outside–air-raid style sounds, smoke, darkness, fire–by a force against which their shelter proves inadequate. The fire shoots up in a single spiral, orange and yellow flames greedily rushing upward, apparently stealing all the available air. The fugitives collapse and vanish–except for the woman who grieved over the contents of the black bucket (the remains of her child, I guessed morbidly). As if finally accepting the inevitable, she puts herself to sleep on the worn-out mattress of the iron bed.
The third and last section of Gezeiten is a succession of surreal events that the spectator must interpret as s/he chooses. With the doors open again, "stuff" keeps on happening, in vignette after vignette. It's well-nigh impossible to know what any of the events signify or how they relate to one another. The most solid item in this theater of the absurd has the floor boards mysteriously rising up at crazed angles and crashing down again, accompanied by hacking sounds, then darkness again, with quick-shifting beams of light ferreting out figures hunting god knows what, fleeing, or–justifiably, to be sure–going berserk.
It's in this final section that you see why some dance observers believe Waltz has been influenced by the late Pina Bausch. The stage is full of Bauschian enigmas, Bauschian violence, even a sumptuous Bauschian evening dress or two (though not, as in Bausch's earlier works, from the thrift shops, but more along designer lines, as in the later ones.) There are, moreover, Bauschian rivulets of water, spilling portentously and ludicrously from unlikely orifices. Lacking, alas, is the sense one had with Bausch (before she tamed her aesthetic) of a choreographer throwing caution to the winds as well as the wry Bauschian sense of humor.
Most significant, however, is the fact that all the strange visions Waltz conjures up lack theatrical power. One reason for this is that too many things are occurring at once, but the material itself just isn't charged. I won't bother you with details on the finale, dominated by some giant worms who had apparently inherited the earth; it was simply too silly.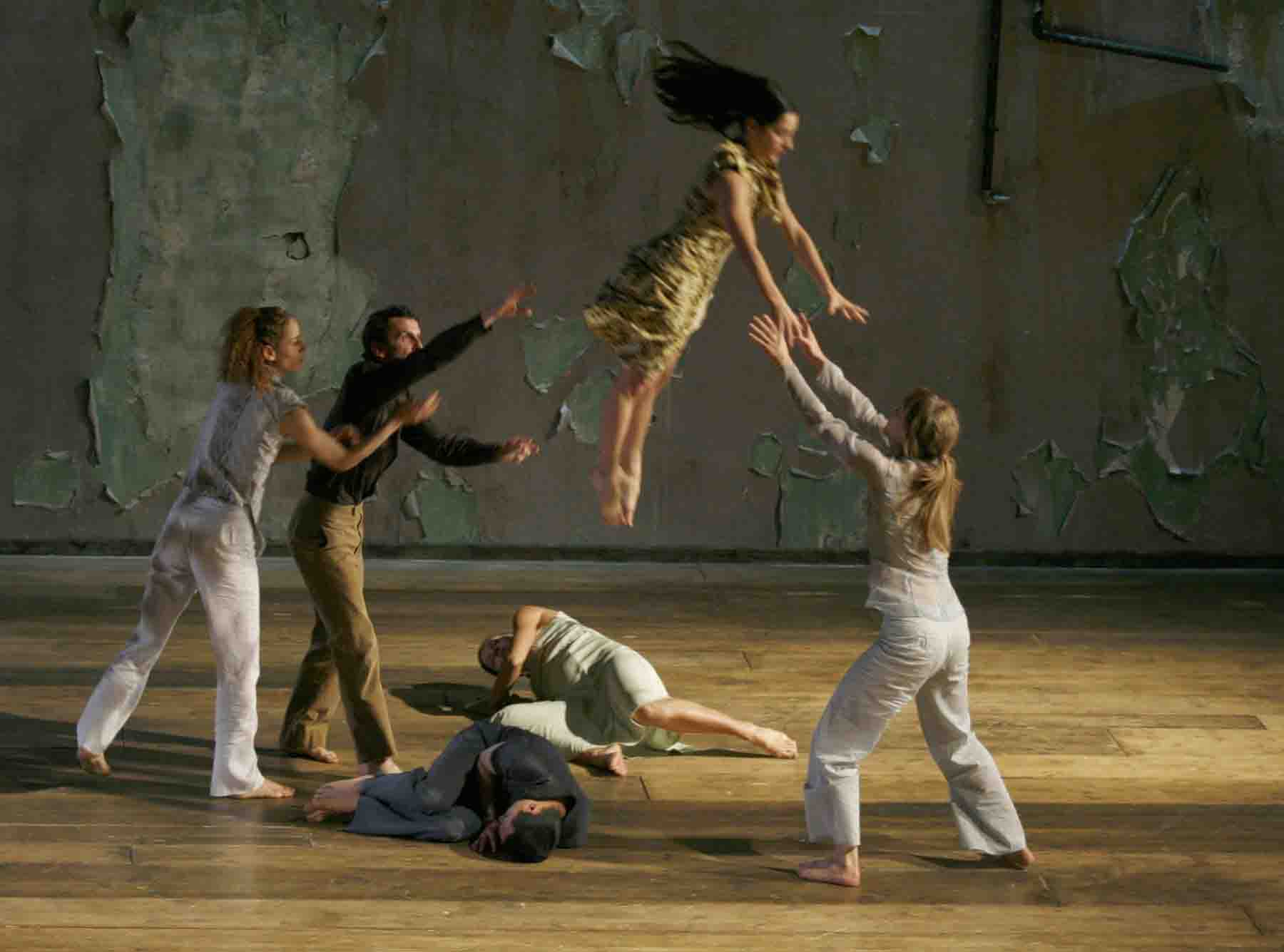 Trust: Sasha Waltz & Guests in Gezeiten
Photo: Gert Weigelt
I was interested in Gezeiten almost all of the time I was watching it–though nearly two hours of attention to work like this without any intermission is asking a lot of many viewers. Yet the more I thought about the piece afterward, the more I found it wanting. Most peculiar, I think, is the fact that the piece is not expressive. Events just happen, but the dancers–otherwise very deft and precise–project very little, if any, emotion about their plight. Sorrow, joy, rage, fear, and panic seem to have been excised from their vocabulary. Obviously they were carrying out the instructions they'd been given (perhaps along the lines of Balanchine's "Don't act dear; just do.") But the Waltz who states in interviews that she's charting the broad spectrum of people's reactions to dire situations and who claims, moreover, that she's illustrating the idea that reconstruction always follows destruction–that Sasha Waltz reads more eloquently than what is actually accomplished on her stage. Of course in Europe–Waltz is German and based in Berlin–program notes are considered an integral part of the show.
© 2010 Tobi Tobias