The Forsythe Company / BAM Howard Gilman Opera House / Brooklyn, NY / October 7-10, 2009
William Forsythe made his name creating ballets with an eye to pushing the art conspicuously forward, as Balanchine had done. Nowadays he makes concoctions that are so hard to appreciate, detractors find them empty, showy, foolish, inexplicable, or all of the above. It's not that I think he should retrace his early steps.
Artists must not – cannot, actually–imitate their past. They need to move ahead to find their own future. I just wish I understood and liked Forsythe's recent work better.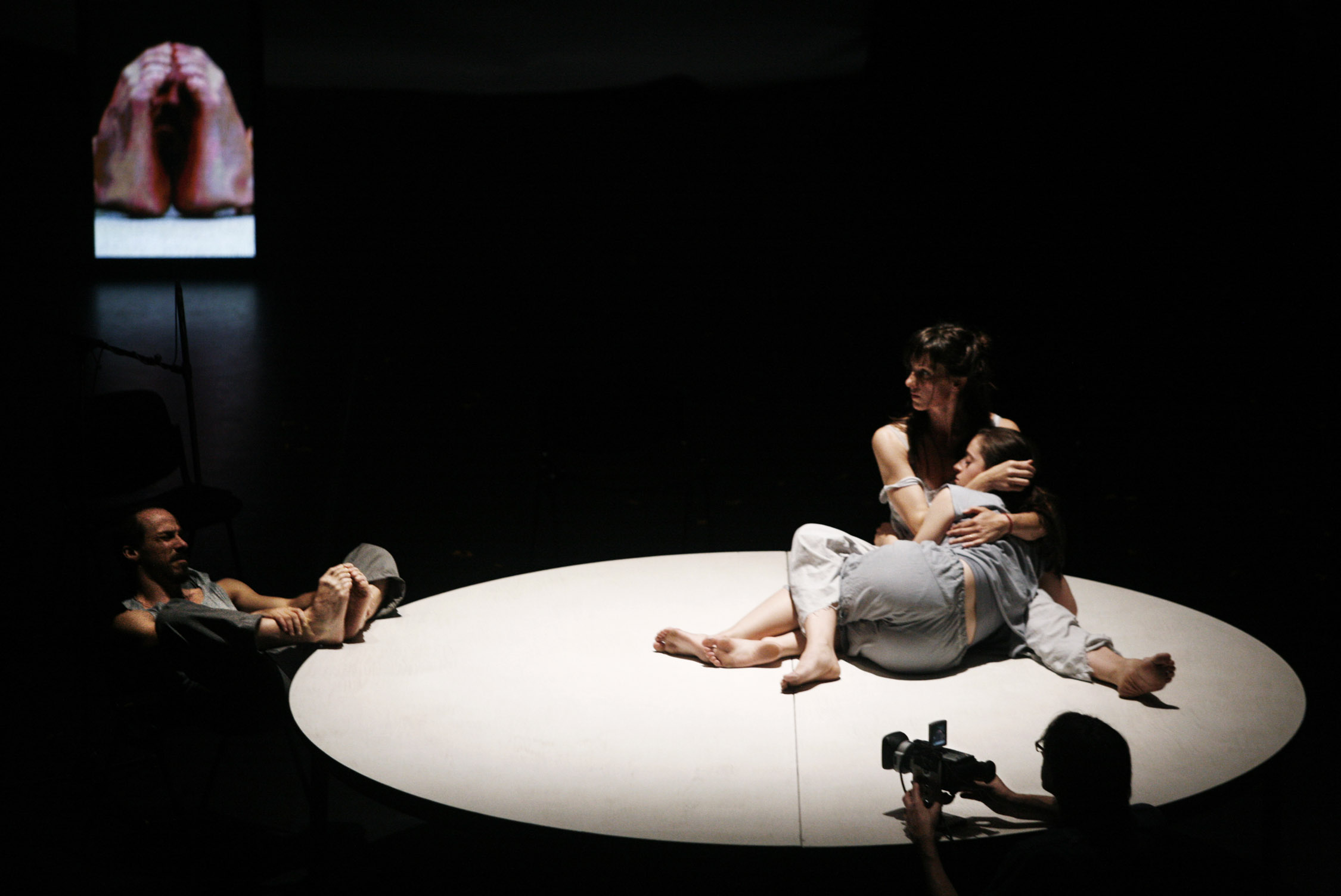 Members of the Forsythe Company in Forsythe's Decreation
Photo: Julieta Cervantes
Decreation, which Forsythe and his devoted troupe brought to BAM'S Howard Gilman Opera House for an October 7-10 run, is not so much a dance as a dance cum postmodern drama cum installation cum performance art cum . . . well, you get the idea.
Forsythe's idea is that the world is in pretty hopeless shape. While its inhabitants obsess about communication, connection, empathy, and even love, he tells us, their actions invariably disintegrate into the cruel and bizarre. Though he keeps his stage tidier than the colossal-mess-loving Pina Bausch–even the dancers' clothes, shmatas you could clean the garage in, are fastidiously keyed to a subtle sky-and-earth palette–Decreation recalls the themes of her angst-driven earlier works.
The piece opens with a narrator standing behind a translucent box (also used as a projection screen, part of the media mix the choreographer favors), playing the dual role of defense attorney and accused. Her lines, delivered in a voice cracked with rage, alternate so swiftly between the two characters, they're barely intelligible.
The effect is like that of a particularly hostile Punch and Judy show.
In general, the sound is unbearably raucous, with overlapping verbal provocations accompanied by intermittent music played onstage and crackling static. The static may be there to remind us that everything we say nowadays is being recorded as info in the public domain, to be received by unsympathetic listeners. Occasional silences fail to bring relief; they only make one woman's low moaning audible.
As for the movement in the piece, it's usually violent and grotesque (angular, spasmodic, writhing)–and endlessly repetitive. The groupings, though, are so handsomely arranged, it's hard to believe that the anatomical incoherence represents authentic feeling.
Images suggesting sexual abuse abound. One pathetic figure often reappears, clutching one of her breasts with her right hand and her crotch with her left. She is the Eternal Female Victim, until she slips out of a contorted confrontation with two men, leaving them to undo each other.
Ten minutes into the one-hour show, you feel as if you've stumbled into a loony bin, albeit one that boasts high-end design and a façade of braininess. The latter comes across in exchanges like this one: He says, "Everything is beautiful and nothing hurt." But she says (he reports), "Everything hurt, everything that was beautiful."
And then there's the persistent variation on this theme: "I might prefer to love another more than I love you. What would you do?" Only the libretto of one of the gayer Mozart operas could make such business viable, and then it would bubble with fun. Here it's rendered with pensive solemnity, reiterated so often you wonder why the guy at the receiving end doesn't counter with "Gimme a break already!"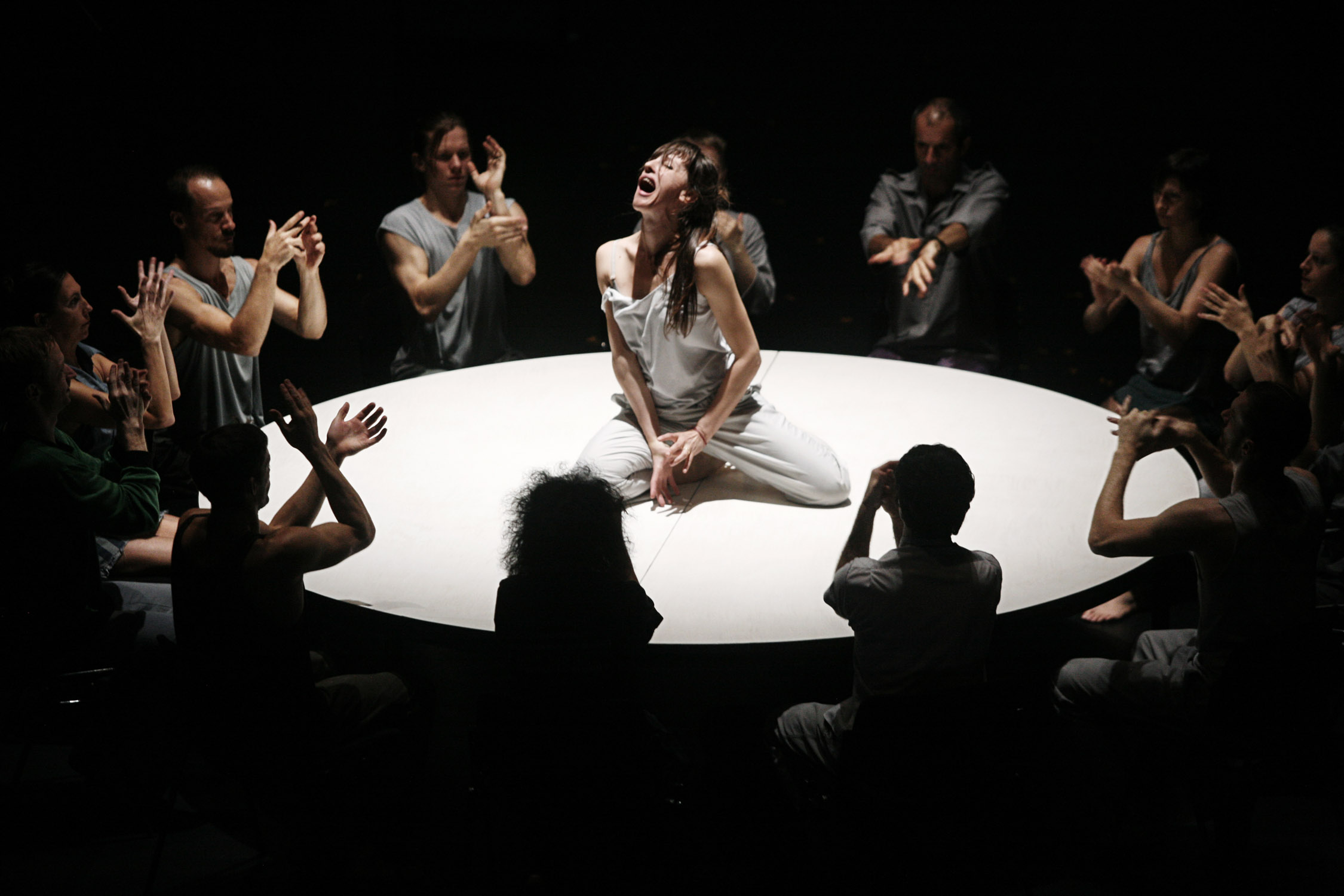 The Forsythe Company in Forsythe's Decreation
Photo: Julieta Cervantes
In the final segment, the huge round table that loomed in the background is stripped of its formal dinner paraphernalia (crystal, china, sumptuous white cloth) and dragged forward, folding chairs placed to rim its periphery. The whole overwrought cast congregates, seated, for one last blast. Of course a distraught woman mounts the table (remember the Béjart Boléro?) and–oh, never mind. We've all been there before.
© 2009 Tobi Tobias