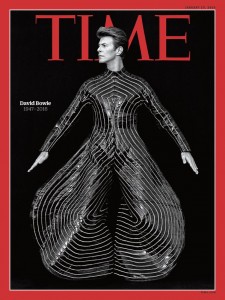 Blackstar, David Bowie (with the Donny McCaslin Quartet and guitarist Ben Monder) (Columbia)
Peter Doggett on On Point, January 12, 2016
Jon Pareles Obituary, New York Times
Greil Marcus on Lodger, 1979 ("…ideas are run up the flagpole, but try and find the flagpole…"), Rolling Stone
Lester Bangs on Diamond Dogs, 1974, Creem
Woody Guthrie Pens Anti-Trumper ("First Draft," New York Times, January 25)
More than a half-century ago, the folk singer Woody Guthrie signed a lease in an apartment complex in Brooklyn. He soon had bitter words for his landlord: Donald J. Trump's father, Fred C. Trump.
Mr. Guthrie, in writings uncovered by a scholar working on a book, invoked "Old Man Trump" while suggesting that blacks were unwelcome as tenants in the Trump apartment complex, near Coney Island.
"He thought that Fred Trump was one who stirs up racial hate, and implicitly profits from it," the scholar, Will Kaufman, a professor of American literature and culture at the University of Central Lancashire in Britain, said in an interview…
Just like the Brits to harvest the last word on our own elections. Leave it to Woody Guthrie to upstage David Bowie from beyond.
String Quintet in C Major, Opus post. 163, Franz Schubert. Kuijken Quartet with Michel Boulanger (Challenge Classics)
At music schools in the late 1970s and early 1980s, the early music boom upstaged all Romantics. Period instruments and practice became a religion, and evangelicals held sway like Puritans. As dogma, the stuff sounded dry as moondust. But now that the ripples get felt throughout the scene no matter what type of strings you use, the effect has finally proven worthwhile: the point of reference for this steel-string outing might be L'Archibudelli (no spotify link)… but listening to Kuijken's combined attack and — especially — suspenseful releases, can make modern virility sound forced, if not overwrought.
That "ditto" sign won Christmas, this guy won the Globes:
And: Courtney Barnett's album came out late in 2015, but don't miss it.
[contextly_auto_sidebar]