Stefon Harris And Blackout, Urbanus (Concord). Harris is one of the brightest legatees of the vibraphone tradition glorified by Milt Jackson and such of his successors as Walt Dickerson, Cal Tjader and Bobby Hutcherson. The Jackson school

played an important part in Harris's development as a soloist. But, born in 1973, he came to maturity in the 1990s and is under the spell of not only bebop but also the pop culture of his time. The music he grew up with included gospel and R&B, standard inspirations for jazz musicians for decades. Harris was affected, too, by go-go, a funk offshoot that influenced early hip-hop; hip-hop itself; soul music; rap; and influences as diverse as Radiohead, Stravinksy and Stevie Wonder. The musicians in Harris's band, Blackout, are roughly his age. They think no more in categories than he does and wish to use their music to reach a generation of young people who are likely to find jazz too complex, too intellectual, too fuddy-duddy–the music of their parents and grandparents.
Grabbing the youngsters is an admirable goal, one that relates to web log discussions flaring up in the wake of a National Endowment for the Arts finding that the future of jazz is in danger because its presumed primary audience is aging. (For an interesting development in that contretemps, see fellow artsjournal.com blogger Howard Mandel, who is conducting a public experiment.) No matter how effectively Harris captures his target audience–and I hope he does–for serious listeners of any age the music is what matters. In Urbanus, there is much to like, not least Harris's rich arrangements for ensembles that expand his quintet to a medium-sized band. Harris's basic crew is alto saxophonist and vocorderist Casey Benjamin, bassist Ben Williams, drummer Terreon Gully, and Marc Cary, who plays piano, electric piano and assorted other keyboards.
As we have come to expect of him, Harris's playing is brilliant on both vibes and marimba. I keep going back to his quintet exposition of "Minor March," Jackie McLean's great contrafact on "Love Me or Leave Me." High points: Harris's quicksilver soloing, his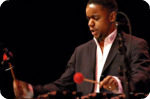 compelling stop-time arrangement, Gully's not-quite-military drumming during what in another era might have been called a shout chorus, and an ending that brings the tune and the listener up short. There are riveting tempo, time and chord changes in Harris's "Blues For Denial," with heated improvisation by Harris and Cary. Working from and beyond the Gil Evans arrangement for Miles Davis, Harris takes Gershwin's Porgy and Bess anthem "Gone Gone Gone" into funk territory with splashes of electronic keyboards ameliorated by skillful voicings for flutes and reeds.
The vocorder is described in the Urban Dictionary as "An electronic device used to alter the voice. Typically used by talentless 'musicians' to try and sound like they can sing." That is unfair, since its most celebrated user is Stevie Wonder, who is generally credited with being able to sing. Herbie Hancock and Joe Zawinul have also put the vocorder to good, if excessive, use. Benjamin uses it on Buster Williams's "Christina," a ballad so gorgeous that it would survive nearly any treatment. He also plays it on Wonder's "They Won't Go (When I Go)" and "For You," a ballad Benjamin co-composed with Sameet Gupta. I would just as soon have heard him play alto sax on those pieces; with continued exposure the vocorder's campy charm recedes. The soulfulness of Benjamin's saxophone commenatary over the ensemble on the concluding "Langston's Lullaby" is a bright facet of the album.
Harris melds his influences tastefully, employing pop elements to attract but not pander to his generation and maintaining substance for experienced jazz listeners. It could be a step toward getting both audiences to ditch labels and think of music as–music.