Final report on the opening days of the Portland Jazz Festival:

In elegant Schnitzer Hall, clarinetist and tenor saxophonist Don Byron had Edward Simon on piano and Eric Harland on drums in his Ivey-Divey Trio. It was the same instrumentation as the Gross-Frishberg-Doggett trio that played the night before in quite different circumstances (see Part 2). In makeup, feeling and interaction, both groups reflect the Lester Young-Nat Cole-Buddy Rich trio of the mid-1940s. Their lead voices, respectively Byron and John Gross, revel in taking harmony and phrasing over the edge of convention. Gross does it with no physical motion beyond what is necessary to operate his saxophone. Byron moves constantly, bobbing, weaving, dancing, conducting with body language. It would be interesting to hear and see these two adventurers together.
Byron opened with "Lefty Teachers at Home" from his 2004 Ivey-Divey CD. The piece has evolved harmonically, with even greater chance-taking than in the recording. Then came "Fosberry Flop." Introducing it, Byron suggested that just as Dick Fosberry's unorthodox style revolutionized high-jumping, the piece involved turning around aspects of Arnold Schoenberg. That qualifies as counter-revolutionary. The trio's use of
dynamics was most dramatic in "Fosberry," Harland ending a solo with a crescendo that
Byron and Simon followed so softly that their re-entry would have to be notated pppp. Then came a three-way conversation in which, as he made his points, Simon dominated and receded, swelled and diminished. The pianist was impressive throughout the set and evidently having a splendid time. He rarely stopped smiling.
"Somebody Loves Me" was laced with boom-chicky rhythms that Byron, Simon and Harland managed to make both evocative of earlier jazz and as hip as tomorrow. They

generated powerful swing, with solos from Byron on clarinet and tenor, Harland commenting and interjecting, and Simon's full-bodied playing a revelation. Has Simon slipped under the radar or have I been missing his growth from a good into a master jazz player? Byron's tenor work was fine. His clarinet playing was brilliant. He wound up his set with what he described as a "chain gang" piece in which he recruited the audience of more than 2,000 as a percussion section, clapping time.
When he was through, Byron referred to the next artist as "the greatest pianist in the world." That was McCoy Tyner, presented as co-leader of a quartet with Joe Lovano. It was the last of Lovano's four major appearances at the Portland Festival. Bassist Gerald Cannon and drummer Eric Gravatt, stalwarts of post-Coltrane jazz, rounded out the rhythm section. Much of the music was from Tyner's 2007 CD with Lovano, and some of the pieces they played go back as far as his 1967 album The Real McCoy.
No saxophonist can work with Tyner and avoid comparison with John Coltrane, but as Joe Henderson and Michael Brecker had before him in their collaborations with Tyner, Lovano has long since worked through his Coltrane apprenticeship. Even on "Moment's Notice," the one Coltrane composition in the concert, there was no sense of Coltrane's spirit riding on Lovano's shoulder. He and Tyner have developed their own relationship. It involves more by-play and humor than existed in the classic Coltrane quartet.
As in most of his work for the past couple of decades,Tyner's hallmarks were strength and volume, but in "Moment's Notice" he shifted down for a solo of clarity with single note lines rather than unremitting successions of power chords. He reached the concert's apogee of muscular playing in "Angelica," which also had a commanding
Cannon bass solo. Then came Tyner's only unaccompanied piece and only standard song of the evening. In "For All We Know," he disclosed more about his early piano influences than we usually hear. Intensity drained away for a few minutes and his playing was utterly relaxed. It encompassed moments when Teddy Wilson might have been at the keyboard and others when Tyner took his listeners even further back in the history of jazz piano, to the stride era. It was a change of pace, good programming and a glimpse of a facet of Tyner's musical makeup that is usually under cover.


For "Blues on the Corner," it was back to post-bop business, with chops flying everywhere, to borrow Louis Armstrong's immortal phrase; plenty of exchanges between Tyner and Lovano with each smiling at the other's phrases, another sturdy bass solo by Cannon, and drum explosions from Gravatt. The encore, following insistent applause, was one of Tyner's signature compositions, "Fly With the Wind"
The publicity surrounding and following Lionel Loueke's signing with Blue Note Records made it seem that the guitarist from Benin in West Africa had materialized unexpectedly. However, he is an overnight sensation with a deep background in music. It includes higher education in Europe, studies at Berklee College of Music and the Thelonious Monk Institute, and experience with Terence Blanchard's sextet. He and his trio mates met in Paris and have been playing together for more than a decade.
All of that time in yoke accounts for the polish in their performance, and for their empathy. In the three pieces I heard them play in Portland, it was clear that, with bassist Massimo Biolcati and drummer Ferenc Nemeth, Loueke has merged his African heritage and his jazz knowledge in a synthesis that gives his trio a sound and identitiy that qualifiy them for that abused adjective, unique.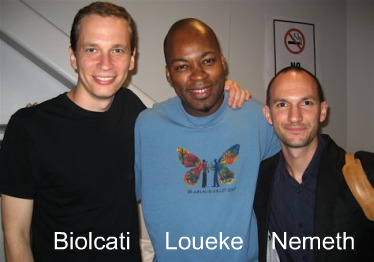 Trying to determine whether they play jazz is as pointless as trying to define jazz itself. They play improvised music that allows freedom within structures, and both aspects of their work are compelling. Loueke's style encompasses rhythm guitar as well as a highly individual way of gliding through chord patterns. It is unlike the work of any other guitarist with whom I am familiar. His singing, sometimes integrated with simultaneous vocal clicks, is intriguing and, as far as I could tell on short exposure, not included as a novelty but as an integral part of his performance.
Biolcati and Nemeth are first-class players who listen closely to Loueke and each other. They all throw rhythmic suprises to and fro, to their apparent pleasure and satisfaction. It's a serious and entertaining band. The songs they played, "Karibu," "Benny's Tune" and "Seven Teens," are all from the Loueke trio's most recent CD. I liked what I heard in Portland and I'm going to spend a little time with their album to get to know them better.
The PDX festival continues this weekend. My fellow artsjournal.com blogger Howard Mandel is there. Maybe he'll pick up the cudgel and let us know what happens.