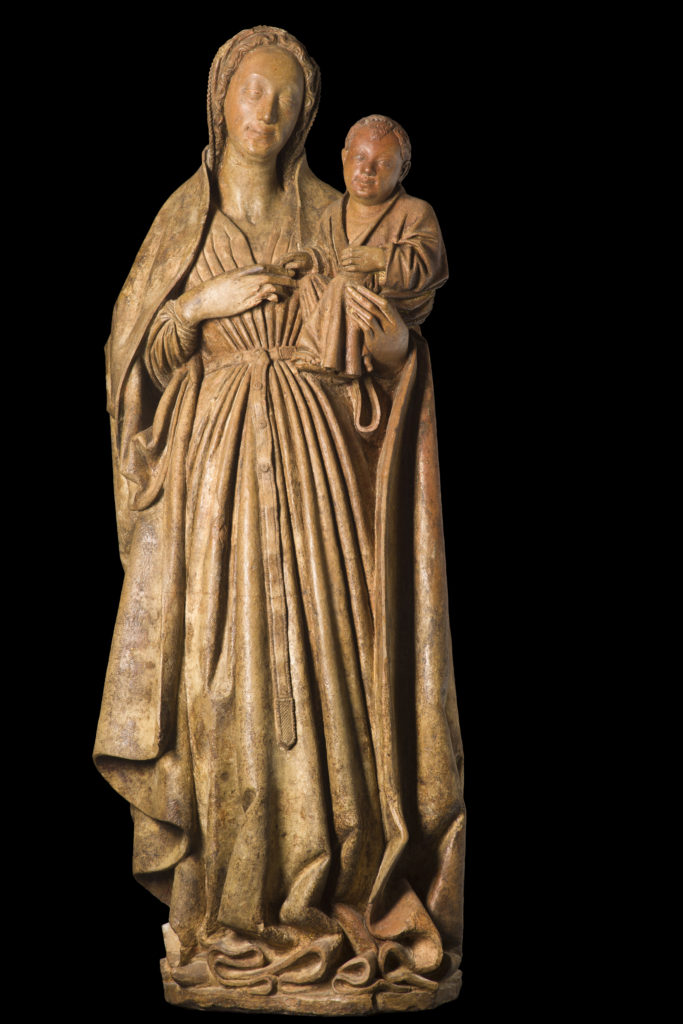 Given all the hubbub last week about layoffs at the Metropolitan Museum of Art and, more important to me, the deadlines I faced for other articles, I did not have time to expand on my article in last Tuesday's New York Times about The European Fine Art Fair's move into North America.
Tefaf–most often discussed by its location as in "are you going to Maastricht this year?"–is to my mind the most interesting and best art fair in the world. The participating dealers, usually numbering about 270, presents art from antiquity to the present. It's huge. The vernissage, which takes place on a Thursday, before the public is admitted, is an incredible experience because of what visitors can see in the booths and who else they can see exploring the art, too. If you go, you will run into museum directors, trustees, curators and collectors–everyone extremely interested in art. It's fun.
And as you've no doubt read, it's too big to come to the Park Avenue Armory, which–aside from Central Park, a non-starter in the de Blasio administration and perhaps others–is the most desirable venue for a premier fair like Tefaf. Consider the wealth that lives in the surrounding zip codes and it's easy to see why.
So, the first slice–with art from antiquity through the 1920s–will open in a vernissage and benefit on Oct. 21 at the Armory and to the public on Oct. 22.
You can read my article Can Maastricht Take Manhattan? here. But I spoke to many more people and gathered much more information and opinions about the gambit than what made it into print. So let me share a few things with you that didn't make print (or online).
"We want to establish Tefaf's brand all over the world," Patrick van Maris, Tefaf's chief executive, told me. The most interesting statistic to me in the article was that just 2,000 to 2,500 of Maastricht's annual visitors are from the U.S., and we buy more art than anyone else in the world. To come here. Tefaf is collaborating with Artvest Partners and, interestingly, its co-founders, despite a combined total of 35 years in the art world, were Tefaf neophytes. Michael Plummer visited for the first time in 2016; Jeff Rabin, in 2016–after Artvest signed the deal with Tefaf. "We knew that a lot of New Yorkers had never been either," said Mr. Plummer. "It's a big commitment of time."
He's right: I surveyed several veteran art collectors and few had traveled to Maastricht. If Tefaf can lure them to the Armory–the marketing effort so far seems very sluggish to me–I think they will be pleased by the art for sale there, all of which is strictly vetted. Yet those collectors, surveyed before and after my article ran in the NYT, knew little about the fair's dates and other particulars. One, who said she has mostly stopped buying, asked me if Tefaf would offer programs and lectures–because she would go to those. Likewise, a museum director I spoke with knew little about the New York venture and had not yet received anything from Tefaf.
The Armory is giving over virtually all of its available space to Tefaf–especially the recently restored period rooms on the second floor. But how is Tefaf going to get people to go upstairs? Visitors are used to taking in the Drill Hall, but not the upstairs. Well, it has two good, I think, plans. First, a group of leading dealers volunteered to go up there–the galleries there are bigger than the booths downstairs and they will bring very fine works of art and jewelry in a "curated" group show called "The Master Collective."
Those dealers are Galerie Chenel, Colnaghi, Rob Smeets Old Master Paintings, Tomasso Brothers, Christophe de Quenetain, George Laue Kunstkammer, and Didier Claesz. Do you know them? You can find more information about them and all exhibitors here.
There will also be an exhibit on that floor of art by Hercules Segers from the Rijksmuseum; it will preview an exhibition, opening Oct. 7 in Amsterdam, that will travel to the Metropolitan Museum of Art next year.
About 20 dealers are new to New York–or are returning after a long hiatus. They include Rob Smeets Old Master Paintings, of Geneva, Switzerland; Kunstkammer Georg Laue, from Munich; A. Aardewerk Antiquair Juwelier, a silver dealer from the Hague; Jaime Eguiguren—Arte y Antiquedadas, from Buenos Aires; and Christophe de Quenetain, a French furniture dealer from Paris. Paul Smeets told me that he is bringing six "totally fresh" paintings.
Tefaf and Artvest are hoping that the quality of the art in the fair will surprise and please American collectors–and they may be right. Not only did the Artvest partners say things like "With the European dealers, we're getting access to a depth of quality that hasn't been here," but others did too.  Francois de Poortere, the head of the Old Masters Department at Christie's–New York, told me, "It has been a long time coming. We've been longing to have a proper Old Master fair in New York, and they have the best dealers in the field. They know they have to bring fresh property. They will do well if they do." And Anthony Crichton-Stuart, who runs a reincarnated version of the venerable London dealer Agnews, noted, rightly: "There have been Old Master fairs here in the past. They weren't as productive as they might have been, which is why they ceased to exist." He is bringing something special to Tefaf-New York, but when we spoke a few weeks ago, he declined to tell me exactly what–except to say that is it big.
Rachel Kaminsky, a private dealer and a booster of Tefaf, summed it up: "This fair will be good enough to attract people from across the country if they do it right."
We shall see if they do.
I'll have more on Tefaf-New York in the coming days. In the meantime, I'll post some pictures of some items that will be for sale at the fair.
Photo Credits: from top to bottom: Madonna and Child by Lorenzo Marcandante de Breta at Colnaghi; a German court games set, c. 1700, at Kunstkammer Georg Laue; a Caillebotte at Dickinson Gallery; a Cycladic head at Charles Ede Ltd.