"Matisse From Tate Modern and MoMA" is the latest of Exhibition on Screen's movies about art exhibitions to open here in the U.S. It's a one-night only event on Jan. 13 at theaters nationwide. Fathom Events is the distributor, and you can find out where it is nearest you right here.
The movie is 90 minutes long, and it's about the cutouts show now at MoMA. You can see the preview on YouTube, which tells the five essential things you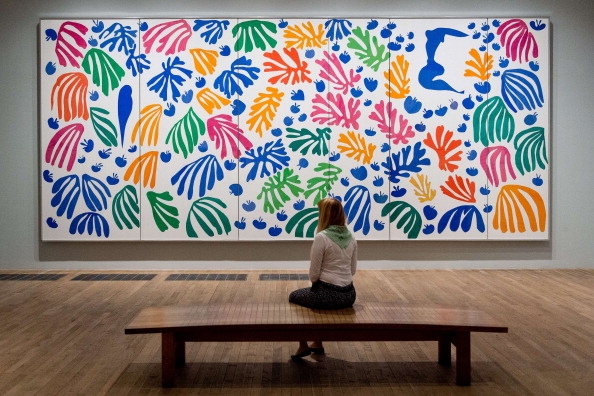 should know about Matisse's cutouts. Here's the billing from the email I received for a preview (which I can't attend, unfortunately):
This "exhibition on screen" provides viewers with a virtual tour of the exhibition with the addition of illuminating archival materials and commentary from Nicholas Serota, Glenn Lowry, curators, conservators, and some who knew the artist in his final years. For those unable to see the show and for those who have and want to know more, the film takes the audience behind the scenes with unprecedented access and into the galleries.
If it it'l like the one of Manet, which I did see, that is a fair description.
This all made me wonder how Exhibitions On Screen was faring–I wrote about Phil Grabsky and his venture in spring 2013 here and for The Wall Street Journal. Well, I guess the answer is good enough, because after Matisse four more such movies will be shown here in 2015. They are "Rembrandt: The Late Works," "Vincent van Gogh: A New Way of Seeing," "The Impressionists," and "Girl with a Pearl Earring." More details here.
To me, they are supplementary to seeing an exhibit, not a substitute–except when you can't get to the real thing.
Photo Credit: Courtesy of Getty Images