All in all, I thought the lead article in Sunday's NYTimes special section on the visual arts–Museums Morph Digitally–was good (it was written by my friend, Steve Lohr), though I wasn't crazy about the line that " museum curators and administrators …talk of …the importance of a social media strategy and a "digital first" mind-set." Maybe digital is second, but surely not first, except perhaps to promote their actual collections.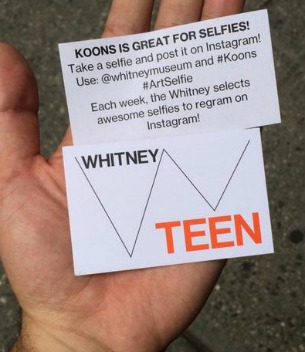 Plus, the whole article did not once use the word "selfie," a bane of museums, imho. Except at the Whitney.
According to an article in last week's Observer, The Whitney Begged Teens to Take Jeff Koons Selfies in Pro-Selfie Propaganda. 
As writer and artist Aaron Krach revealed via Twitter (right, right) the Whitney had been passing out pamphlets through its Youth Insights propaganda arm that instruct teens exactly how to share their love of the Whitney with the world. "KOONS IS GREAT FOR SELFIES" the bolded message reads. The museum goes on to do away with any respectability. "Take a selfie and post it on Instagram! Use: @whitneymuseum and #Koons #ArtSelfie"
Boldface mine. But when a paper like the Observer, which aims to be hip, mocks you, isn't it time to rethink your actions?
Anyway, back to the Times article:
The museum of the future will come in evolutionary steps. But some steps are already being taken. Digital technologies being deployed or developed include: augmented reality, a sort of smart assistant software that delivers supplemental information or images related to an artwork to a smartphone; high-definition projections of an artwork, a landscape or night sky that offer an immersive experience; and 3-D measurement and printing technology that lets people reproduce, hold and feel an accurate replica of an object.
None of that threatens the purpose of museums, though attempts might suffer from poor execution, which would. But you can't blame technology–not even for making selfies possible!
What I liked about the article in particular was the tone–there was none of the "rah, rah, technology rules" mindset. In one section, Colleen Stockmann, assistant curator for special projects at the Cantor Arts Center at Stanford University, talks about augmented reality technology. The point, she said, "is to 'give you more points of access into the artwork, so that it keeps you in the moment of looking, almost as if someone is guiding you through the painting or sculpture.' " That's great.
You can read other examples in the story.
I'm going to give the last word here to Carrie Rebora Barratt, deputy director for collections and administration at the Met, which has had it rah-rah moments and its misfires in technology use, as well as successes. She said,
…there should be a range of viewing choices, guided by the principle…of "letting the content determine what we do, instead of letting the technology and devices lead the way." Those experiences, she said, will run from "no tech" to "high tech."
Agreed.
Photo Credit: Courtesy of The Observer