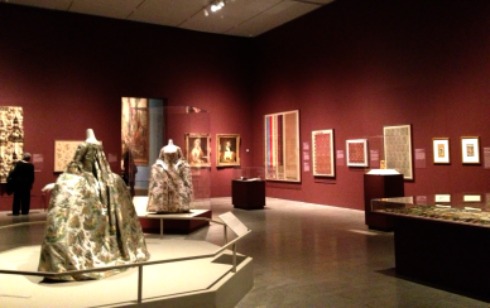 Let me say from the outset that the Metropolitan Museum's* Interwoven Globe: The Worldwide Textile Trade, 1500–1800 — billed as "the first major exhibition to explore the international transmittal of design from the sixteenth to the early nineteenth century through the medium of textiles" — is a wonderful exhibition. The items — costumes, bedcovers, hangings, vestments, fragments — number 134 and, to me at least, they seem beautifully chosen. And the gallery design, with rich wall colors and varied displays, is suitably theatrical, roomy and well-paced. That's one gallery, at left. that provides a peek at what I'm talking about.
There's just one problem — it's a small but it's symptomatic.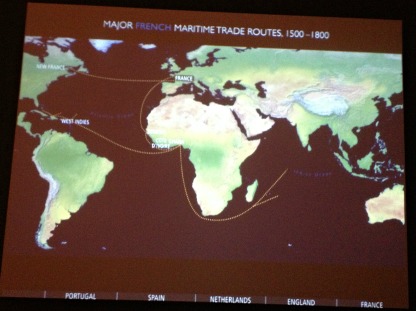 Inside the first gallery, there's a large display screen that shows the trade routes of Portugal, Great Britain, France, the Netherlands and Spain, 1500-1800. Trouble is, the routes are animated, so they pop up as little dots emanating from each country, one at a time. Never does the viewer see all five countries' routes on the same screen. Equally poor, visitors have to wait for each country, sequentially — spending more time than it's worth, given the tiny amount of information they receive.
Have a look at this photo, at right (apologies for the angle), which shows the French routes.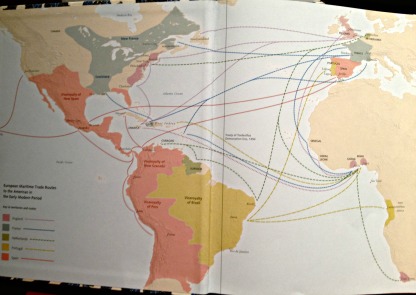 Now take a look at the photo below it — it's the inside cover of the exhibition catalogue.
Which gives you more information, faster? The book map, of course.
I am not against all technology in the galleries. I've praised some uses of it, such as here. But the addition of technology for technology's sake strikes me as inane.
If the target of this map — and there was one of similarly low value in the museum's Silla: Korea's Golden Kingdom show — if those elusive young people brought up on technology, surely these are inadequate. Could the Met really think that young people would be excited by such simple, low-value animation?
By contrast, here's a good use of technology — not in the galleries, but on the web. Click on this link, and you will be able to see 134 objects in the textiles exhibition. Now's that wonderful technology.
Let's nip the other kind in the bud, before it gets too common.