I had no idea yesterday, when I posted about the campaign by the Worcester Art Museum to open its Salisbury Street doors, that the goal was so close to being met.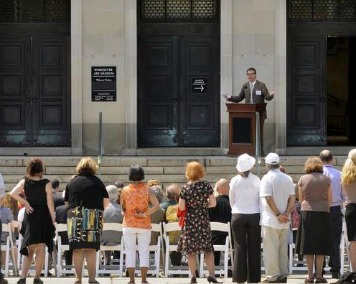 But just now, I received an email from the museum that the $60,000 goal was not only attained but exceeded. Here's what the museum wrote:
With the Salisbury doors having been closed for the past several years (other than on weekends and for special events), the museum initiated a grassroots campaign to raise the $60,000 necessary to re-open the entrance to the public on a full-time basis for at least the next two years. In fact, the Museum exceeded this goal raising a total of $94,113 with a total of 321 gifts ranging from less than $25-$500. [Boldface mine.]
This shows several things.
Directors can galvanize giving, even in small amounts, by finding and defining a cause. It's a lot easier to do that when people know exactly where their money is going and agree with the goal.
Direct appeals by the director, getting upclose and personal, succeed.
Worcester director Matthias Waschek knows how to create excitement. Today, the museum staged a ceremonial reopening of the doors in presence of officials and community leaders "including: Senator Harriette Chandler; Malcolm Rogers – Director, Museum of Fine Arts Boston;  Anita Walker – Executive Director, Massachusetts Cultural Coalition;   Lisa Simmons – Director of PR, MA Office of Travel and Tourism; Councilor Konnie Lukes, and Erin Williams, Cultural Development Officer, City of Worcester." Pretty good turnout.
The museum knows how to pay it back: Waschek announced "that admission to the museum will be free to the public through the end of August."  It's usually $14.
AND: "To celebrate the announcement, the museum will host a free summer kick-off celebration on Saturday, June 23 from 10:00 a.m. to 5:00 p.m. with live entertainment, food and art activities from 10 a.m. – 2 p.m."
Other museums: there's a lesson here, more than one, actually.
Coverage in the Boston Globe is here, and in the Worcester Telegram, it's here.
Photo Credit: Courtesy of the Worcester Telegram