One of the most ridiculous tropes I hear from museum people all the time revolves around museum architecture, mainly old-style Beaux Arts buildings; any old building, actually. They say some variation of "young people find them intimidating."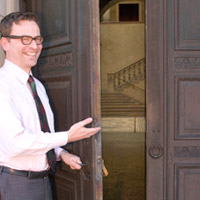 Please. Young people as group are bold and take all sorts of risks older people won't take — why would they find beautiful buildings intimidating? Such lazy thinking has led to many a poor "solution," such as building new entrances on old museums or closing the old entrances when a new building presents an opporunity to do so. But we won't name names.
Rather, this post is about the attempts by a museum director, Matthias Waschek (at left). who recently took over as director of the Worcester Art Museum, to reopen the lovely building's front doors, which open onto it "beautiful Renaissance Court, a trademark of our Museum."
Those doors, known as the Salisbury Street entrance, weren't closed because they were intimidating, it's true. They were closed (except on weekends and for special events) to save money. But Waschek says that they provide the museum with a "WOW factor." The home page of the museum's website  features a plea, including a video, by him asking members to "join forces with me and open the doors!" Online he says:
The $60,000 needed to open the doors would be very difficult for one, two, or even ten of us to raise – but this can be easily done if each member gives just $25. This is less than the cost of a dinner out, or two movie tickets on a Friday night.

May I count on you? I would love to add you to the list of supporters for this special initiative.
Although the museum's finances haven't substantially improved, he says in the video, showing the Renaissance court inside, he thinks it's doable for the community. Fantastic: I would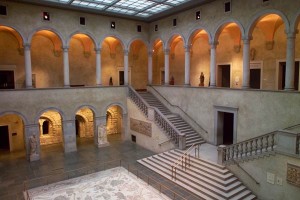 do one more thing — have one of those thermometer devices showing contributions toward the goal, so that all can see. After getting "an overwhelming response" from members, according to the Worcester Scene, Waschek has taken the campaign to the broader public.  
Waschek has a background in modern and contemporary art; he has a PhD in French surrealism and he ran the Pulitzer Foundation for the Arts in St. Louis before moving to Massachusetts. But when I spoke with him in January for an article about acquisitions endowments, he was an enthusiastic evangelist for his new museum, all of it. Attendance there is just 45,000 a year, despite a terrific collection, and he knows he must do something — opening the front doors is a symbolic and meaningful initiative, especially if he galvanizes support throught this campaign. Good for him.
Now back to that false intimidation excuse — framing something incorrectly leads to the wrong solution. Waschek is showing what a real problem is — that non-visitors think museums are boring. That's why he mentions the WOW factor. That can start at the door, even of an old building, whose architecture usually has nothing to do with it.  
Photo Credits: Courtesy of the Worcester Art Museum