My opening remarks in the discussion "A Way Forward: Toward Greater Musical Diversity," at New England Conservatory, in conjunction with three concerts of piano music by musicians who studied or taught at the Conservatory.
Those of us educated in conservatories and schools of music in the United States must recognize and acknowledge our privilege. In the 19th and 20th centuries, conservatory communities did not provide cultural equity, or gender equity; did not provide diversity. And, there are paths to improve, to diversify, to better represent the amazing world that's outside the conservatory walls. I believe and I hope that this change is possible.
Today, I want to consider something fundamental. The music that we have called "classical music" is highly Eurocentric. It's focused on written texts of a few dead white men working during a few years in time—a canon, "the canon" for some, an "imaginary museum," as Lydia Goehr has named it. That music came from societies that were not equitable, that were, in fact, highly racist, highly sexist, highly class-divided. Does the music itself encode or glorify those structures of inequality? Can we practice and play the music, those "classics"—music by Ludwig van Beethoven or Johannes Brahms—while, at the same time, trying to reject the power dynamics that may be the basis of, that may underlie that art?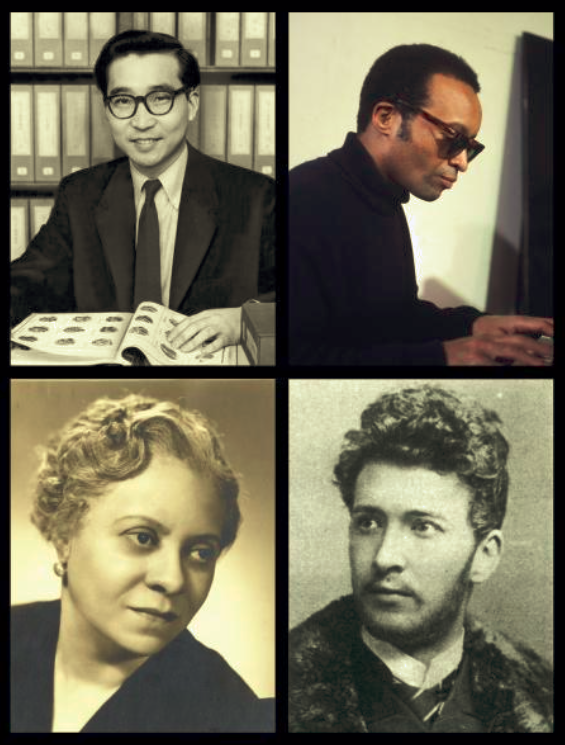 As some of you know, at Howard University, there has been a controversy around dismantling the Classics department— in one department, the study of Greek and Latin, and Greek and Latin texts, literature, poetry, Homer, Aristotle's philosophy. The acclaimed Classics scholar Dan-el Padilla Peralta has spoken about how racism and white supremacy are so embeded in the discipline of Classics that, in his opinion, the whole field should be discontinued. I can say "cancelled."
In the world today, we're involved in the repatriation from Europe to Africa of Benin Bronzes, challenges around the possession of portions of the frieze from the Parthenon appropriated or stolen by Thomas Bruce. We see the long shadow of colonialism and abuse in many aspects of our 21st-century life. The last two years have been a time of reconsideration, bringing new clarity—made possible by the pandemic, by Black Lives Matter, by the murder of George Floyd…
In music schools currently, we make many and frequent value judgements. Many musicians here, in the NEC buildings, would readily agree that Beethoven's Fifth Symphony is much better than his Fourth Symphony. (Wait, have you ever heard Beethoven's Fourth Symphony?) By the end of our audition process this spring, faculty members here will have given a numerical rating, that will be averaged and carried out to two places beyond the decimal point, to every applicant we hear. So the 20th-most-highly-ranked piano applicant might have 4.33, while the next applicant on the list has 4.32.
How much can we believe in all of those judgements, and this adherence to what we may have been taught was "quality," or merit?
In our concert project this spring, I have considered piano music by musicians who studied or taught at New England Conservatory. The range and diversity of these musicians and this music paints a good picture. The concerts explore 150 years of NEC's musical accomplishment. I'm proud that our students are playing these pieces, and I'm thankful that the public will hear this music. In 2020, we performed several concerts that included only music by Beethoven. Is the concert series this year an apology, or a justification? Only a slight antidote to the prevalent monolith of the classical music canon? I'm concerned, and I'm wondering…
_____________________________________________________
Piano Music by New England Conservatory Students and Faculty (in three parts)
January 28, 2022: Nicolas Slonimsky: Minitudes (1972-76) [excerpts] / Jaki Byard: Seasons and The Hollis Stomp / Ferruccio Busoni: Toccata (1921) / Chou Wen-chung: The Willows Are New (1957) / Daniel Pinkham: Forest Music (2002) / George Whitfield Chadwick: Six Characteristic Pieces, Opus 7 (1882) [excerpts] / George Whitfield Chadwick: The Aspen (1924) / Geri Allen: Unconditional Love / J. Rosamond Johnson: The Siberian Dip (1911) / Gunther Schuller: Sandpoint Rag (1991)
February 18, 2022: Halim El-Dabh: Five Egyptian Folkloric Works (1940) / Florence Price: Clouds (circa 1940) / Lee Hyla: Basic Training (1994) / Fred Hersch: Three Character Studies (2004) / Amy Beach: Dreaming, Opus 15, No. 3 (1892) and Prelude and Fugue, Opus 81 (1917) / Cecil Taylor: Lono (1973) / Ran Blake: Memphis / Lei Liang: Garden Eight (1996/2004)
February 22, 2022: Donald Martino: Fantasies and Impromptus (1981) [excerpts] / Alan Hovhaness: Two Ghazals, Opus 36 (1933, revised 1966) / Quincy Porter: Sonata (1930) / Donal Fox: Toccata on Bach (2001) / Steve Piesch: Four Ostinati (2021) / Margaret Ruthven Lang: Twilight (1894) / Anthony Green: Apology (2020)