Every hand is different. Often large hands or hands with wide reach are thought to be an advantage in piano playing. In general, hands are getting bigger as bodies do. That makes some big stretches in old keyboard music more accessible, and less risky. Very wide fingers are a difficulty. It may be impossible to play in between the piano's black keys — as it was for Walter Gieseking.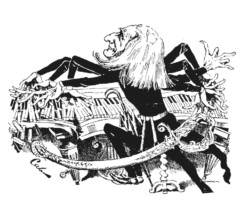 We know that a few players of the modern piano (Daniel Barenboim, Josef Hofmann) sometimes use specially built pianos with slightly narrower keys. Will there come a time, when large-fingered players will want wider keys? (It's sometimes suggested that basketball hoops be raised to restore greater difficulty to the game.)
Richard Goode asked Rudolf Serkin about a difficult-to-reach chord in a chamber music piece. Would it be acceptable to modify the chord, so it wouldn't always be smudged? According to Richard, Mr. Serkin advised him to keep practicing — in the concert, his hand would be a little bigger. Of course, with anxiety, hands often become less flexible and less able to stretch. So, in the performance, that chord was really smudged. And according to Richard's account, Mr. Serkin was proud of him!
Some pianists do rearrange or redistribute chords or passages that seem, in notation, to call for wide stretches. I witnessed the small-handed Alicia De Larrocha play Rachmaninoff's Second Concerto — with the seeming benefit of bright light from a floor lamp right next to the keyboard.
To connoisseurs of keyboard chords spanning a tenth (or more), there may be no satisfying substitute for unbroken playing. Nico Muhly has written such a chord, it seems to me, in his new Drones & Piano:

In piano music by Robert Schumann, some large chords may be marked with the wavy vertical indication for arpeggiation, while other equally-large chords are not marked. The vocabulary of breaking chords — the range of possibility — was great, in the pre-simultaneity era. The necessarily or voluntarily rolled-chord might start before, or on the beat, or somewhere in between, with acceleration or hesitation, or with two low notes (that form a fifth) sounded together like open strings on a violin.