Tim Page suggested I play some music by Philip Glass. It was a solo piano arrangement of part of the opera Satyagraha — Gandhi's final, Act 3 aria. Tim wanted this music for a solo piano CD we were making for BMG's Catalyst label.
The arrangement wasn't easy. According to Tim, the pianist Rudolf Firkusny had struggled with it, and given up — Firkusny thought it was too hard to play! Though the Catalyst recording was never made (some details of the story are in Norman Lebrecht's The Life and Death of Classical Music), I learned the Satyagraha arrangement and performed it.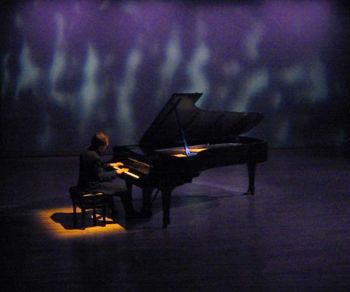 Ben Kato
's lighting for "Metamorphosis 2" at the Gilmore Festival
Glass himself got me involved in a dance performance at St. Mark's in New York, in the East Village, in which I played "Metamorphosis 2." That piece seems to exert a strong pull on choreographers. Since the performances with Polly Motley at St. Mark's (a two-dancer piece), I've done the same music with Maureen Fleming (her entrancing solo "The Stairs"), and again in a larger-scaled piece,"Extremely Close" by Alejandro Cerrudo at Hubbard Street Dance in Chicago.
The unmade Catalyst recording morphed into another project. I prepared all five pieces of Glass's Metamorphosis, as well as Mad Rush, and the Satyagraha arrangement. I went down to Third Street to play the pieces for Glass. (Before my first visit to his house, he gave meticulous directions about how to get there on the subway, including details regarding which end of the platform to use to transfer trains, and which stairways are most expedient.)
On Philip's home Baldwin, I found the middle C and the A below it (his favorite two notes!) almost toneless — worn out. He was encouraging, mentioning a few ideas about how the recording might be engineered, and advising me to carefully count out all the repetitions within pieces…
Glass's piano music is personal. He plays it himself. At the same time, he seems to welcome others playing it. He showed me a cadenza he wrote for a piano concerto by Mozart, and got me a copy of the six etudes he wrote in 1994. Glass was writing more etudes and reserved the right to make the first recording himself, but he encouraged me to learn the music.
I returned to play through the six etudes for him. Philip penciled a few alterations into my score. And I did perform these etudes at Harvard University, in London, in Los Angeles, and in Manila. Philip continues writing piano etudes. He recorded ten of them in 2003. My own recording of the original six etudes has just appeared this month.