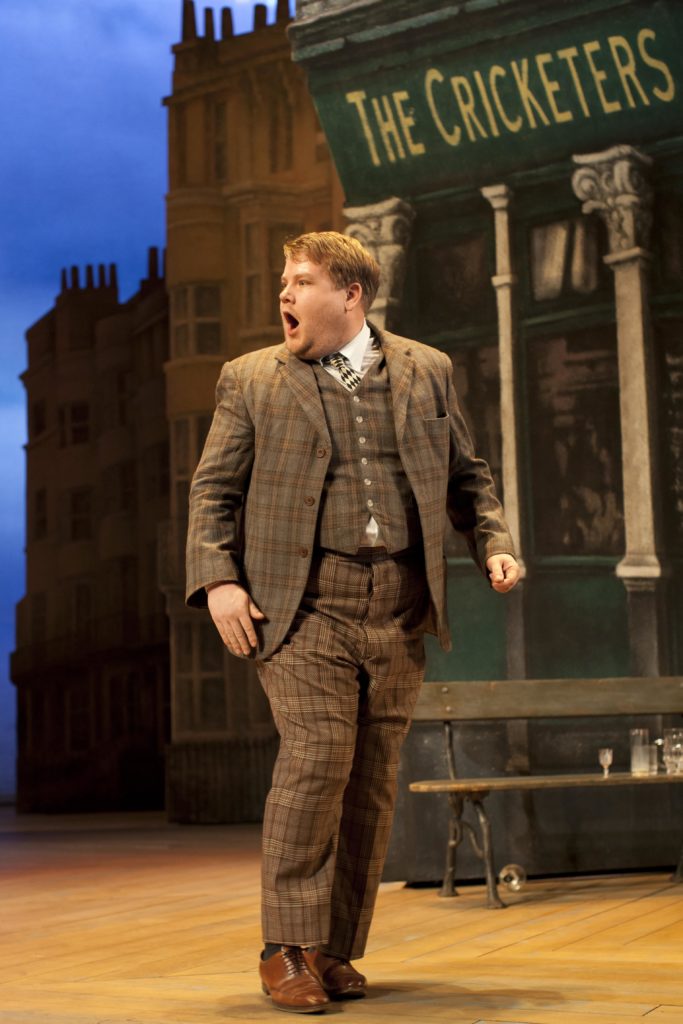 'The man next to us is honking like a seal,' whispered my friend Mel at the interval of One Man, Two Guvnors. It was the press night of the National Theatre production, back in 2011, and we'd gone along hoping for a bit of a chortle, I guess. We didn't know we'd be part of an audience convulsed with laughter. And the man sitting beside us really was honking like a seal.
Tonight the National Theatre will stream their film of the show (available on YouTube for a week afterwards), and I've just found the review I wrote for Plays International. I'm grinning just remembering Daniel Rigby's daft-as actor and the beatifically dim Oliver Chris. Hope you enjoy it too.
One Man, Two Guvnors
The National Theatre's uproarious new hit takes an 18th-century comedy by Goldoni on a day trip to Brighton, crams a kiss-me-quick hat on its head, gooses it and gives ita spin on the dodgems. Goldoni seems to enjoy himself: I certainly did. And the man next to me was honking like a seal. Like a seal, I tell you.
Richard Bean's text transposes A Servant of Two Masters from Enlightenment Venice to Brighton in 1963. Everything makes enough sense when you're watching, but defies tidy synopsis. Suffice it to say that Francis Henshall (James Corden), desperate for gainful employment and a square meal, takes not one but two jobs as a minder. His bosses are a pocket-sized gangster and a posh bloke: little does he know that the gangster is a girl posing as her nasty, dead twin brother; and that the posho is the girl's fiancée and brother's killer. All clear? Good-oh.
Script and design (high-windows and foreshortened perspectives by Mark Thompson) nod nicely to the play's commedia heritage. Like the classic Truffaldino, Francis is driven not by love or honour, but by his rumbling belly. "I can't stop thinking about chips," he says plaintively, and greed keeps threatening to derail his schemes. More tellingly, a grand tradition of British comedy runs through the show like the motto in a stick of rock – crude, violent and beguilingly innocent. There's everything from saucy postcard humour to Victoria Wood. Musical numbers too, in front of an orangeade curtain, involving a skiffle band and the entire cast (the ladies form a sultry close-harmony trio; Daniel Rigby's bizarre percussion on his own bare chest is a winning party trick).
Nicholas Hytner's production bounces from guffaw to guffaw. Bean not only adds lashings of smut, but his best gambit is the non sequiteur. Lines run very fast, smack into a wall. I'm not sure why, but they're hysterical nuggets of nonsense. 'They don't trust me with cheese,' for example. Or 'She's unsullied by education, like a new bucket.' The very best lines go to the wonderful Oliver Chris as posh Stanley Stubbers – tall as an oak, thick as a plank, wearing the beatific grin of a slightly dim camel. He says things like 'Wrap his nuts in bacon and send him to nurse,' or 'First names are for girls – and Norwegians,' which even as I type make me giggle like a loon.
As well as Chris, a fine cast includes jaw-jutting Jemima Rooper as the disguised twin, Suzie Toase as a proto-feminist in a very tight sweater, and the sublime Daniel Rigby as a would-be thespian doing fiercely interpretive dance – the actor as bellowing numpty. At the play's giddy centre is James Corden as Francis. Last seen on the South Bank as one of Alan Bennett's history boys, he's since carved out a starry career in telly comedy. Back on stage, he brings a nimble, improvisatory charm to the play. He's a dab hand with props, though, I've sent quite a few friends to see this show (they've all loved it. Even my parents, who are a tough crowd), and can confirm that some apparently spontaneous banter and antics are actually set in stone. I'm assuming he really does catch peanuts in his mouth.
The lines are good, the running gags (Australia, the question of identicality in twins) are lovely, the slapstick (courtesy of associate director Cal McCrystal) is terrific. Corden has  a full knock-down fight with himself; Rigby perfects an ever more peculiar thespian stance; and there's a delirious catering scene involving an antiquated waiter (a heroic Tom Edden), a cricket bat, a fire extinguisher and, ahem, a member of the audience. Everything is delivered with tremendous verve. Given the rhapsodic reception, the play will soon transfer to the Adelphi Theatre. I don't know if prime credit should go to Bean, Hytner, Corden or Goldoni – but whichever it is, just wrap his nuts in bacon, would you?
Photo of James Corden by Johan Persson