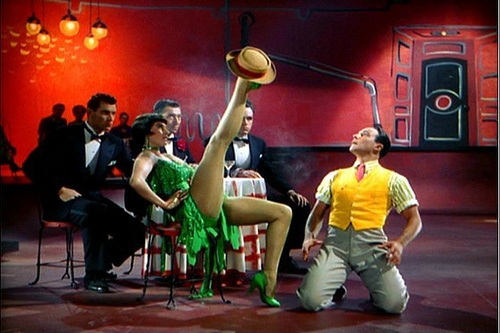 We learned a lot about Singin' in the Rain during the Lockdown Theatre Club group watch. There was a lot of adoration for this film, and a lot of good facts flying around. It made me think about why I love it so much – although I've always been more of an Astaire boy than a Kelly fan. But what I love about the film and its hero, Don Lockwood – the silent star played by Kelly who reinvents himself for the talkies – is that Singin' in the Rain is about someone recognising that they must rethink everything they've done and everything they know. Don must find the guts and humility to remake himself, stepping beyond comfort and risking humiliation. It's about a kind of courage, and I find it immensely stirring.
It's also impossible to forget Kelly's own biography – a left-leaning artist who left the US at the height of the Macarthyite witchhunt. Many of his close collaborators – including Betty Comden and Adolph Green, the Singin' screenwriters, and the actor Judy Holliday – were also targeted by the investigation. Kelly's wife Betsy Blair was blacklisted and her career derailed for several years. Does that history shadow a story about resolve, principle and survival? I feel it does.
Anyhow, here are 20 things we learned about Singin' in the Rain – from dubbing the dubbers to Kelly's buttock-framing trousers.
Singin' In the Rain might have cast Howard Keel as Don and Judy Holliday as Lina. Born Yesterday made her too famous, so Jean Hagen played the role – having previously understudied Holliday in Born Yesterday on Broadway.

Like Don, Kelly's career began in a dance double act with his brother. They too played working men's clubs and vaudeville, but Kelly also studied ballet with Nijinska's husband. His first Broadway success was as Harry the Hoofer in William Saroyan's barfly drama The Time of Your Life.

Betty Comden and Adolph Green initially struggled with the screenplay. 'When Comden's husband saw three abandoned false starts,' writes David Benedict, 'about silent pictures, vaudeville and talkies, he suggested meshing them together. They later described it as "our Eureka moment".'

There was a lot of love for Donald O'Connor's bravura hoofing as well as for his character's wit and sense. We've been pointed towards his other musicals like I Love Melvin and Are You With It.

Donald O'Connor devised Make 'Em Laugh with Kelly, using what he called a compendium of gags and shtick from his vaudeville days. Bruised and shattered after filming the number, he needed a few days off – only to learn that they hadn't quite got it, so he had to do it all over again.

Cosmo (O'Connor) chats up a woman at a party early in the film ('Oh Mr Brown,' she asks, 'do you really think you could get me in the movies?') is Gwen Carter, aka Mrs Donald O'Connor.

The film's sexual politics are still… problematic. Exacerbated by casting 19-year-old Reynolds opposite Kelly (39).

Gene Kelly's vanity came in for some ribbing. We heard that in his first duet with Reynolds, she left her chewing gum on the ladder and Kelly's toupée got stuck and they had to reshoot. More remarkably, we learned that Kelly always wore trousers a size too small to show off his tight buttocks – and had his fellow performers' trousers made a bit larger.

Don's vocal coach is played by Bobby Watson. A light comic in British 1930s films, he also went on to play Hitler in several films.

The last shot of the sofa tumbling over in Good Morning required 40 takes. Reynolds' feet were bleeding by the end. 'Singin' in the Rain and childbirth were the hardest things I ever had to do in my life,' she said.

Film critic David Thomson believes the title number resonates because it gives us 'a chance of mercy or delight when times were hard and the rain seemed toxic.' Still resonant.

The passer-by who takes Kelly's umbrella was himself a silent comedy star laid low by the talkies: 'Snub' Pollard, a bit of a Stan Laurel type with a droopy moustache.

When Tommy Steele starred in Singin' in the Rain at the London Palladium, the crew disliked him so much they used to piss in the water tank that provided the rain.

The Broadway Melody ballet cost $600,000 to film.

Broadway Rhythm is Charisse's first prominent screen role. Marianka Swain said 'Cyd Charisse lucked out here. Debbie [Reynolds] was considered too inexperienced for the dream ballet. First choice was Leslie Caron, but she was pregnant. Then Kelly remembered admiring Cyd in the Ziegfeld Follies.'

There's supposedly a cut during Charisse's duet, said Marianka Swain, 'because the studio considered a move too racy – Cyd throwing her legs around Kelly's waist, I think? TBH it's all pure filth, in the most glamorous way.'

Aeroplane motors were pointed at Charisse to get her 50ft silk scarf to float properly. She said she struggled to stay standing.

Zelda – Lina's friend who snitches on the pals' plan to have her dubbed – is played by Rita Moreno (who would later play Anita in West Side Story – in which she was dubbed).

There was a lot of dubbing in a movie all about dubbing. Kate Maltby summed it up nicely: 'we watch Debbie Reynolds supposedly dubbing Jean Hagen's voice. In fact, what you hear is Hagan, dubbing Reynolds, dubbing Hagen. Because really, Jean Hagen had a gorgeous, deep voice, just perfect for an idealised 20s talkie star.'

Lina Lamont is the most unexpectedly tantalising figure – what becomes of her after the story ends? Everyone felt she was a survivor, imagining futures for her that included marrying an ageing senator and gaining political influence, investing in television and Californian real estate and becoming oil rich. Don't worry about Lina.
With thanks to David Benedict, Sarah Breeden, Phil Chan, Rebecca Dougall, Poly Giannaba, Melinda Hall, Robert Hanks, Veronica Horwell, Victor Jays, Kate Maltby, Louise Penn, Marianka Swain, @misssfitt