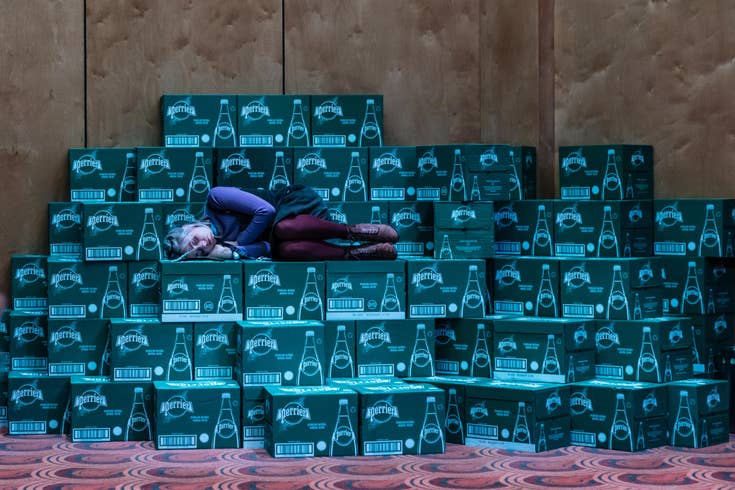 Once about the time there was a group of people, telling stories and talking about telling stories. They didn't exactly know what stories they should tell, or why they were telling them, so they just sat round a big oval table under a big fancy light fitting, and kept riffing about mythic stories, and hearing each other's personal stories, and not going home so they could continue talking about stories through the night.
Dave says there are seven types of stories in the world (starting with 'rags to riches'). Josh says there are ten types of stories in the world (starting with 'a threshold crossing'). One of the Dannies says there are 36 types of stories in the world (starting with 'supplication'). But Brian says there are 18 types of stories in the world (starting with 'the void') and he may or may not be right but his list is by some measure the strangest of them all.
In The Antipodes by Annie Baker, it is never clear why these eight people are sitting around the mirrored table talking about how to talk about stories (are they developing a movie? A tv series? A video game? A religion?). It is not quite clear what kinds of strangeness is going down in the world outside. Or elsewhere in the building. Or within each of them. But what is quite clear, by the end of the clear-eyed National Theatre production by Baker and designer Chloe Lamford, is that there are just seven types of props in the world.
1 The prop you eat
There's nothing more pleasing than a prop that is eaten. You know it has been made, or bought, for one night only, and must be bought, or made, for every subsequent performance. It's no surprise that propwatch began with edible props and has returned to them. The story-spinning team in The Antipodes is exercised by food – every day, Sarah the assistant, the only person who gets several changes of costume, brings in a takeout menu from a different localish restaurant: Japanese, pizza, Tibetan ('I ordered yak butter tea').
That last selection was from Eleanor, my favourite character in the play (and beautifully played by Sinéad Matthews, whose quizzical gaze on the world, and uncanny rasp of a voice in a tiny frame, seem a perfect fit with this role). The only woman on the story team, she also has the most idiosyncratic snack selection – at least compared to the Pringles bros. She tap-tap-taps her hard-boiled eggs on the table, unfazed when the guys snicker, 'that smells like farts' ('It does?' she asks, then sniffs, shrugs and carries on munching). And when invited to request snacks she goes for sharp green apples and almond butter, which she later brings out of her carpet bag (and who can see a carpet bag onstage and not think of Mary Poppins?). In Eleanor, snack action functions like defiance, like principle, like self-knowledge.
2 The prop you drink
So, there's a lot of Perrier in The Antipodes design. Like, a lot. Baker's stage directions specify boxes of seltzer cans piled up in the office, but at the National there are stacks of Perrier boxes. Over 50, I think. They're incongruous in the otherwise sleek-pannelled, discreetly teched office suite. Why are they there? Is there no storage space in the offices of Whateva Inc? Do they panic that the colleagues won't stay hydrated? Is it just the peculiar visual pulse of emerald boxes against light wood, plus providing somewhere for Matthews to hunker down during a hurricane-spooked all-nighter? Either way, there's a lot weirdness in this play, but none of it is booze-induced.
3 Hi tech props
Everyone gathers at one end of the table and gazes up to midair through blue-glow goggles for a virtual meeting with some big cheese called Max. They look like a flock of futuristic owls – but as is fitting for a play about the unreliable fundamentals of storytelling, the tech splutters and most of Max's words are lost in static.
4 Lo fi props
The more childlike, the more effective. One of Baker's standout sequences has Sarah (Imogen Doel, glorious) narrate a story from her childhood that within minutes becomes the Grimmest of tales (and an echo of sorts of the creepy af dolls from Baker's previous play, John). An apparently guileless story, it leaves characters and audience slack-jawed in weirded-out wonder. The prop equivalent is a clutch of childhood stories, handwritten and hand-illustrated, prised from the cellar and handed around, artless yet piercingly effective.
5 The prop that seems to promise a major plot twist but doesn't deliver it
In 19th-century plays, the prop that deploys a major plot twist is often a letter – containing good, bad or secretive news, or falling into the wrong hands, or the right ones. Now, it should be the mobile phone that shoulders the role, and Baker primes us for that with scenes in which we're told phones must always be off in the room. Sandy (Conleth Hill) – the possibly legendary, possibly dynamic, possibly toxic leader – nonetheless breaks his own rule, picking up a stream of alarming bulletins from home ('her ovary just tied itself in a knot and then it exploded'). And Eleanor sneaks a peek at her messages only to get hounded by the alpha bros. But whatever disasters and revelations emerge during the evening, they don't come via phone. Things are simpler, stranger than that.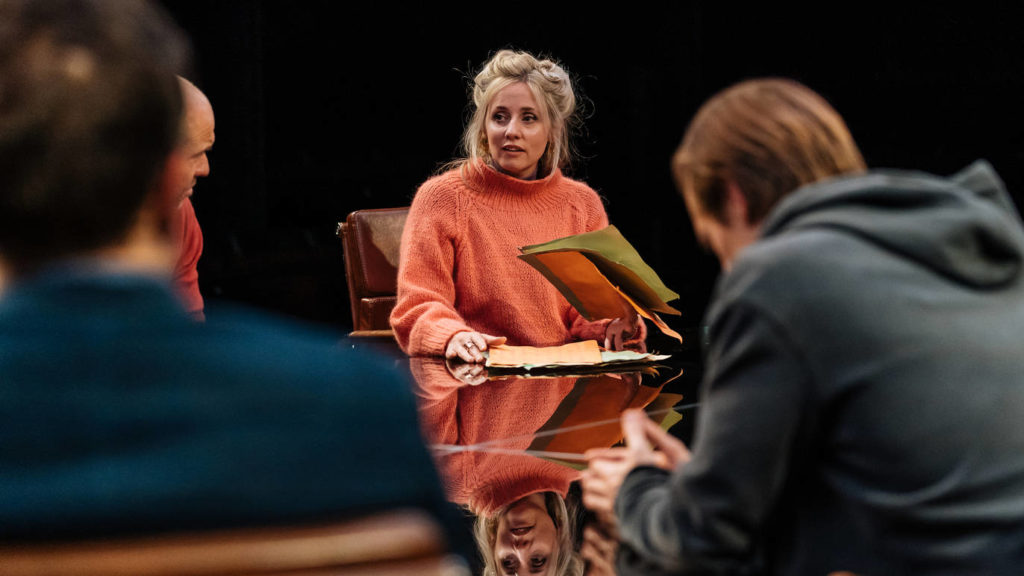 6 The evolving prop
Eleanor, again. I'm a bit obsessed by Eleanor, who delves into the carpet bag and takes out a short length of peachy knitting to help her think. And then a longer length. And then… well, you'll see. Stories help us explain the world, in ways mundane or overarching, like Fisayo Akinade's sore-eyed creation myth, plaiting its epic skein from detail to fabular detail. Knitting, like weaving, threading and embroidering, is a long-established metaphor for storytelling – building up stitch by stitch, detail by detail, following a thread from once upon a time to happy ever after, into the labyrinth and back again. What seems a distraction from the room's prime purpose may be its purest expression.
7 The prop that blows your mind
I can't tell you about this one. Not while the production is still running. But in a play that gestures frequently at strangeness – beginning with griffins and gorgons, wormholing through the odder pages of natural history wikipedia, sharing intimate stories of pustular oddity – there's one prop that evokes and outdoes all the bizarrity we hear about. And there it lies on the table, a delicate bundle of narrative art – surprise, mystery, reverberation.
So that's it, that's the seven types of prop in the world. Just seven.
Follow David on Twitter: @mrdavidjays