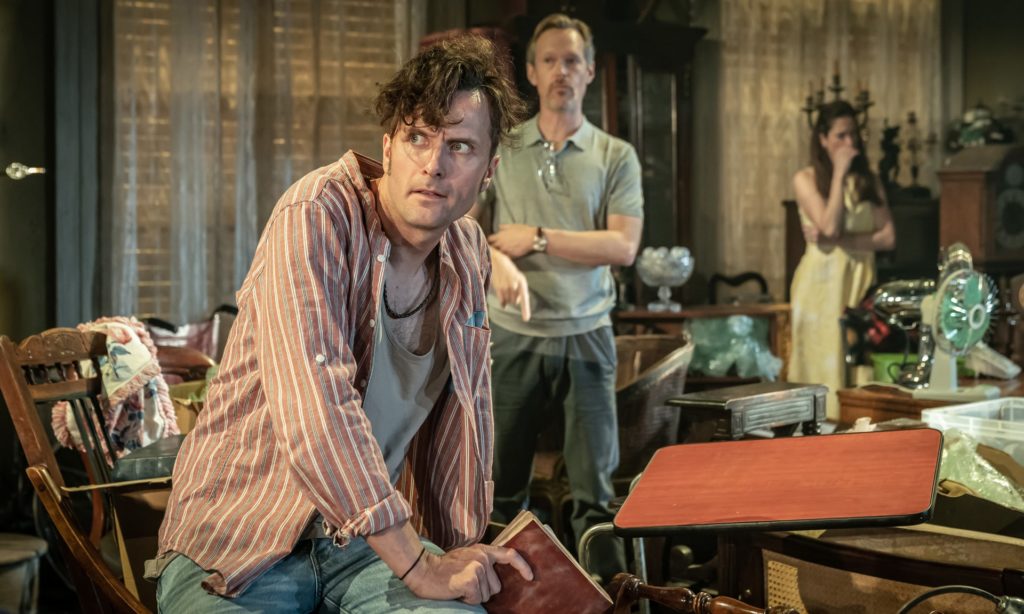 In Can't We Talk About Something More Pleasant?, her graphic memoir about her parents' old age, the New Yorker cartoonist Ros Chast has some advice about hoarding. Don't hold onto anything you don't want your kids to have to sort through once you're gone. In her case, plastic tchotchkes beyond number. In my case, look forward to old theatre programmes and a surprising quantity of wooden spoons. For the Lafayette family in Branden Jacobs-Jenkins' Appropriate (at London's Donmar), it's myriad faulty table lamps, a rocking horse and, oh yes, an album stuffed with vintage photos of lynchings from the American south.
This isn't Jacobs-Jenkins' first tangle with such incendiary material. Grainy, but more than graphic, photos of similar scenes are projected towards the end of An Octoroon. After what has been an often riotously provocative play, an audience is joltingly confronted with a racism which wasn't satirised or framed through theatrical audacity, but as stark historical fact.
The middle-aged Lafayette siblings – together for the first time in decades as they sort through their late father's silo of clutter and prepare his house for auction – aren't great on objective fact. Their currency is grievance, reproach and hurling blame at each other for their variously messed-up and unfulfilled lives. When a child comes across the album, it becomes the rancid focus of their squabbling.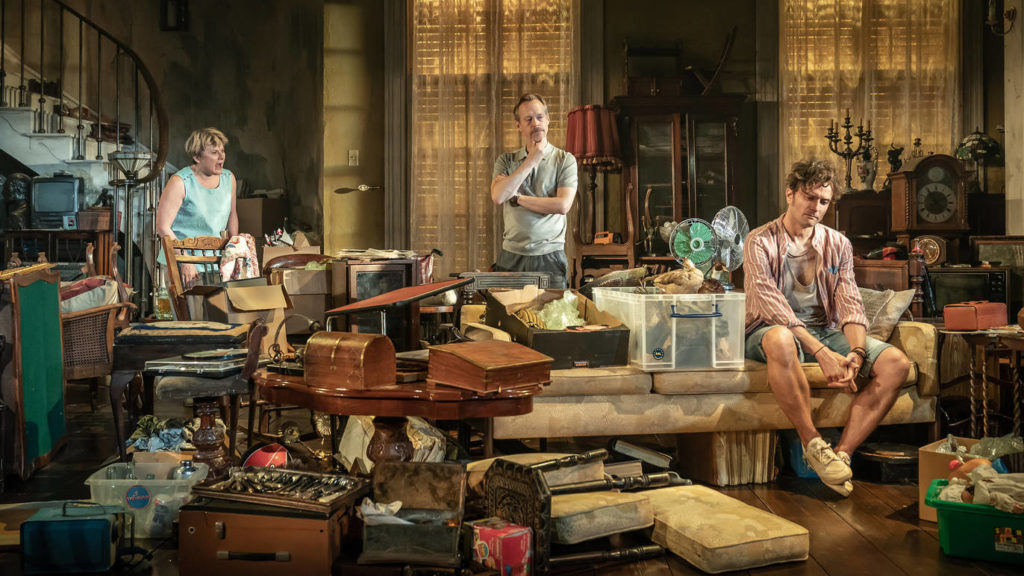 There's a lot of stuff on Fly Davis' richly cluttered set – a lot. It's overwhelming, even for Propwatch. Tankards, stuffed birds, a rocking horse. In Ola Ince's production, the actors have to negotiate tight paths through the junk to cross the stage. The album itself (see photo, top) is bound in a rich but faded red – blood red, guilt red. Even in this intimate space, we can't see what is on the pages – especially as most of the characters hold it close, casting appalled, covert glances at the photos.
Appropriate: such a great title. So, what is appropriate and being appropriated in Appropriate? Is it appropriate to possess a collection of such repugnant images? To look at them? To have your children look at them? To destroy them? Or – ooh, here's a thought – to profit from them? The family's arguments rapidly escalate with their own inappropriate energies, as they eviscerate each others' lives, drag family history into harsh light, exchange unforgivable insults and racial slurs.
As for whether they are appropriating the photographs by retaining them or considering how to sell them – well, that's a discussion that troubles them far less. For the cash-strapped, affection-challenged Lafayettes, appropriation merely represents a welcome financial solution.
There's an American tradition of squabbling family plays, often centered around property or inheritance – from Hansberry's A Raisin in the Sun to Miller's The Price, from O'Neill's Long Day's Journey to Letts' August: Osage County. Dividing the spoils, staking a claim, shelving the blame – these are the rites that barge through the fractious families of American drama.
Jacobs-Jenkins appropriates these predominantly white-authored tropes – both giving them rackety new life and questioning their deadlock hold on theatrical attention. Holding on to the thing that holds you back isn't just the plot of Appropriate, it's also its form and its argument.
There's something that the Lafayettes don't have to appropriate, but which they don't realise is already in their possession – white America's responsibility for the nation's racism. We're used to seeing plays about racism through the eyes of those who experience it most overtly – but Jacobs-Jenkins uses his all-white characters and the photo album, this noxious piece of property, to remind us that the history of hatred sits in white America's hands.
The Lafayette house sits beside two graveyards, inextricable slices of American history (one for the civil war fallen, another for victims of slavery). Their history belongs to both, if from radically different perspectives – as does the murderous history chronicled in the album. What to do about that – well, it isn't solely black America's problem. As the Lafayettes discover about appropriating America's vexed heritage – you take it, you pay for it.
Follow David on Twitter: @mrdavidjays