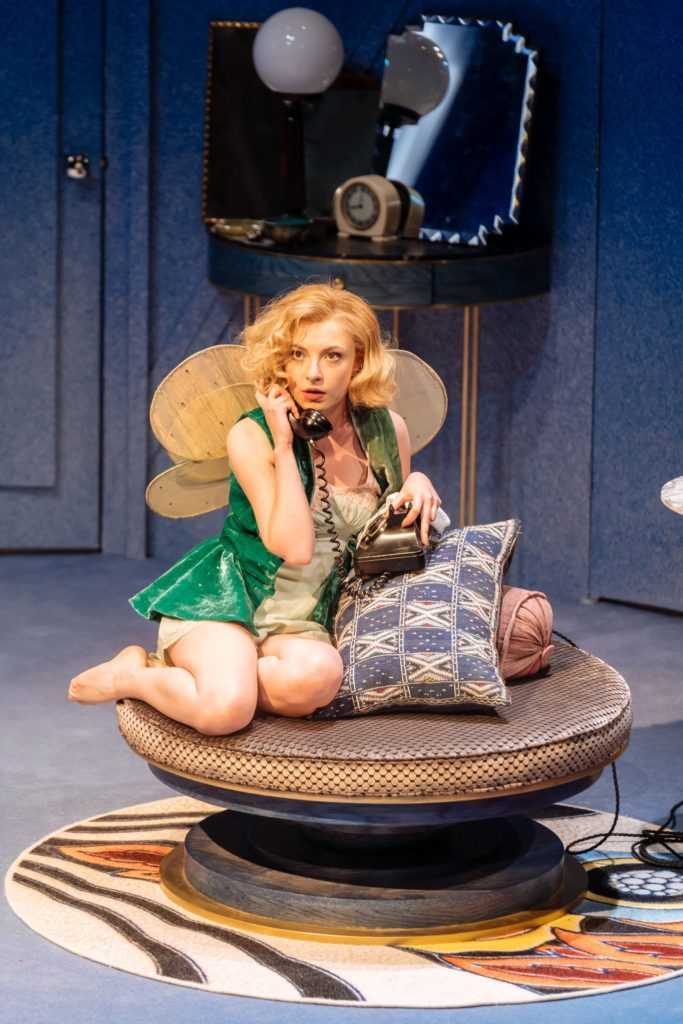 Did you see that video of two teenagers baffled by a dial-up phone? Nothing is guaranteed to make you feel jurassic like watching the routine technology of your childhood appear irrefutably foreign. In an age when even buttons feel vintage – when, let's face it, the idea of making actual phone calls rather than messaging seems pretty bloody weird – no wonder post-millennials boggle at such a cumbersome, unlikely mechanism.
But cometh the play, cometh the phone. The defining prop, sound effect and plot device of Present Laughter, Noel Coward's 1942 comedy of vanity, is an ink-black dial-up phone in Garry Essendine's swank London apartment. Essendine, a West End star hovering resentfully over the cusp of 40, stomps around his burgeoning midlife crisis while besieged by colleagues (badgering), fans (incorrigible) and lovers (past, present and very much presumptive). Each fresh assault on Garry's self-esteem is heralded by the doorbell or that phone.
Ring! Ex-wife returns from Paris. Ring! Would-be playwright demands a consultation. Ring! The friend whose predatory husband was fucking a colleague and is now fucking Garry (it's that kind of plot) will arrive at any moment. Ring ring ring!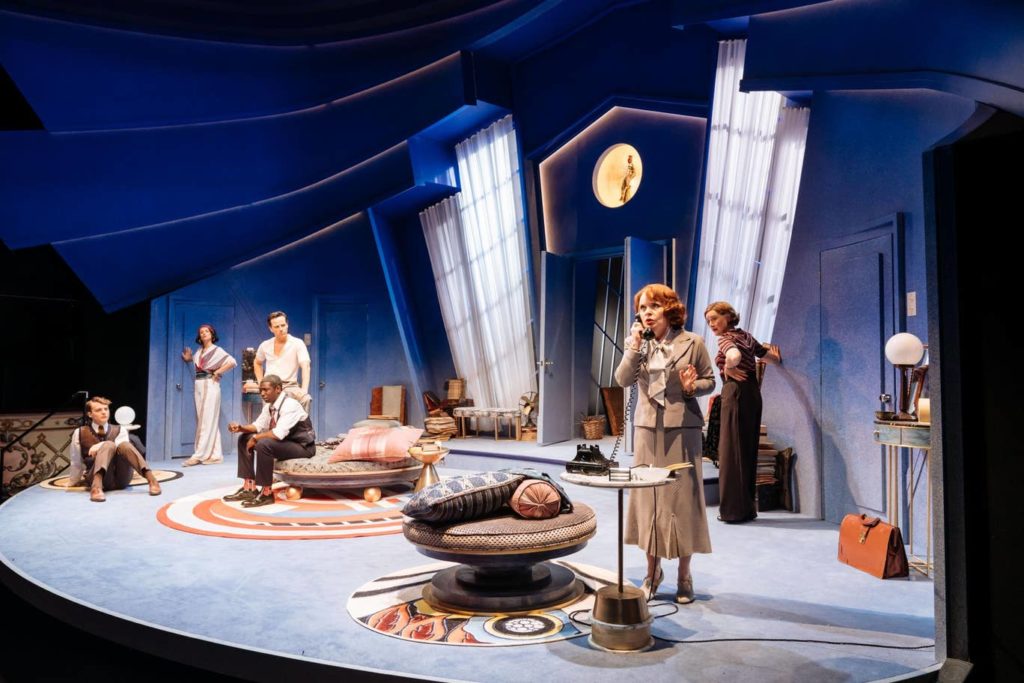 Phone acting is the purest kind of acting there is. Letting yourself be interrupted by an imaginary voice, tittering at imaginary jokes, staring at the receiver and bristling 'they've rung off!' It's just you and the void, emoting against the empty air. I love it. At a preview, watching Andrew Scott (Garry), Sophie Thompson (his more than long-suffering secretary) et al smarming and snarling into the receiver was a true pleasure.
The phone, that jangling disruptor of the peace, is both a conduit to Garry's fame and the advance warning of its downside. The action takes place in this one room, but the world is crowded and presses upon it. Coward, a ferociously committed name-dropper, here invents hoards of imaginary names to drop. Someone is having a theatre completely renovated. Someone else is a good actress but has a face like a haddock. Yet another person is fine but a Frenchman thinks she looks like a guinea pig. Andrew Scott, soaring on the wings of fury, lays into hoards of pretend persons.
One name not dropped, sadly, is Almon Brown Strowger. The superbly-monikered progenitor of the rotary dial, he fought in the American civil war, and later worked as an undertaker and supposedly lost business to a competitor with a similar name. So in 1891 he invented the first automatic telephone exchange to enable direct connection.
With connection comes misconnection. In Present Laughter, the phone allows a running gag about wrong numbers, a constant flow of stranger voices, an entry point for precisely the people Garry doesn't want to connect with. Garry (like Coward himself) is famous for his finger-wagging tirades, but fingers can do more, much more than wag. Hysterical fingers can wave in the air like warning flags. Horny fingers can scooch up a shirt front. Pesky fingers can dial up a number.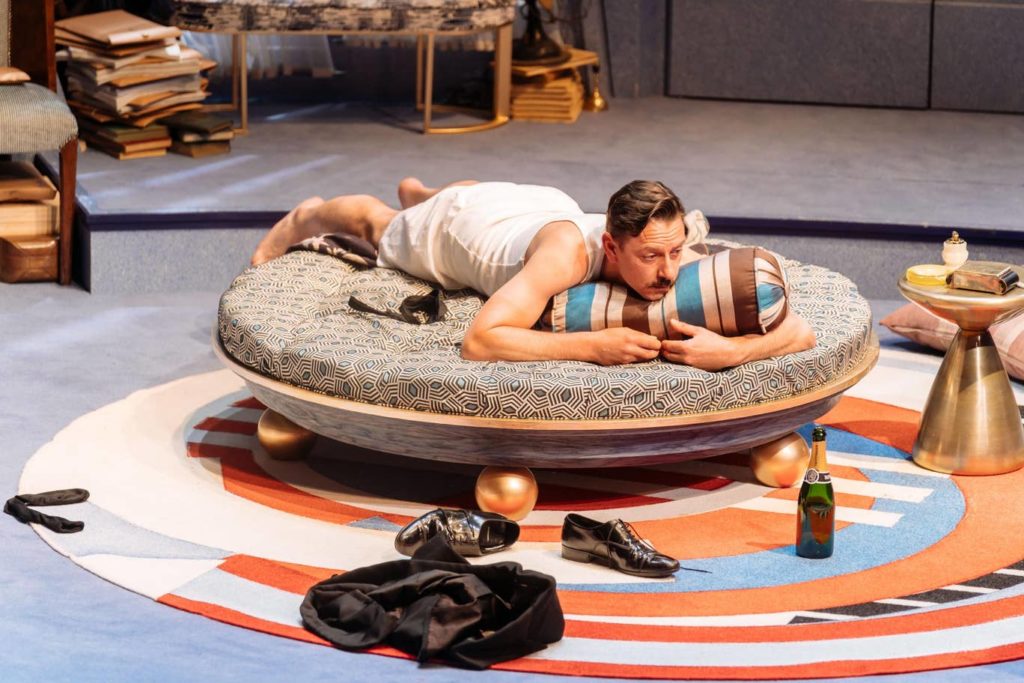 Years ago, I rented a flat with a dial-up phone. Eye-catching if not actually connected, and the not-really-friend I was renting from took it away. When I moved out she claimed she'd left it in the flat. 'I expect you lent it to one of your friends for a play,' she said. The injustice still burns: but I suppose the plays she had in mind were from the sofa-bound mid-century. A vicarage murder by Agatha Christie; a suburban awkwardness by Alan Ayckbourn; or anything by Coward where people swank around in silk dressing-gowns.
Coward was himself a celebrated swanker, and this play contains a seam of thinly-disguised autobiography. Though quite the hornbucket, the playwright anchored his life in a group of staunch friends and colleagues. Garry does the same, but it's a double-edged comfort. The pals support the star, but depend on his income. They want him to fulfill himself, but not to play anything uncommercial like Peer Gynt. They offer familiar pleasures, love without lust, and close ranks against unruly desire. Garry's chums form a tight community with loneliness at its heart. No wonder a gigglesome evening ends on a downbeat. No wonder they all look apprehensive when the phone rings.
Follow David on Twitter: @mrdavidjays