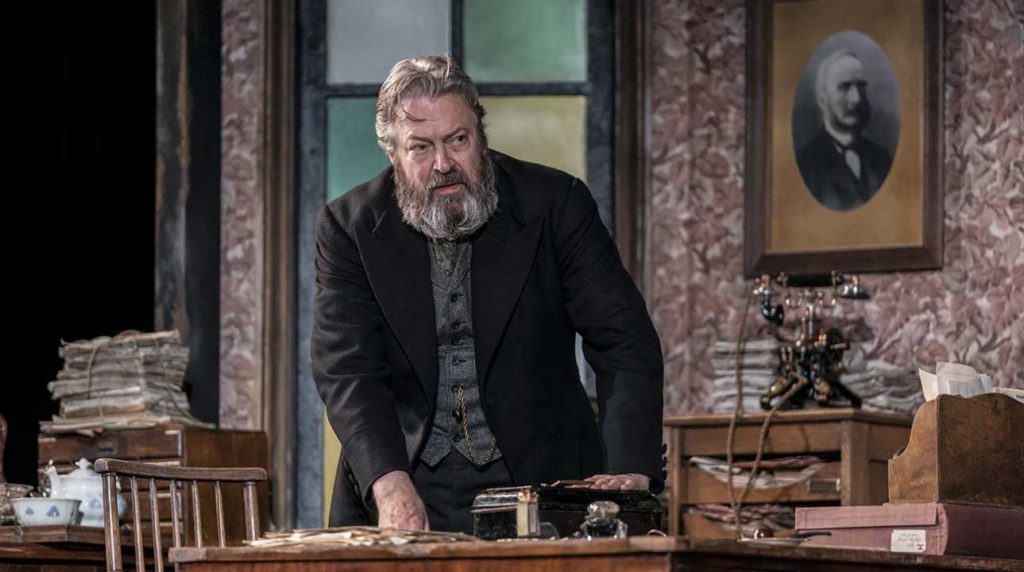 There's barely a scrap of frivolity in the Rutherford home. The home of a Tyneside manufacturing family in the 1910s, it's imposing, substantial, stuffed to the gunwhales with heavy furniture – yet you struggle to spot anything that isn't grimly functional or solid enough to break your toe should you drop it. Whatever else it is, the house of Rutherford is not a house of fun.
Githa Sowerby based Rutherford and Son (1912) on her own family; it's an unsparing vision of the dead weight of joyless patriarchy. The designer of the National Theatre's revival, Lizzie Clachan, cheerfully admits that her set is 'actually quite hideous.' Clachan can do spare or stark at the drop of a hat, but here she devotes herself to the house heaving. All manner of Edwardian impedimenta, plus ledgers stuffed into every crevice – it's a working home that, like its stern patriarch (Roger Allam), never stops for play. A new daughter-in-law (Anjana Vasan) sews coloured bows on her baby's bonnet, and everyone looks askance at her flighty London ways.
The Ruthfords are glass manufacturers, yet their home is almost devoid of light and shimmer – and as for transparency, forget it. Rutherford's desiccated daughter has a secret love. His flailing older son has a secret invention. Father deceives and discards them both (I've seen scenery chewed in this role before, but Allam plays it dry – icily reasonable, only monstrous in his calm indifference to his brood). Vasan's disregarded daughter-in-law also stays opaque – until the final scene, when she plays a bold hand.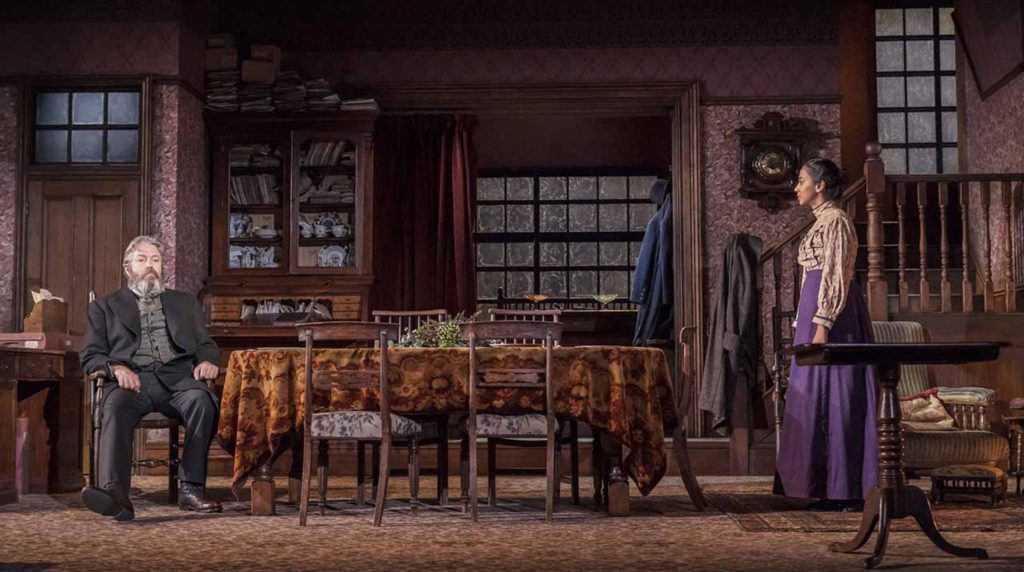 What else catches the eye? A photograph of the previous Rutherford on the wall, confirming that the fun-loving gene has skipped the dynasty altogether. Furniture so heavy with mahogany that everyone has to manoeuvre awkwardly around the room. Some trophy shields glower beside the staircase – probably relics of Rutherford's champion athletics days, one of the few subjects which raises a flicker of pleasure.
But what's that high above the mantel? A… stuffed duck? Neither use nor much in the way of ornament, but there it sits, a poorly-stuffed mallard. Why do the Rutherfords display a duck? Father doesn't have fun, but he has pretensions. Despising humanity, he nonetheless wants to hoist his children up the social ladder. That's his secret weakness – a yen he doesn't know what to do with that becomes another family torment. For the daughter (Justine Mitchell), that means being forbidden to play with her village peers or entertain their advances when older. For the oldest son – poor, lost John (Sam Troughton) – it meant a miserable year at Harrow and a few aristocratic encounters of excruciating embarrassment. One schoolchum, we're told, invited him to join a weekend shooting party. Not a success. He hasn't got over it, and is still furiously trying to prove his worth.
But is that where the duck comes from? The only thing John shot, possibly by accident? A pity prize, gifted by a sneering nob? Swiped from the kitchens to save face on return? Who knows, but this paltry bit of poultry stands in for the gentility on which Rutherford's sights are grimly set. The house is emptier by the end of the play: Rutherford's company is floundering, he's squandered his own family's affections. The duck, that sullen lump of taxidermy, remains. Much good may it do.
Follow David on Twitter: @mrdavidjays