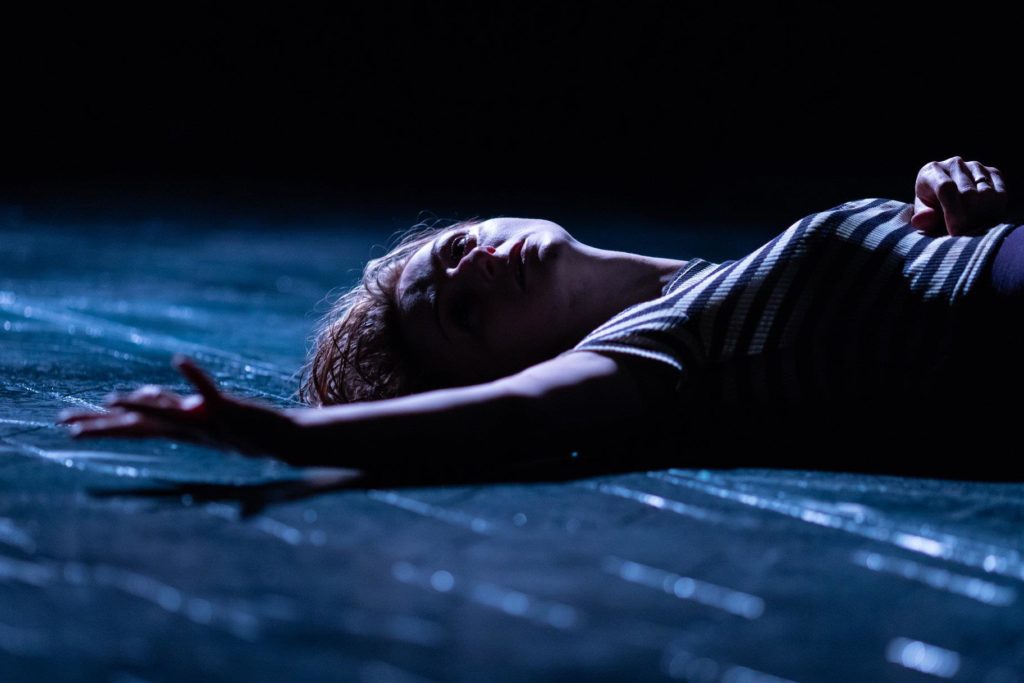 In the opening scene of Venice Preserved at the RSC, a rebel recruits a desperate friend to the cause. His indignation is scorching hot, so of course he pulls out a lighter, itching to burn the rotten state to the ground.
In Thomas Otway's tense, too much neglected Restoration tragedy (1682), a viciously corrupt Venice has reduced Jaffeir (Michael Grady-Hall) to ruin. He covertly married a senator's daughter, and the couple have been disowned and driven to destitution. In James Cotterill's 1980s/cyberpunk design, we first see Jaffeir with his desk-cleared clutter shoved in a box, lanyard dangling redundantly from his neck. Pierre (Stephen Fewell) hopes to harness his friend's fury, ignite his private passion into political action.
Pierre, leading a plot to overthrow the state, pulls out a lighter. He sets his official badge alight and dumps it down a drain. Then he presses the lighter into Jaffeir's hand, where it flares, briefly, into life. What further righteous fires may follow?
Otway's Venice seems a city of perpetual night. Everyone meets at midnight – for a rendezvous on the Rialto, to plot insurrection or for some after-hours kink. It's a dark world, thick with shadows. Yet Pierre's lighter strikes the smallest of sparks. It lasts as long as he presses down on it, then sighs back into nothing. The dank Venetian air suffocates it.
As you'd expect in a lagoon-lapped city, the play ripples with watery talk. Jaffeir saved his beloved Belvidera (Jodie McNee, pictured top) from drowning, kickstarting their ruin. People describe being buffeted and engulfed by passions, speak of seas and waves and plunging into the depths. And watery metaphor seeps into literal tears. Belvidera and her husband are helplessly lachrymose – and even staunch Pierre is damp-eyed by the action's end.
No wonder a flame seems so fragile when all the talk is quenching. Yet the conspirators look to burn, and their rhetoric spreads – even Belvidera will later wonder whether to stab, drown or burn herself. Jaffeir too implores destruction to scorch the world 'to one curst cinder/ And all us little creepers in't, called men,/ Burn, burn to nothing: but let Venice burn/ Hotter than all the rest.' Reform isn't possible against ingrained cruelty – people long for flame, ache for fire to consume the corrupt state, to burn it all down. You can't blame them.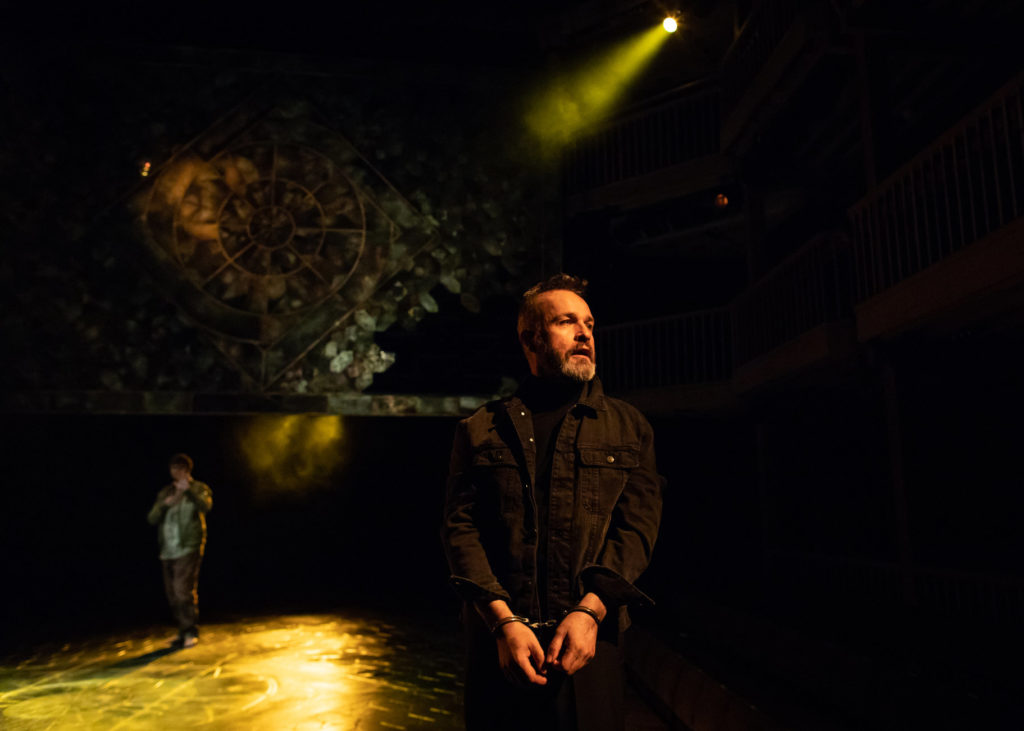 Venice is a place of reflex cynicism, paying the faintest lip service to principle. When Jaffeir demands a pledge that the senate will spare his comrades' lives, the duke barely pays attention. These oaths are broken as they're spoken. Even characters who try for conviction can't make a promise stick. How do you choose between your cause or your family, your lover or your friend? Loyalties tangle, and they are tugged apart by contradiction.
In Prasanna Puwanarajah's deeply-thought production, I lost count of how many people brandished knives and didn't use them. They point blades at an enemy's chest, hold them against a loved one's throat, threaten to immolate themselves. But they don't, mostly. Some fatal lack of conviction makes them falter. Commitment sputters and dies like the lighter's flame.
One striking aspect of the show, despite the 1980s setting, is that nobody smokes. Characters look like smokers – a nightcrawler's unhealthy pallor, mascara smeared like ash – but no one lights up. It makes Pierre's lighter appear even more futile: a flame desperately seeking its purpose.
Follow David on Twitter: @mrdavidjays