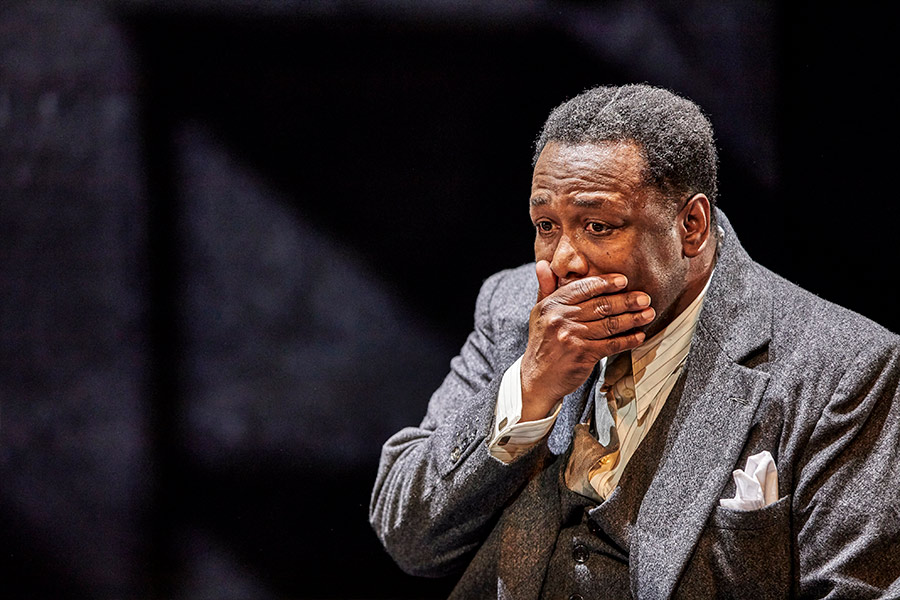 What does Willy Loman sell? It's one of the great unanswered mysteries of American theatre. 38 years the man trudges around New England, hawking the Wagner Company's whatevers to stores without number, but what does he have in his valises? Who knows – it's the sale, not the sold, that counts.
Whatever they contain, the cases are real enough. We see them early on in the heavy-hearted revival of Arthur Miller's Death of a Salesman at London's Young Vic. Willy lumbers in with two cases. One, a smart, wooden box, presumably packed with sample goods. The other, a battered and scratched suitcase, must carry his personal stuff.
The company case is clean, characterless. It's pro kit, an emblem of trust. A man with that case is man to take seriously. But it might also lodge an early splinter of concern in our minds, given that the action of the play is in effect Willy climbing into a coffin and pulling the lid shut behind him. It's a claustrophobic character arc – shut out, boxed in, sealed off from the life he planned to live.
As for Willy's own case – oh, that has seen things. The glory days on the road, the back-slapping, hand-shaking – "Here's Willy!" "How you doing, sport?" "Step right in, Mr Loman" – everywhere from Boston to Providence. The order book fat, the smiles wide. And then, slowly, the pages more often blank, the grins fixed or mocking. The job downgraded, the suitcase bearing the scars of being hauled out of the Studebaker, its shine long gone. If the smart box of samples is Willy's ambition, the suitcase is his weathered, weary soul.
Arthur Miller's always said that Willy was selling himself
When Brian Dennehy played Willy on Broadway in 1999, he was 'carrying what seem to be the world's heaviest valises.' Richard Sandomir worried about their contents in the New York Times. According to one scholar he consulted, 'whatever he [Loman] sold, it's heavy.' Other interviewees considered the stores named in the text and proposed hosiery or other womenswear. If so, it would be a nice little irony – Willy, despite his infidelity, isn't interested in women. He's a man's man who wants to flourish in a man's world and blaze a trail for his sons to follow.
Miller's own response was that Willy was selling himself. His confidence, his certainty, his self-belief. Watching Wendell Pierce at the Young Vic, you can imagine how that would have worked. His is a face that draws you in – large eyes, a smile that's a relief to see. Like his family, you might be eager to please him, eager to see him pleased.
Willy Loman doesn't realise it, but he's a family business. He'd never function without wife Linda – a rocklike performance by Sharon D Clarke, graven with anxiety and anger. And he'd have nothing to dream for if it wasn't for his boys (Arinzé Kene, superb, and Martins Imhangbe, heartsick when his father looks away) – the pair of them hobbled by Willy's hopes, born to disappoint him, and themselves.
Miller's fretful memory play is directed by Marianne Elliott with Miranda Cromwell, and occupies an unsettled design by Anna Fleischle. Door and window frames are sketched in: hovering in the air, falling into place, receding as characters approach. Willy's home, the locus of his ambitions, its mortgage all but paid, is as illusory as everything else he puts his faith in. The Lomans look physically imposing – the parents with heft, their sons with serious muscle – especially in these tight spaces. They look confined, especially when their dialogue paces restlessly around long-repeated conversations.
I've always read the Lomans as an implicitly Jewish American family, but Elliott – rethinking her third American classic in a row after Angels in America and Company – casts them as African American. It's an acknowledgement of how the dice are loaded; the American dream is not just Willy's personal delusion, it's an ideological untruth. When Willy pleads with his boss for a job away from the road, he's repeatedly addressed as 'kid'. The crudity of an older man patronised by a younger is magnified when that entitled youngster is white and bridles when a black man moves to put a hand on his shoulder. When Pierce's Loman begins to describe the slights he routinely receives, Clarke raises a warning hand – she doesn't want to hear what they both know too well.
Whatever the suitcases contain, they represent a heavy load. Willy's mistakes, his refusal to see things as they are, to let his family breathe – they aren't the only baggage he has to schlep around until he gives way.
Photo of Wendell Pierce by Brinkhoff Mogenburg
Follow David on Twitter: @mrdavidjays