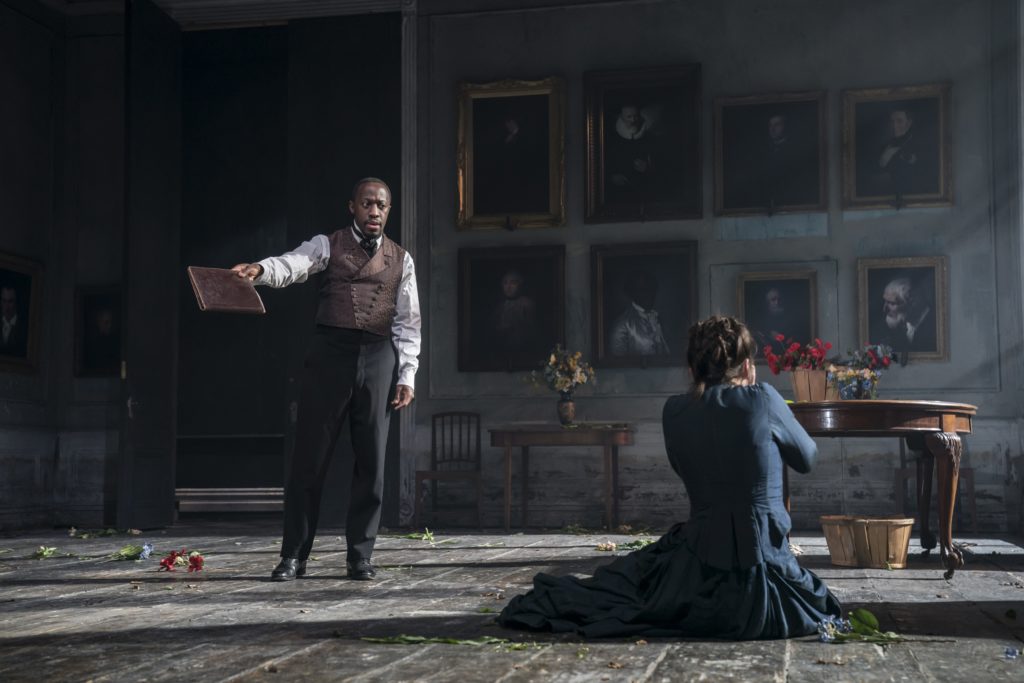 Rosmersholm, a desirable 19th century mansion has unexpectedly come on the market, following recent… events. Impeccably designed, it would suit a miserable man of the cloth or a radical thinker struggling with doubt and desire. Full disclosure: there is a slight problem with damp.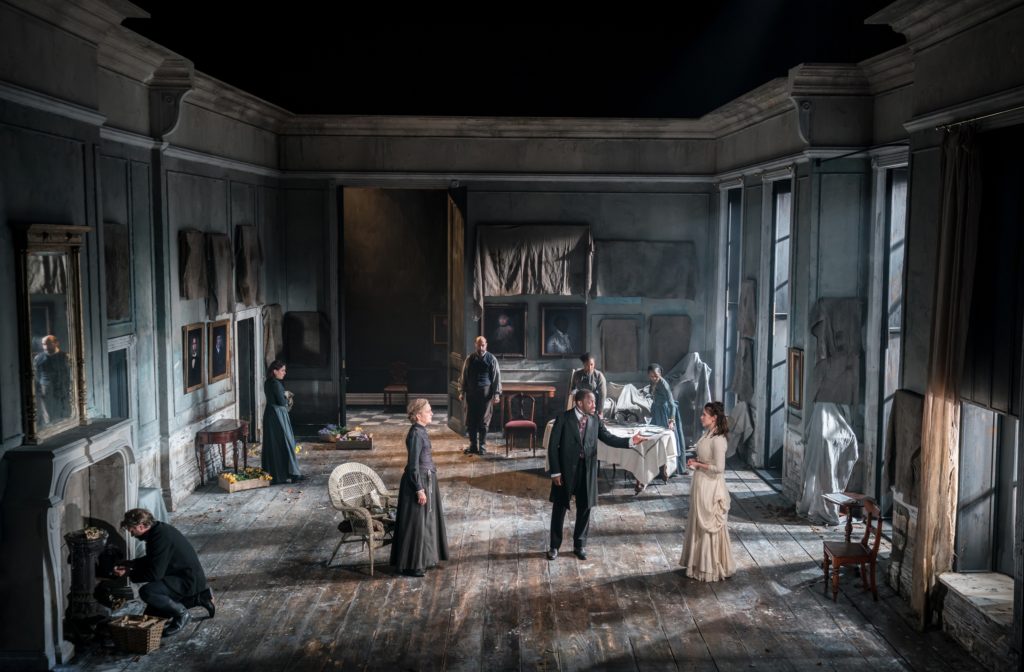 Dimensions It's big. Very big. We like to describe it as 'size of a West End stage'-type big. Buyers will find ample room for crises of conscience, blackmail attempts by political rivals, accusations of infidelity and confessions of attempted murder.
Atmosphere Rosmersholm has a unique atmosphere, accrued over time. Visitors are reminded of the Marie Celeste, or the lost city of Atlantis. It's an undeniably impressive house, and as our Mr Ibsen likes to remark, 'a house is not a home.'
Décor The house is decorated in painstakingly subdued tones. Take a moment to appreciate the dank blues and greens that give the subtle sensation of sinking down, down, down beneath the fjord, gasping for air as the icy waters close above you. Perfect for parties. (Full disclosure: only awkward luncheons with estranged relatives are permitted at Rosmersholm.)
Lighting Rosmersholm prides itself on its elegant lighting. Taking full advantage of the despondent surroundings, the light is powdery, as if the dust of unbroken tradition hangs stiflingly in the air. Inhabitants can relax and enjoy the sense that they are drowning, choking, seeing their hopes recede as they descend far below the surface.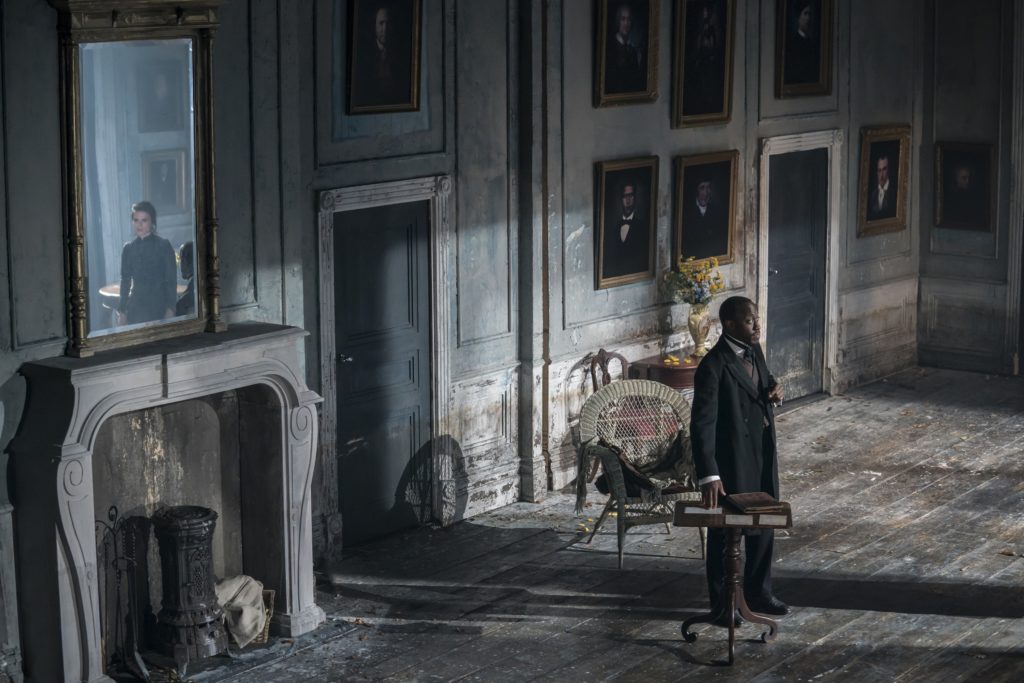 Portraits Buyers will be pleased that the portraits that fill every wall of the main room furnish you with a full set of disapproving ancestors. There's no need to bring your own – possibly inappropriately cheerful – family pictures. Nothing says 'home' more than 200 years of icy masculine eyes glaring down from the walls and finding you wanting. Sit down and luxuriate in generations-worth of contempt for your puny attempts to break free from the dead hand of the patriarchy!
Flooring A cautionary note. The floors appear elegantly appointed, but previous occupants note that during bitter arguments, agitated discussions or emotional confrontations, you may find yourself anchored to the floor, standing in profile and seemingly unable to move for minutes at a time. This is a peculiarly Norwegian condition which loosely translates as 'directed by Ian Rickson'. Gentlemen generally resign themselves to this state, though a Ms Hayley Atwell was often observed to be crouching uncomfortably, as though desperately trying to spring into movement, yet forever thwarted.
Nursery Some buyers imagine the nursery is sound-proofed, as no child of the Rosmers has ever been heard to cry. But you may prefer to keep the nursery unused, as who would wish to bring a child into this joyless, joyless world?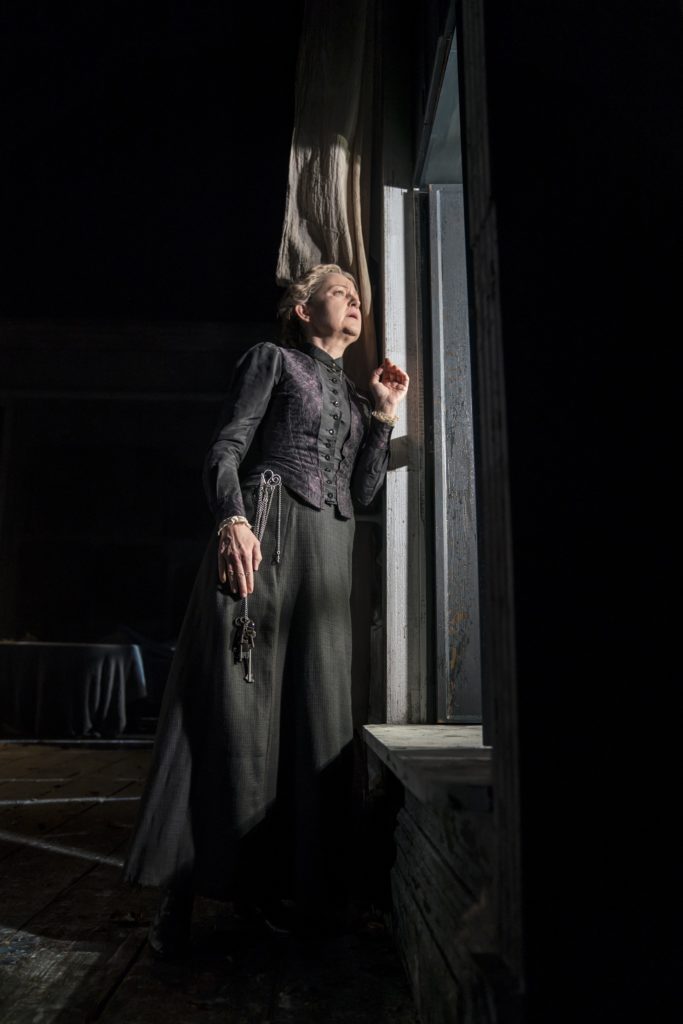 Staff The house comes with a full team of quietly resentful servants. They do not speak, but will serve you mutely at dinner, scurry from the room in wordless agitation and read radical newspapers in the corners. They will ardently desire your downfall, and serve fermented trout to guests. The housekeeper, Mrs Helseth, is an asset to any establishment, with her impeccable accounting, dark hints about family secrets, and periodic visions of white horses heralding untimely and possibly unnatural deaths.
Work needed Prospective buyers should be aware that the house will demand some work. They should expect to abandon their dreams of social justice and personal fulfilment; lose their faith yet struggle to find new ideals; and to resign themselves to never hearing laughter ever again. Also, they might need to address the damp.
Garden There is no garden as such, though Rosmersholm is set amid desolate landscape offering access to a grimly repressive and censorious town. The town offers all necessary amenities: a political class riddled with fear and contempt, and a culture of vicious gossip that will drive outsiders to disgrace or death. Closer to home is a footbridge (for god's sake avoid the footbridge) over a mill pond. The mill turns remorselessly, except for those unforeseen occasions when it… sticks. On an object – the size of the pastor's late wife, for example – in the water. Which reminds us:
Damp There is a slight problem with damp.
Rosmersholm is at the Duke of York's Theatre, London. Ibsen's play is in a version by Duncan MacMillan, with Hayley Atwell, Tom Burke, Giles Terera and Lucy Briers. Direction: Ian Rickson. Design: Rae Smith. Lighting: Neil Austin. Photos: Johan Persson
Follow David on Twitter: @mrdavidjays