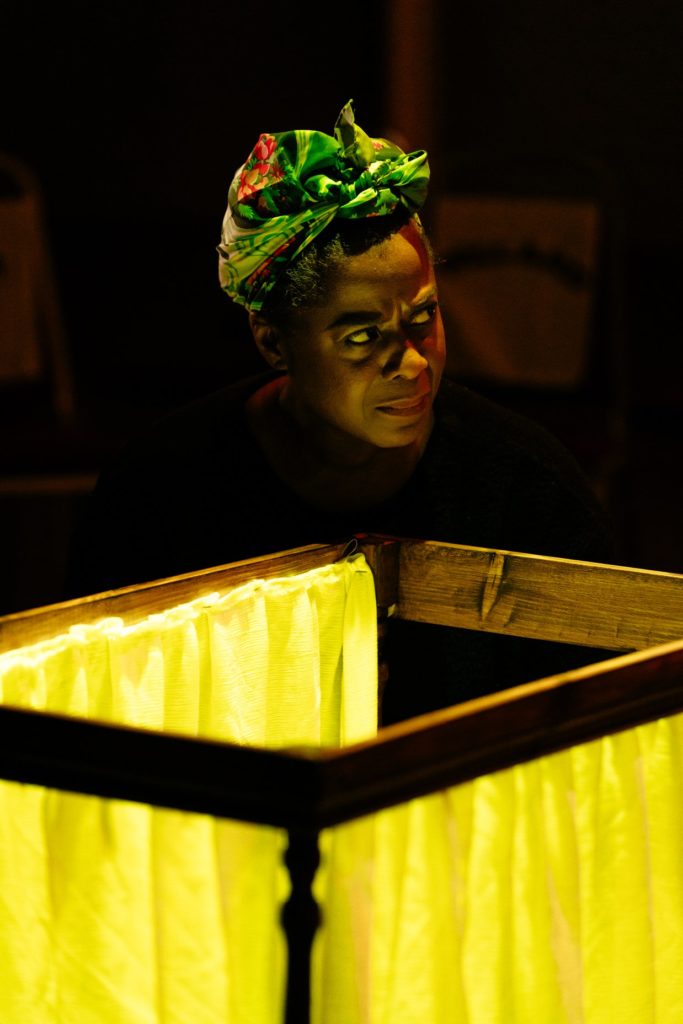 Last night, as a cat nestled in the crook of my arm and its paws rasped happily over my fingers, I thought: I'm just a step away from a 17th-century witch trial. None of my neighbours in this part of London has an ailing pig or a crop prone to blight, praise be. But we all have our sorrows, and all need a way to explain them too ourselves. A cat and a pact with the devil are as good as any.
Frogs and other familiars are namechecked in The Crucible, but the only one of Satan's accessories we actually see in Arthur Miller's play is a poppet. A small doll, nothing fancy, fashioned in a courtroom to pass the long hours between denunciations. Mary Warren, the young servant woman who makes it, brings it home to the Proctors, gives it to the missus. She'd neatly tucked her needle in its belly when she was done – and it is that poppet, that needle, that will haul Mrs Proctor to prison accused of witchcraft.
In Jay Miller's new production at London's Yard Theatre, excitingly true to the text and taking equally captivating liberties with its staging, we see the poppet. Much of the design is modern, but that homely poppet might have been made in any century. A lumpy little body made of scraps and remnants, four stubby limbs in a scrap of dress perhaps made from the same fabric as Mary's own. Its face, just two blank, black dots for eyes. On the kitchen table it's a gift. In a court official's sealed plastic bag, it's evidence.
Propwatch has looked at dolls before, oh yes it has. Their uncanny effect, their unwholesome daintiness. Their downright sinister ways. But the point of the Crucible's poppet is that, in itself, it isn't sinister at all. Just a squeeze of affection no bigger than a hand, a soft toy to soften a hard farming life. Those little eyes, dots of dark thread only, won't follow you round the room. The poppet's terrors are human-made, a gathering cloud of fear and spite.
A quick primer to the Yard's production. Some trad bits – a few sober period costumes, wood and pewter accessories. Most of it, in Cécile Trémolières' design, is startling. Initially, 19 chairs, each labelled with a character's name, so that just nine actors can establish identity. A surround of white strings and a yellow fretwork, for looming faces and a sense of a nervous community keeping surveillance on each other. British accents gradually becoming American. Some gender-fluid casting – notably Caoilfhionn Dunne's superbly anguished John Proctor, the play's flawed hero. Queasy light and sound – and, ah yes, the watchers. In the programme, everyone in the cast – everyone in the creative team – is credited as 'Witch' alongside their other roles. But are the loitering rubber-masked figures in black hoodies avatars of witchcraft or of human frailty? Spells aren't real, but suspicion, hysteria, persecution – those human horrors are all too familiar. The figures gather as the witchhunts take hold on Salem – the figures bolstering the fake accusations, the closed-circuit justice.
If those identical, barely-featured faces remind me of anything, it's the poppet. A figure of minimal identity, just enough to project our love and fear upon. The greatness of Miller's play is how much it understands about grief, and fear, and shame. About how every accusation carries its own guilt; how every innocent victim bears a scrap of shame, if only that of being named. None is without misery, none without fault. Even Abigail Williams, the unscrupulous agent of the plot, only exploits the tensions around her. She may have been thrown from the Proctors' home as a harlot after John slept with her – but she was still a girl, and made a scapegoat for his adult infidelity. Played by Nina Cassells in her professional debut, the slightest figure on stage, you can't burden her with evil.
Turns out that it doesn't take much to make evil, or the terrors that attend it. Just a sadness. Just a loneliness. Just a poppet. Just a cat.
Photo by Helen Murray
Follow David on Twitter: @mrdavidjays