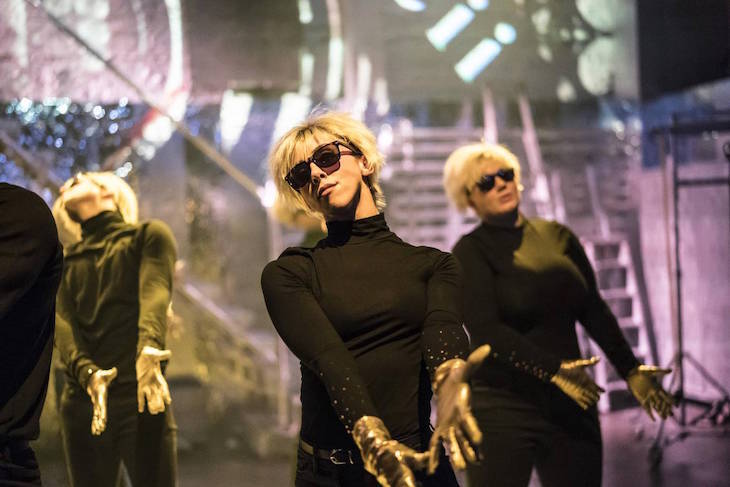 Bob Fosse and Jerome Robbins: two geniuses who sound as horrible to work with as they were inspiring to watch. Two artists whose choreography is tightly locked into the DNA of the silver-plated shows they helped create.
Unpicking their movement from those landmark Manhattan musicals is tough – Robbins' West Side Story gangboys who stake a leaping, finger-clicking claim on the streets; Fosse's Sweet Charity hardnuts with jutting hips and shoulders and a cold-eyed swivel. Two new revivals set major British choreographers on that hallowed material, and the movement world they create not only changes the dances themselves, but how we see the show itself.
I briefly reviewed both West Side Story (choreographed by Aletta Collins at Manchester's Royal Exchange) and Sweet Charity (Wayne McGregor at the Donmar in London) for the Sunday Times. New choreography? It's about ever mother-lovin' time.
Aletta Collins is an interesting choice for West Side Story (1957). Her sensibility involves a very British seam of quirk and eccentricity and she's made contemporary dance rather than classical ballet – but, like Robbins, she has directed and choreographed a wide range of musicals and operas. She offered a nice line when asked whether her West Side Story would include the original's trademark finger clicks – yes, she said, 'but maybe I've put them in different places.'
It's true. On the Royal Exchange's in-the-round stage, the hoodlums and buddy boys, the women who walk in their wake, thicken the air with menace. The Converse-shod cast of loose-limbed bodies can tense up in a second: everyone looks ready to rumble. Collins builds a vocabulary of slouch and swivel on the streets, but in the dance hall turns on the kapow in an instant. In the mambo, cheeky toes and shoulders lash out with kickboxing fervour.
If Robbins' sidewalk jockeys are still his enduring West Side image, Collins and the director Sarah Franckom locate the piece's heart in the abstract number Somewhere. It's a gorgeous piece of staging. Instead of an anonymous, ethereal soprano, the singer is Anybodys (Emily Langham), the Jets' scorned tomboy hanger-on. It's a number about remaking the world, finding a new way of living – and a girl who won't stay quiet in a skirt has as many reasons to hope for a new reality as an amorous gangboy or rebelliously obedient daughter. Collins sensuously refashions her mambo, and it's beautiful to see the armoured bodies open up, soften, unspool their vulnerable places. The advantage of the Exchange's relatively small ensemble means we know all these faces, recognise their fears and frowns. Suddenly they unbend, and we look their dreams in the eye. The world they inherit can be wider than this.
People even smile – Fosse would have had them shot
Sweet Charity (1966), its ever-hopeful heroine ever-unlucky in love, is ar New York story from the following decade. Wayne McGregor, an audacious artist, has rethought ballet in Chroma or Woolf Works. Like Collins, he's worked quite a bit in theatre, but less distinctively, and although he loosens the Fosse template, this never feels like a passion project. Maybe, for this tale of feminism long overdue, a female choreographer could have brought an iconoclastic edge?
Or maybe McGregor defers to his collaborators – notably director Josie Rourke and designer Robert Jones, who nudge the story across town to Andy Warhol's silver-wrapped Factory. It wasn't an easy place – personality was currency in Andy's world – but Warhol was a magnet for the big city's lost souls, scooping up misfits and making them shine. Fosse's snarling Manhattan seems more kindly in this setting. Take the Rich Man's Frug at the swanky nightclub, which Fosse gives an intimidating sheen. McGregor dresses everyone as Warhol (pictured above by Johan Persson) – peroxide wig, shades, stacked gold boots – and the number is warmer, more fun to inhabit with its poodle punches, swivel and flap. People even smile – Fosse would have had them shot for that.
The dancehall hostesses are bored and raging in Big Spender, propped against aluminium ladders like surplus stock in B&Q. Again, it's a small ensemble on a small stage – they eyeball us and give the odd discomforting pelvic retch.
Fosse's acts of Charity – Gwen Verdon on stage, Shirley Maclaine on film – radiated an optimism that ran smack into a harsh, sneering world. Anne-Marie Duff may not be the slickest hoofer, but she radiates too – incandescent grin, hiccupping chuckle – yet her eyes are red with hurt. She's not the youngest actor to play the role – which means you register the lines about how she's been doing temporary dance hall duties for gulp, eight years. She and Rourke increasingly refocus the episodic story so that it's not about what the world does to Charity, but about the questions she asks of it. As in Manchester, the keynote anthem is displaced – not the expected Big Spender, but Where Am I Going? It's not a question of finding love – especially not with these blowhards and bumblebrains – but finding herself, and finding the will to change her life on her own terms.
Follow David on Twitter: @mrdavidjays