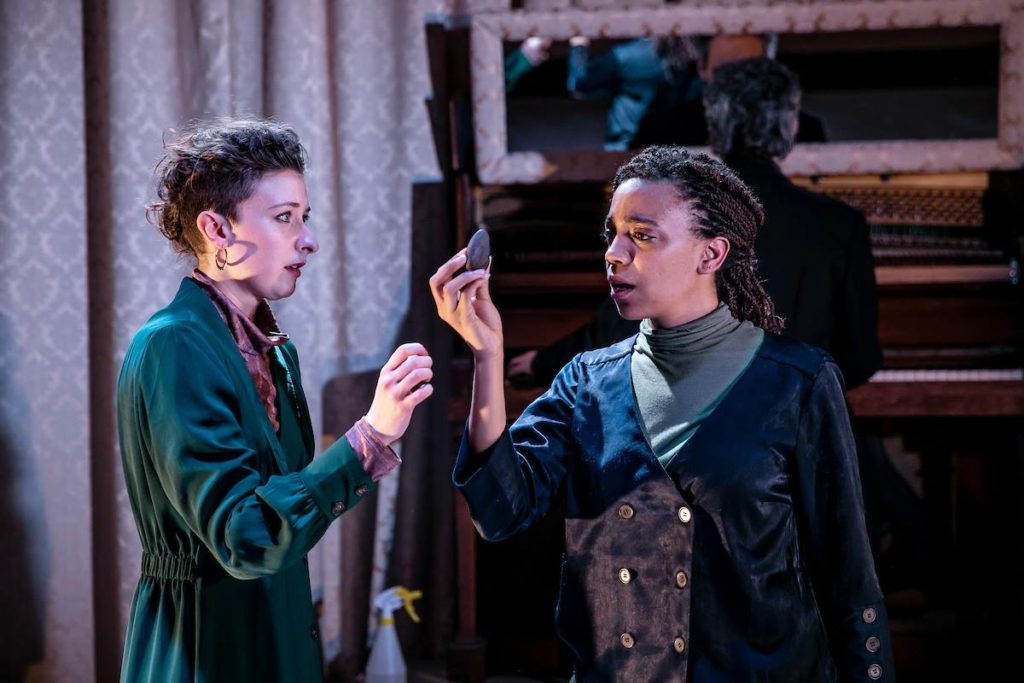 It's not a real iguanodon tooth, I don't think. Though in a story about how to interpret the material world and humanity's place within it, identification is an unusually fraught subject. Dinomania by Kandinsky at New Diorama is a brilliantly theatrical tour of the fossil frenzy and dino debates of the mid-19th century. A project of deep research and wanton invention, of feeling and flair, it's much like the fossil hunters it portrays.
Pioneering Georgian geologists paddled through a bone-cold mess of curiosity, class and theology. Gentlemen with leisure to prod and pontificate looked down on amateurs who fitted excavations around work and family. (There were female fossilers, too, absent from this tale of strictly masculine hubris – wait for Kate Winslet as Mary Anning in the forthcoming film Ammonite.)
The more compelling the discoveries, the greater the challenge to Anglican certainties. Can scientists square theology with evidence prised from the rocks? Everyone guards their pet theories, their foothold on scientific respectability – Kandinsky stages these debates with pugilist vigour, marking each discredited theory with implacable force – a duellist's bullet consigns the loser to dust.
Non-posh Sussex surgeon Gideon Mantell is desperate to dodge the bullet. He (or possibly his wife) found the first fossil tooth and argued that it belonged to an early reptile, but it was dismissed it as belonging to a fish or rhino. His reputation was contested, then buried, by his rival Richard Owen. History ran him over.
In the brilliant custard-draped design by Joshua Gadsby and Naomi Kuyck-Cohen, organic matter is represented by clothing – a lovely, homely reminder that these debates are all, really, about us, our sense of comfort and feeling at home in the vast sweep of history. Gideon's patients (mostly in the throes of childbirth or cholera) are jumpers and trousers stuffed like cushions. The fossils he finds in his spare hours look like the same garments but oddly flattened and freeze-dried – life with the life sucked out of it.
And then there's the tooth – the object that ignited his quest to find what initially seemed a giant lizard (hence the name iguanodon) and that he treasures even after everything else slips away. Unlike everything else in the show, it's weightily, stubbornly realistic. Grey as extinction, heavy as lost hope. Poignantly, amidst all the witty invention, it stands for something that can't be argued away, that can be held feelingly in the hand.
Three of the four terrific actors are women, throwing into relief that masculine pride is on the line. Janet Etuk's spry Gideon (light on her feet, with a delighted, nervous smile that dims with her character's fortunes) combats Harriet Webb's brutally assured Owen. (After her contemptuous rapist in It's True, It's True, It's True last year, Webb has found a rare niche in viciously privileged blokes. Confident stride, basso bark, swathe of blonde hair to shake in derision: it's intimidating and superbly satirical.) Sophie Steer is Gideon's pained wife, Hamish MacDougall a succession of flare-nostrilled sceptics – and everyone also plays everyone, everything else.
The cast devised the show with writers Lauren Mooney, Al Smith and James Yeatman. From the audience, you couldn't tease apart their input. It's a unique mix – everything's Kandinsky. And similarly, all the fossils and the theories about them don't belong to anyone, because they're the history of our planet – they're our story. Even as Owen reads from his work, assuming he gets the last word, Darwin's On the Origin of Species looms. An electric fan blows Owen's pages away, their worth forgotten as he insists on it. History moves on.
There's a real profundity to Dinomania, which begins light and ends in gravity. Thinking of your ages-to-come legacy isn't worth it. Betting present pleasure against future fame isn't clever. Time makes fools of us all. Look at the dinosaurs. Consider the tooth.
Photo of Sophie Steer and Janet Etuk, by The Other Richard
Follow David on Twitter: @mrdavidjays