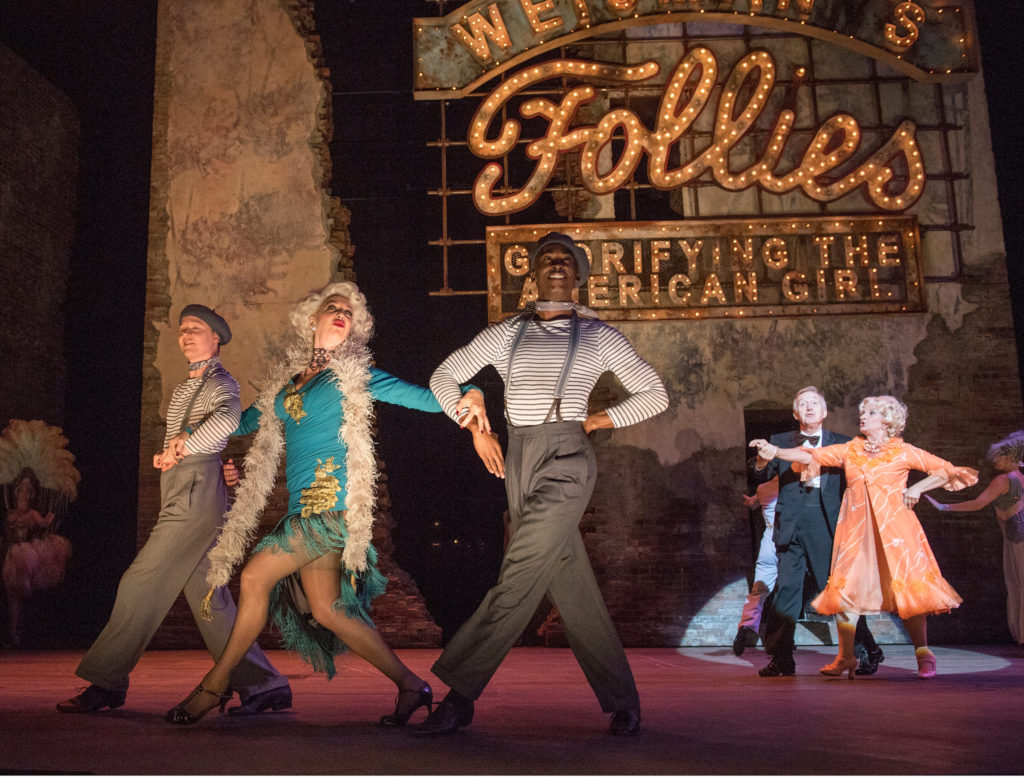 Solange LaFitte is mooching backstage at the dilapidated New York theatre. Everyone has arrived at the Weismann follies reunion party, revisiting the venue where they were once the dazzling epitome of showgirl glamour. They've all grabbed a drink, squealed at long lost buddies and curled a lip at long-grudged rivals.
Stephen Sondheim's musical Follies (directed by Dominic Cooke at London's National Theatre) may be set in 1971, but Solange sets about networking before the term existed. The former artiste is flogging her own-label perfume – Caveman by Solange for the gent who has everything, Magic for the lady who wants to hold onto what she has. She treats every encounter as a chance to make an entrance – vigorously platinumed head thrown back, slinky still in turquoise.
In conversation, she's always on – but alone, she pokes about behind the scenes. In Vicki Mortimer's design, it looks as if the wrecking crew has already moved into the theatre: the walls are semi-demolished, seats are as much dust as plush. A rubble of discarded dreams piles up beside the stage. And something sticks out of an old props basket – a shabby feather boa. Solange fishes it out, sizes it up. It's grey – soft-toned down or just deeply-embedded grime? Either way, she snatches it with a scavenger's pragmatism. Just what she needs to give her old signature number some feathery ooh-la-la.
And it does, as she sings Ah, Paree, a gazetteer of amorous possibilities ('I have been to Moscow, it's very gay – / Well, anyway, / On the first of May'). She presses her curves into service, makes with the wink and moue, chums it up with dancing matelots. The boa twirls, teases, stretches out across her shoulders. The feathers catch the powdery light and the once-gilt tassels enjoy yet one more spree.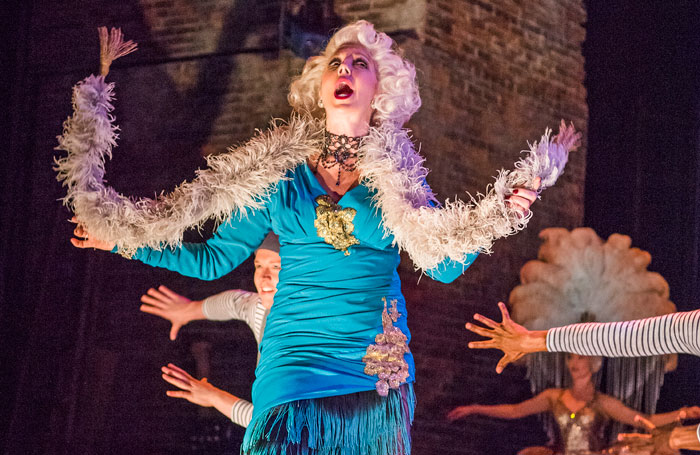 Solange – in Geraldine Fitzgerald's glintingly unsentimental incarnation – is one of the flintiest of the former showgirls. Most of them cheerfully share the triumphs and travails of their post-follies lives – husbands found and lost, the small business graft that sees them through. Solange, however, doesn't dish: even her chat with Dmitri Weismann himself ("Mitya!" she purrs) is less flirtation, more winsome shtick for her fragrances. (Hey, he's a pre-MeToo monster – he doesn't deserve genuine conversation.) Her appetite for nostalgia is strictly limited – Fitzgerald takes the golden sash emblazoned with the year she joined the follies, grimaces and immediately turns it inside out. Who needs to know she's been working her coquette act since 1930?
I wonder what backstory Fitzgerald imagines for Solange. Is she even French? Wouldn't surprise me to learn she's completely self-invented. (The part was originally created by Fifi D'Orsay, who was actually Canadian but scored work in New York after singing Yes! We Have No Bananas in French, claiming to have been with the Follies Bèrgere in Paris. Fittingly for Solange, she took her surname from her favourite perfume.)
Why pick on this slightly ratty prop, worn by a rackety supporting character? There are far sparklier creations in this visual feast of a show, and roles that hold more attention – notably the central quartet of miserable marrieds, Sally and Buddy and Phyllis and Ben, who flounder in a swamp of what might have been. That boa may have seen better days – but who hasn't? Most of the canny older women at the reunion have slipped off their unsustainable illusions like a pair of too-tight shoes. They've made it from doll to dame, through good times and bum times, and they're still here. Nothing much surprises them, but not too much disappoints them either. Only one, Carlotta, is still a bona fide star, but the others get by. As Ron Fassler wrote about another of the musical's first cast – Ethel Shutta, who sang Broadway Baby – 'her fingernails always clung to the ledge of show business until her dying day.'
Solange isn't wearing the boa when we later see her leave the theatre. She declines an invitation to go on for a drink ('I need my beauty sleep!' she trills, prompting a derisive snort from a former colleague). The boa has served its brief purpose. She doesn't need it, certainly isn't looking for souvenirs. The past, Follies tells us, is heavy with allure. Silvered with memory, shimmering with possibility, who wouldn't want to visit? But it's crucial to know when to leave.
Photos: top, Alastair Muir (photos.alastairmuir.com); below, Tristram Kenton
Follow David on Twitter: @mrdavidjays