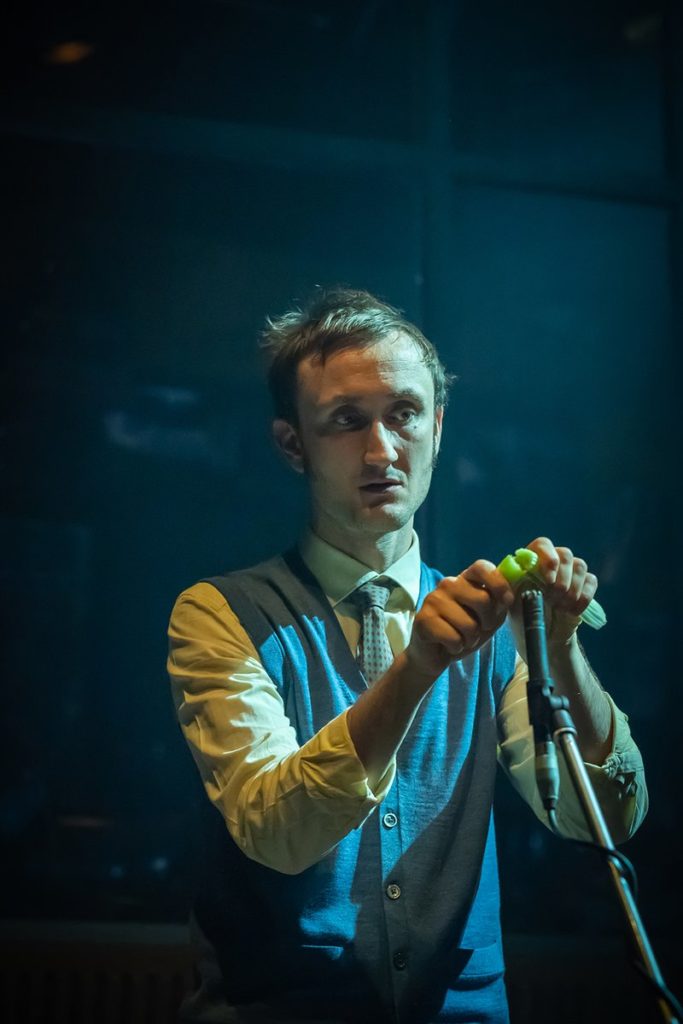 Some props have extended stage careers. Swords debut shiny and new in Romeo and Juliet and keep clattering away until they're finally battered to bits in Coriolanus. Tankards roll sturdily from Henry IV to A Chaste Maid in Cheapside. Others? One night and you're over. That's showbiz, baby.
In Berberian Sound Studio at London's Donmar, the celery and carrot, the cabbage and water melons, all make a distinct if self-immolating impact. They're all pressed into service as sound effects. It's the 1970s, and Gilderoy (Tom Brooke), a timid English sound designer specialising in the chirrups of his native Surrey, has been invited to enhance the atmosphere on a queasy giallo horror movie. He's asked to create the noise of tombs, tortures and terrors – a task he begins with trepidation, but embraces with increasing, obsessive zeal.
Like all predominantly masculine spaces, the studio is a species of shed. A cluttered hoarder's delight (the whiffiness is implied). And there's no object that can't be turned to use. Gilderoy, often working alone at night (we never see him leave) uses coughs and gloves and tape and rags, teasing them into the sounds of nightmare. As he distorts them, so he too seems to warp from the bashful decency of his first encounters. Having recoiled at the oppressive fates of the film's female characters, he then goads himself to mimic their torments. He discards his scruples but barely notices. No vegetable is safe.
Need something bone-crunching? Try a carrot, neat and nasty. Something horrid to do with innards? There's your water melons, wrenched to a pulp by the studio's dedicated foley artists (both called Massimo). And for true aural unease, heeeeeere's celery. Alone in the studio, Brooke holds the stalks up to the mike with quizzical intensity. Snap it, and you imagine a cruelly broken finger. Twist it, and the amplified squeaky squelch is something you don't want to imagine. We're a long way from waldorf salad.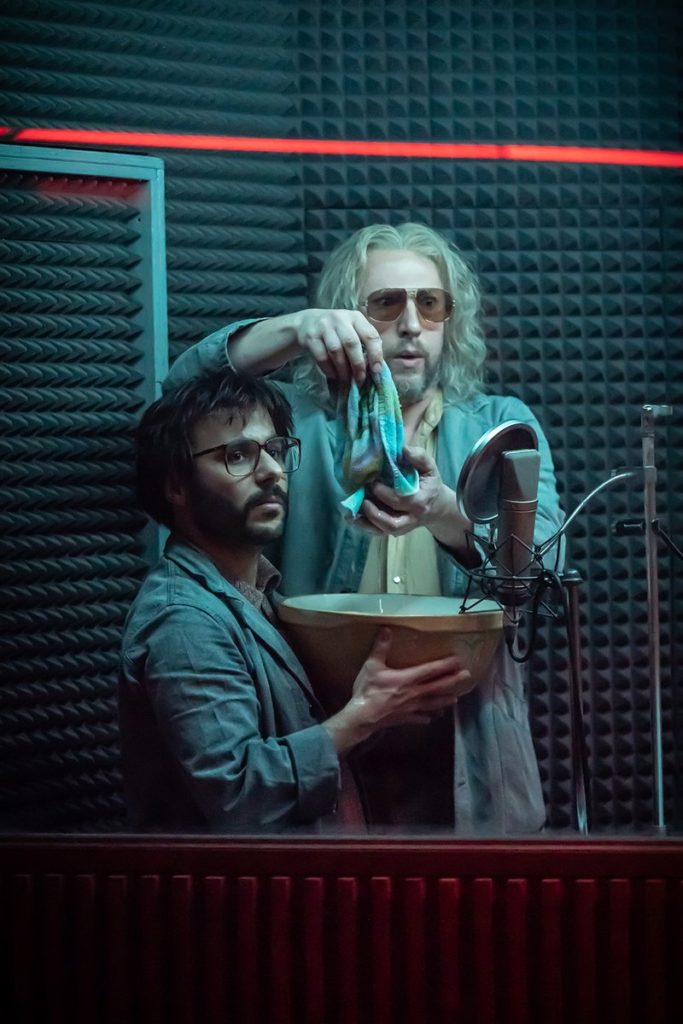 It's a concatenation of Toms, this show. Tom Brooke, who is such a singular actor – vulnerable but distancing (it's the wide, perfectly round eyes, perhaps). Tom Scutt, the designer making his discomforting directorial debut. And Tom Espiner, who with Sound and Fury has made something of a speciality of raising hackles in the dark. He's the production's foley artist and also plays one of the indomitable Massimos, in implacable shades and, occasionally, clackity high heels. (Why is a sound effects specialist called a foley artist? After Jack Foley, an early-cinema pioneer of the art, from Show Boat to Spartacus). Foley is a craft that demands curiosity, ingenuity, devotion – and a poker-faced playfulness. It's the essence of theatre – turning prosaic reality into mind-messing illusion before our very eyes.
But Berberian Sound Studio (based on Peter Strickland's 2012 film) cautions as much as celebrates. However delightful the effects' ingenuity (at the preview I saw, one frenetic sequence got its own round of applause), they're also chilling. Always at one remove: from the story and its characters. From the women. From the celery.
There's a short film of Tom Espiner creating foley effects here. Bats, vultures and – shudder – the unbearable perils of celery.
Follow David on Twitter: @mrdavidjays