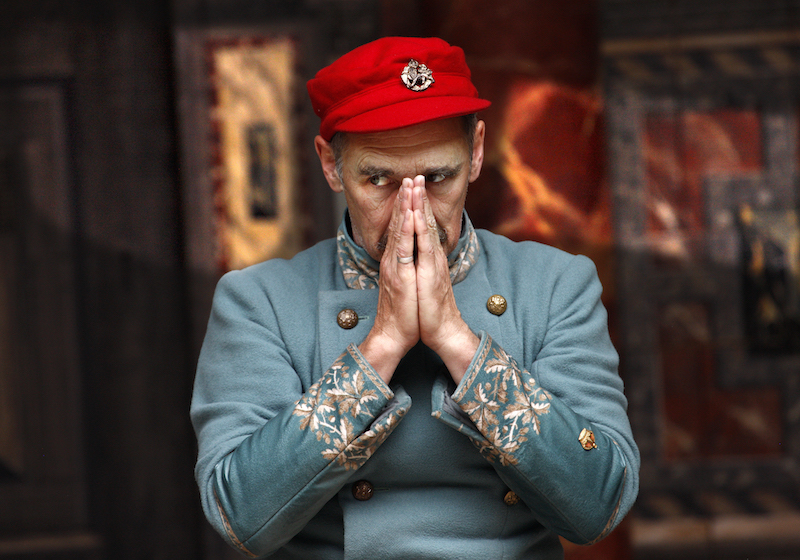 No, not that handkerchief, the one that convinces Othello that his wife has been unfaithful. When Shakespeare's hero finds that Desdemona has apparently mislaid the cherished keepsake from his mother, decorated with strawberries and traced with delicate patterns, he becomes suspicious; when led to believe that she has casually handed it to another man, he becomes murderous.
The 17th-century critic Thomas Rymer mockingly suggested the play should have been titled The Tragedy of the Handkerchief, as it warns 'all good wives that they should look to their linen.' At Shakespeare's Globe, Desdemona's handkerchief is a handsome chestnut number, twinkling with strawberry-coloured sequins. It makes an eye-catching accessory – especially when Mark Rylance's Iago dandled it in front of my nose, as I stood at the very front of the stage. When I reached out, he chidingly snatched it away.
Claire van Kampen's sleek psychological thriller of a production keeps clutter to a minimum, but there are several other handkerchiefs on view. Roderigo (Steffan Donnelly), Iago's uncomprehending stooge, has a fancy one that covers his face as he lies dead. Desdemona herself (Jessica Warbeck), after losing the strawberry hankie, puts a clean square of cloth in her belt and hopes Othello won't notice (fat chance).
And Rylance's Iago has a hankie of his own: a fat pad of cloth that he tucks inside his ensign's jacket, neat between the first and second buttons. It mostly stays stashed – Iago is a master of keeping things close to his chest – but every so often, usually when alone, Rylance will bring it out.
Why does it matter? Well, there's possibly no more charming actor alive than Rylance. His armoury of fey twinkles, his double takes as easy as breathing, his delicious vocal murmurs that caress his lines like bubble wrap – it's intensely loveable. Until, as Iago, it isn't.
Pleated tight with mystery
Rylance has snared the Globe audience before. His Richard III played the simpleton, and played us too. He looked not the full duke – two princes short of a Tower – but gradually revealed a steel trap of a performance. His Iago too seems legible as sunlight, especially when he makes us giggle. With Roderigo or Cassio, he trots around the stage, a ceaseless feint and swerve to keep everyone off balance. With André Holland's Othello, dropping bait like a dedicated angler, he stays still and bides his time.
Shakespeare's villain is pleated tight with mystery. Not least, in this production, how he ended up married to Sheila Atim's frank and fabulous Emilia. He's a charmer when he wants to be, an avuncular cheeryble if required, but Rylance never lets us forget that he's ultimately a murderer. Holland hits the devastating moments when Othello determines to kill Desdemona and Cassio; Rylance doesn't even flinch as he hears the words. He's prepared to let innocents die, only seconds after he's professed his friendship.
What kind of person does that? I stared and stared at Rylance's familiar face – I've been watching it my whole theatregoing life – but couldn't see where murder lurked. At key moments, he wipes expression off to a blank. The only tell might be that handkerchief. It's part of a soldier's kit – a neat wad to mop or bind in an emergency – but Rylance keeps it hid until he's alone. Then it comes out: he'll keep it folded but use it to mop his brow – the prickle of sweat the only indicator that he's struggling to keep the plots spinning. Or he'll just clutch it tight in his fist for comfort.
Rylance rarely uses his hanky with other characters – heightening the character's obsidian core of selfishness. He doesn't bring it out to swab Roderigo's bleeding face, even though he's the main cause of the battering. But he does, creepily, use it to blot Desdemona's tears towards the end of the play – an especially nasty moment, as he's put her in harm's way using her own precious piece of cloth, and he knows she's soon to die. He's even urged Othello to strangle her in their bed.
Even at this moment, you can't spot the dissimulation – this honest Iago seems every bit as four-square decent as Rylance's tugboat captain in Dunkirk. But here, as elsewhere, he keeps his cloth folded in a pad. Iago's supremely unrevealing – he'll go to his death without explanation – and he won't unfold his secrets, even to us.
Photo, top, by Simon Annand. Iago's handkerchief is concealed, naturally. 
Follow David on Twitter: @mrdavidjays