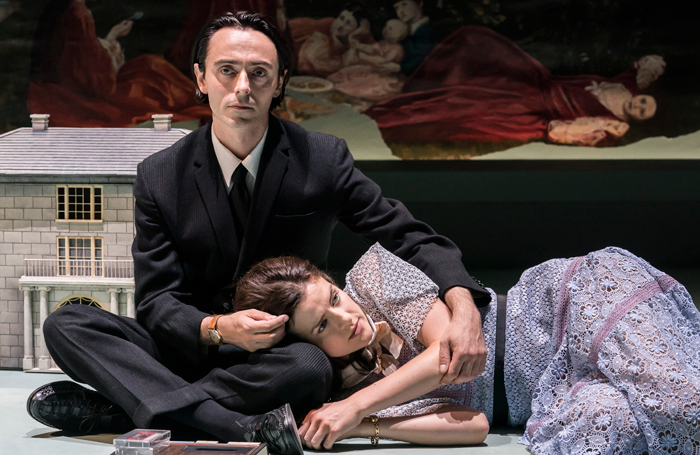 The pineapple icebucket in Home, I'm Darling; toothbrushes in Home; the doll's house in Aristocrats; nothing in Pericles.
I've been thinking a lot about what makes a home in the last year or so. That need for a place of safety, in which you have a stake, is pressing – but hard to find. All those phrases run through my mind, warming or mocking depending on the day. There's no place like home. Home comforts. Home made. Home style. Home is where the heart is (also the hurt).
As summer ended I watched shows about home making. Home at the Edinburgh International Festival (American artist builds a two-story house and populates it with everyone who has ever lived there). Home, I'm Darling (woman makes her life a perfect simulacrum of the 1950s, swapping high finance for high-maintenance housework). Aristocrats (a distressed homecoming). And Pericles (a family buffeted by the seas searches for rest and nest).
You might think that plays about home would be perfect hunting ground for the propwatch series –crammed with homeware, riddled with stuff. The props team must have had a blast on Laura Wade's Home, I'm Darling (at London's National Theatre via Theatr Clwyd). Craving the neatly-ironed certainties of a former era, Judy (Katherine Parkinson) stocks her 1950s dreamworld via ebay (a laptop is deployed solely to source flouncy dresses and jive festivals). On Anna Fleischle's doll-house set, sunny vintage crockery lines the shelves, while a flamingo shower curtain fringes the tub. A showstopper curved glass bar dispenses a gimlet or old fashioned for hubby at the end of his working day, and sports a cheery pineapple icebucket. Now that's a prop.
Trouble is, nothing feels real. Less a home than a show home. Only catalogue models inhabit a single immaculate aesthetic – most of us live among a palimpsest of sentimental objects, heirlooms and hand-me-downs, a ragbag of stuff going back years, if not decades. Judy's mother (Sian Thomas), dispenser of droll asides and cutting remarks, finally eviscerates her daughter's faux nostalgia. 'It's a cartoon!', she explodes. Nobody lived liked this even in the 50s, she insists, cataloguing the decade's deficiencies in food and tolerance, limited horizons, the rough deal for women and ethnic and sexual minorities. I felt like cheering.
Other plays would make Judy's husband the scheme's villainous architect, squashing wifey's ambition and confining her in the doll's house. But Judy has chosen her own prison and run up the curtains, happily submitting to lockdown with a plate of devilled eggs and half a lemon to shine the taps (an extract from the 1949 handbook How To Run a Home Without Help reads like an offcut from a dystopian horror novel). However perfect, unless the air stirs home will suffocate you.
They can't take that away from me
There are literal homemakers in Home. Geoff Sobelle himself enters a bare stage, gradually conjuring a two-storey house from plywood and plastic sheeting. Upgrading his kitchen, he'd pulled up the flooring to reveal layers of lino past, each the index of a previous resident. What if they could all inhabit the space simultaneously? Home makes it happen – the cast aren't differentiated chronologically, but all emerge from the bed or behind the shower curtain, puttering around each other in happy domesticity.
The virtuoso sequence is a rise-and-shine morning, as successive performers hoist themselves out of bed to ablute and breakfast. They dodge and pivot around each other, apparently unseeing, especially in the tight bathroom: swivelling between loo, shower and a teeth-baring brush at the sink. These are the kind of unthinking routines that make a house familiar – just the quirk of tap and shadow on mirror, the way the rim of the sink presses into your hip or lets you balance a book. It's utterly ordinary, and surprisingly enchanting. When Sobelle opens things up – pulling a stream of audience members on stage for a relay of celebrations, each a rite of passage (birthday, wedding, wake) – it's oddly less moving. The house's quirks seem almost incidental to these momentous life events. But the way you brush your teeth – oh no, they can't take that away from me.
After this warm, large-scale whimsy, there's a chilly miniature home in Brian Friel's Aristocrats, immaculately revived by Lyndsey Turner at the Donmar. Es Devlin's design represents Ballybeg Hall, the O'Donnell's family home, via a doll's house replica (photo, top, by Johan Persson). They were once Irish Catholic gentry, yet the adult remains of the family are damaged, fragile. Skittish, trembling Casimir (David Dawson) beamingly plucks out tiny items of furniture that each bear a blurry family legend – upended by Yeats or stained by Parnell, though the dates don't fit and the stories totter.
Doll's houses can't help but enthral (as in Jessie Burton's novel The Miniaturist). Too elaborate for toys, they shrink down adult lives. Casimir's delight in its possibly delusive memories is charming. But it's as deceptive as the archaic landscape that gradually emerges on the back wall. The more piercing reality of this hobbled, hurt family is in the baby alarm conveying peremptory commands from the judge's sickbed. When it crackles into life, Dawson's Casimir trembles, shrinks, his playfulness falls into shadow.
Home isn't always a place, and not always a warm one. The inspired, migrant-inflected Public Acts adaptation of Shakespeare's Pericles by writer Chris Bush and director Emily Lim filled the National's Olivier stage with multitudinous performers and too many costumes to count. So many people: a Bulgarian women's chorus and a gospel choir; even pirates travel with a ska band. Fly Davis' aesthetic is the school play of your dreams, a riot of homely improvisation. There were a few delectable props – I sigh for a seaworld chandelier, a fantasy of octopus tentacles. But mostly, bodies populated the space, evoking each singular port where Pericles and his abandoned daughter Marina fetch up.
Home isn't always a safe haven – it can be where fear sticks in your throat, where you're most at risk. It may simply be where you're disgruntled, discomforted, not yourself. That's partly how it is for Pericles (Ashley Zhangazha), initially a blinged-up prince whose arrogance exiles him and makes him feel a stranger even on return. The sea devours his wealth, his family, even his name. Maybe that's why Davis doesn't dwell on props, because they won't help him settle in his own skin. Household objects can't make a home, only an open heart, hospitable to others and, ultimately, to yourself. To watch a vast cast (nearly all amateur) share it with us was overwhelmingly emotional. We mirrored the sea-voyage theme, awash with salt tears of our own, thinking of home: empty but full beyond words.
Follow David on Twitter: @mrdavidjays