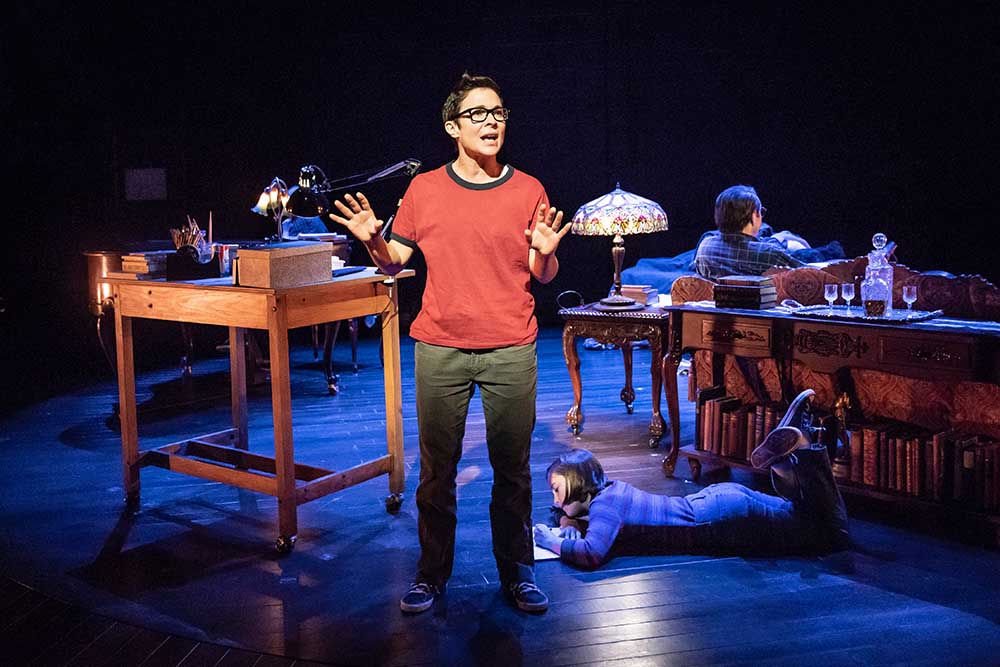 The urge to rewrite the past is irresistible. To make yourself more cool, your family more content, to turn grim endings into happy ones. Fun Home (at London's Young Vic), the engrossingly imaginative musical based on Alison Bechdel's graphic memoir, writes, draws and redraws the author's past. Early on, it announces its two defining plot questions: how did Alison come out? Why did her father kill himself soon after? We already know what happened, but Alison wants to tell it true.
The musical (incisive words by Lisa Kron, gloriously stippled score by Jeanne Tesori) doesn't disguise its comicbook origins. Sam Gold's production, designed by David Zinn, makes are no attempts to frame the action in cartoon panels, which is probably just as well – Sidi Larbi Cherakoui's manga-styled Pluto was hyperactively striking and incredibly dull. Instead, adult Alison hovers over the story, puzzling at memory, wiping the tarnish of silence and secrecy off her fraught family history.
We see three Alisons – schoolgirl, college student, adult (Kaisa Hammarlund, pictured above by Marc Brenner,plays the last with beetle-browed intensity). Sometimes one at a time, sometimes all at once. All three often have a pencil to hand – and a pot crammed with yellow pencils sits on the older narrator's desk, amid sketchbooks and drafts. She'll often propose a caption to a scene we've just watched, or are about to – and then will try another, and another, hoping to nail the shadows of shame and concealment. Her own growing lesbian selfhood – brilliantly awkward then gloriously assured – is accompanied by a realisation that her father, Bruce, is a gay man who tried to live in a straight marriage, only to damage himself and those around him.
Many of the memories turn on art, especially as the family lives in a home restored by dad to museum-levels of historic shine (the 'fun home' is both the local funeral parlour, which Bruce runs alongside his teaching career; and their own family home of surprises). For Alison, drawing comics is a way of corralling the world, and a way of becoming herself. A fraught scene shows her schoolchild self intent over her homework, drawing a map of her family's journeys. It sounds cheerfully unrealistic – family home rubbing eaves with the Tower of Pisa. Dad objects – he argues that landscape drawing will display his daughter's artistry, do her credit, help her achieve the fine art career he hasn't enjoyed himself. The scene turns ugly – enjoyment chills, chatter quiets, dad's stormcloud sarcasm takes over. Zubin Varla's voice, a dark-toned cello perfect for conflicted authority in Shakespeare, is perfect here too – another patriarch creating misery.
But comics are the thing for catching behaviour on the fly. Older Alison moves around the action, often pulling her desk around on its castors. Pencil is always in hand – to record, to rethink, to revise. The charming father is also a churn of loathing. The fulfilled mother is desperately unmoored. The good daughter may have to find her own independent sense of goodness. Scribble, erase, scribble again.
Follow David on Twitter: @mrdavidjays