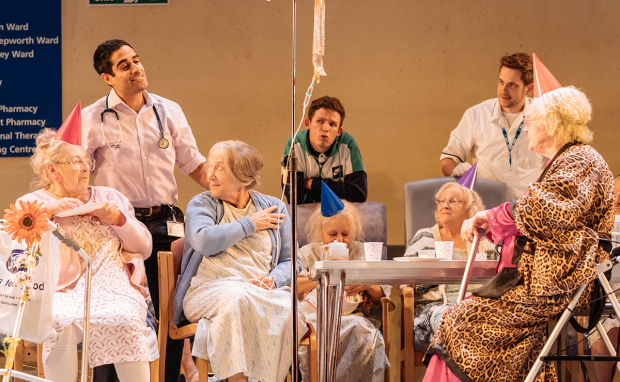 You may think you know what it feels like to be patronised. Well, become an elderly person – or someone who cares for them – and prepare to have the crap condescended out of you.
As soon as you're in a vulnerable position, people who would otherwise talk to you as a relatively competent adult breeze into your home, and tell you how bad you are at making the bed, or a cup of tea. They make unsolicited suggestions, loudly and slowly. They call your father 'dad'. They don't call you anything at all.
There are all sorts of pisspoor reasons for this, but one of them is bodily functions. Lose perfect control of bowel and bladder, and people assume that the mind has dribbled out with them. Waste isn't a comfortable conversation point, so being forced to confront it produces resistance, denial, dismissal.
'I'm just taking my friend for a walk,' says Mary, an elderly patient in Allelujah!, Alan Bennett's fascinating bumpy ride of a new play at London's Bridge Theatre. She refers to the drip she lugs behind her as she crosses the stage. In her working life, Mary was a librarian, but now she's just another inconvenient biddy at the Bethlehem Hospital ('the Beth'). She's played by Julia Foster – whose previous roles include Tommy Steele's perky beloved in Half A Sixpence and a blazing Margaret in the Wars of the Roses plays in the BBC Shakespeare series. But now she's another elderly actor: not a dame, no longer a star, but still a diamond.
The drip – like the other characters' catheters and bottles – is key because bodily functions are inescapable in this play about the besieged NHS, but also about how helpless we are in the face of helplessness. This small local hospital faces closure, but geriatric care is about as unsexy a subject as possible. No one wants to think about alzheimers or incontinence. The Beth's protest campaign centres on the elderly patients' choir – shimmying their way through vintage tunes like Good Morning and Good Golly, Miss Molly (in Nicholas Hytner's production they totter between realism and fantasy, never quite going the whole Singing Detective). Feelgood routines can't disguise the ward's true business: managing decline, charting the shuffle from tired to terminal. There's no feelgood ending for these patients, who have, as the head nurse sighs, 'left it too late to die.'
That's perhaps the most brutally acute of Bennett's lines in Allelujah! He's a fastidious writer but not a prissy one. Miss Shepherd, aka The Lady in the Van, tosses malodorous packages of poo out of her camper van window and onto his driveway. Here too the terror of losing control of bowel and bladder is constant: a humiliation, and something that pushes you out of full personhood. A catheter is like an invisibility machine – no one sees the person attached to it. On the Beth's Shirley Bassey ward, appearing to lose an iron grip on your bladder can spell a death sentence.
Shake her till her dentures drop out
Part of the pity of this needs-another-draft play is that Mary too is forgotten by Bennett. She has some spoiler-unfriendly business with another prop, a camera, that closes the first half – but once that's done, she too is shuffled aside, no longer of interest to characters or their creator. The curse of the drip strikes again.
Bennett knows how people in authority speak to those without, especially when dealing with the elderly and infirm. The playwright has had national treasure status thrust upon him – but this notional cosiness ignores the scalding rage that courses through his writing. In one of his published diaries, he describes being ignored by a negligent receptionist while making a hospital appointment. 'I long to drag her across the counter and shake her till her dentures drop out,' he fumes, wishing he could exhort her to 'Be nice, you cow.'
In the theatre documentary Nothing Like a Dame, a wonderfully testy Judi Dench, now 83, describes the patronising young medic who recently treated her for a hornet's sting. 'What's our name?' he booms. She mutters a reply. 'And have we got a carer?' he continues. 'Fuck off! I've just done eight weeks in The Winter's Tale at the Garrick.' Never patronise Dame Judi.
Follow David on Twitter: @mrdavidjays