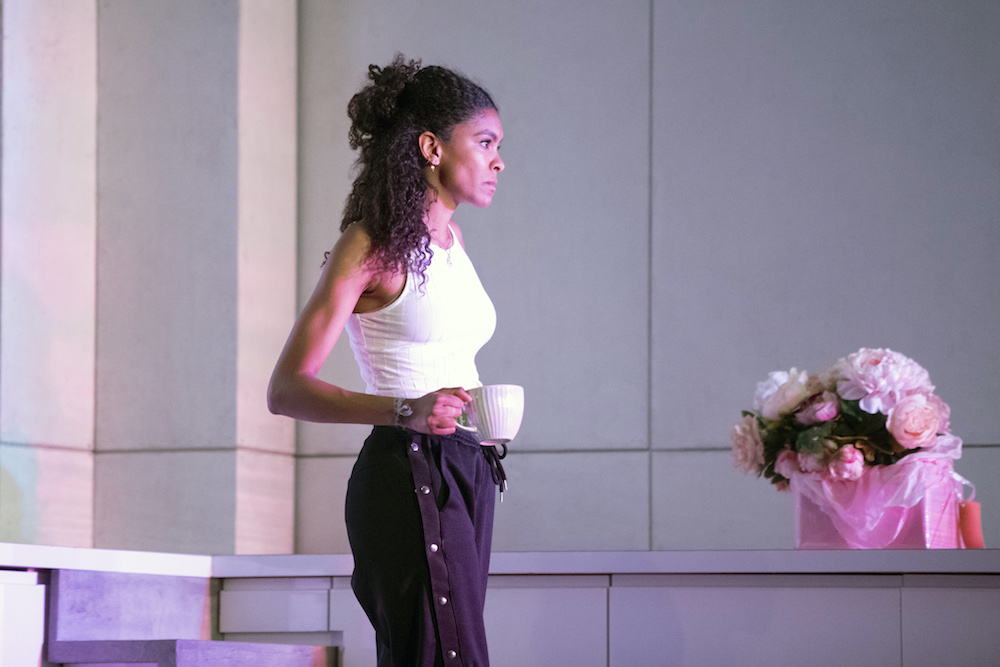 The talk around us was all about the dishwashers. 'Look, there's two of them,' murmured the woman in front of us. 'Three dishwashers,' gasped a guy in the row behind. By the end, I counted four: it turns out there were seven.
What else does the kitchen in Julie, Polly Stenham's reboot of Strindberg, contain? An ostentatiously long table/worktop. A couple of cupboards fitted alongside the dishwashers. No visible hob or oven (at least from our low vantage point right at the front). Just a blender. Ah, the blender.
Tom Scutt's artful design initially looks like swank minimalism, before revealing itself as mind-tweakingly weird. Strindberg's play has historically been many things – tragi-misogynist naturalism, poetic feminism, a powderkeg of racial and sexual politics – but these versions have often shown real-type stuff happening in a real-type room. Real cooking, real drinking, real cleaning. Carrie Cracknell's new production pushes that to extremes. Much of the action is stylised – especially the gurning chorus of contemptuous partygoers – but there's also a lot of real work in this anti-cooking kitchen, and it's all done by the housekeeper, Kristina.
Stenham places the play in monied modern Hampstead, where Julie (Vanessa Kirby), child of privilege, has scooched into her thirties with no sense of vocation, no stable sense of self (that she's a few years older than Strindberg's character makes her seem even more lost and aimless). She's dropped out of universities (plural), abandoned novels, returned resentfully to her unseen father's home. Kristina – a superbly felt and held performance by Thalissa Teixeira (above) – is the Brazilian housekeeper. Julie claims they're friends. They're not friends.
The play's power relations are acutely political: eddying around race, money, gender. In this gleaming but semi-functional kitchen, the dynamic becomes stark. Julie makes mess; Kristina clears it up. Julie trashes; Kristina tidies. Julie can trail chaos because Kristina will diligently load the dishwasher, swab the surfaces, hold back Julie's hair as she voms, not out of friendship but because it's her damn job. In Teixeira's performance she tries not to hate it, but that doesn't mean she enjoys it.
Privilege means Julie's family functions despite its dysfunction. Mother committed suicide; father stays away as much as possible; daughter is a nightmare (Kirby doesn't soften the boho arrogance). It's the staff that keep them going – chauffeur Jean (Eric Kofi Abrefa) and Kristina. Yet the massed ranks of dishwashers reinforce this kitchen as a place of containment rather than stew-scented nurture. We don't see any cooking (Kristina merely sifts icing sugar over the birthday-cake berries). A household with this many dishwashers has a lot to scour, a lot to hide. It's a hopeless attempt to start from a clean slate, again and again.
In most productions of Miss Julie, Christine is the skivvying afterthought. Muttering pieties and scandal, head down over her chores, a drudge too worn out to speak. No wonder John and Julie find it so easy to betray her. Not here, where their late-night bunk-up is not only mutually damaging, but upsetting for an audience who might see Teixeira as the play's most compelling figure. Strindberg's character dully assents when invited to become the lovers' third wheel, but Stenham gives her the evening's most blazing speech – a fury of hurt and long-delayed truth-telling. It's this spotlight on Julie's self-deceptions, rather than the underwritten Jean, that pushes the birthday girl to the brink and beyond.
Which means the blender. 'I wondered why that was there,' said my pal, having looked away for its whirring moment of grand guignol glory. (I don't want to spoil, so will update with a more explicit description once the production is done). Yes, it's a kitchen item; no, it's used for carnage, not cookery. And when Kristina returns to the room during the play's final minutes,she has another mess to clean. Another mess not of her making; another mess slopped into her hands. Kristina deserves better. She deserves her own play.
Follow David on Twitter: @mrdavidjays