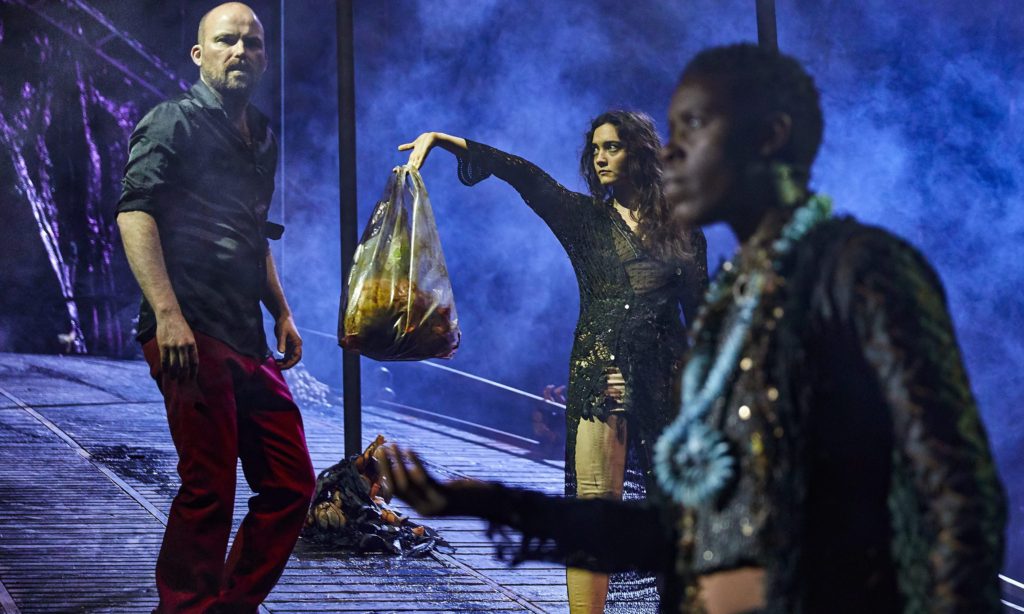 Rufus Norris' bereft, survivalist production of Macbeth was the show that launched a thousand thinkpieces about his regime at the National Theatre. The reviews were overwhelmingly hostile, and this apparently misfired Shakespeare followed on the heels of a series of mishit new plays in the Olivier Theatre, the company's flagship space. Was Norris' time up?
Several weeks on, and with a fistful of Olivier awards, things seem less stormy. As another artistic director, Daniel Evans of Chichester, cannily predicted when we spoke about the situation, Macbeth is heavily booked – after all, it's a popular classic on the school syllabus, featuring two house stars, Rory Kinnear and Anne-Marie Duff.
Watching Macbeth yesterday, six weeks after press night, it was hard to understand the fuss. It seemed a confident, coherent reading, stirringly-paced, with strong central performances. Maybe it simply wasn't ready when it opened: Norris carved 30 minutes off the three-hour running time in previews, which suggests a show in flux and undercooked. Perhaps it has simply bedded down.
A Macbeth for a dying world
Enough speculation – let's talk props. The production is set, we're told, 'Now, after a civil war.' The breakdown isn't merely political, but environmental. There's barely a natural element in Rae Smith's design, or a natural fabric in the clothes designed and degraded by Moritz Junge. The play's choking fogs might be the fallout of pollution, the natural world it invokes choked by plastics. This is a Macbeth for a dying world.
Don't expect an early modern kingdom or a medieval hierarchy. They're long gone. What's at stake here is survival – Macbeth and his fellow warlords are fighting for dominion over the scraps. Landscape has become mere landfill. The stage is backed, and sometimes carved up, by tall curtains made of shredded black bin bags. There's nothing breathable, nothing sustainable in view. Imagine Wall-E without the cute. This is the world we've undone. Plastic isn't just surrounding these people; they are intimate with it. Macbeth winds gaffer tape around his chest to secure his makeshift breastplate. His wife's power dress is a semi-derelict sequinned frock, its gaps bandaged up by rustling plastic sheets.
As the whales tell us, plastic bags outlive the oceans. The Swedish invention of the 1960s covered the globe in convenience, and polyethylene pouches remain the most widespread resource in this despoiled environment. So many uses for even the flimsiest carrier! Tug it on your head as partywear, or wave it like a flag at the post-battle rave. With something more sturdy, you can brandish aloft a severed head, or shove some slaughtered babes in their distraught mother's face. Whether you're after a weapon or accessory, plastic bags are the choice – which is just as well, as there's bugger all else.
The Macbeths are gasping for power, sure – especially in this world where you climb or get crushed. But on a more fundamental level, they ache for a good wash and a decent night's sleep. Murky souls are embodied in besmirched skin and eyes sore with wakefulness. The Macbeths speak about sleep and water a lot – the little water that clears them of this deed; the season of all natures, sleep – but there's none here, not in this production. They're knackered. They're parched.
Some water must have survived social collapse, but we don't see it. There's just the fiery poteen that the warlords gulp, or a couple of precious cans used to entice a pair of scally murderers. You can almost feel the gore and grime after battle, but no one can wash it off. When Macbeth kills Duncan, his hands are sticky scarlet – but all he can do is try to swipe it off on his t-shirt, on his socks. It's hardly a deep clean for his conscience – you see his palms stained a lingering red in the following scene.
New life feels like a bitter joke
Duff and Kinnear have a less sexual, less intimate relationship than many Macbeths. There's nothing here to nourish their love in this near-death world. They can't wash, can't refresh, and for all their talk of children, can't regenerate. New life feels like a bitter joke.
And how can they sleep? What comfort is here, in these hastily requisitioned bunkers? A concrete for the pair to plot in. What looks like the remnants of a classroom or community hall for the Banquo-haunted banquet. Where would you sleep? On what? Plastic bags don't make blankets, in all their unwelcoming scratch and rustle. Duff's desperate Lady M may have thought that assassination would be an end, but it's just a beginning – a means to a cruelly extended middle that can only be resolved by death.
Norris' Macbeth isn't the perfect production. It's too disjointed, the bits that often struggle to make sense – the witches, Duncan's unfit-for-purpose son Malcolm – make less than usual. And it's a world you itch to leave. To dream of a world without its strangulation of plastic. To have a wash. To have a sleep.
Photo by Brinkhoff/Moegenburg
Follow David on Twitter: @mrdavidjays