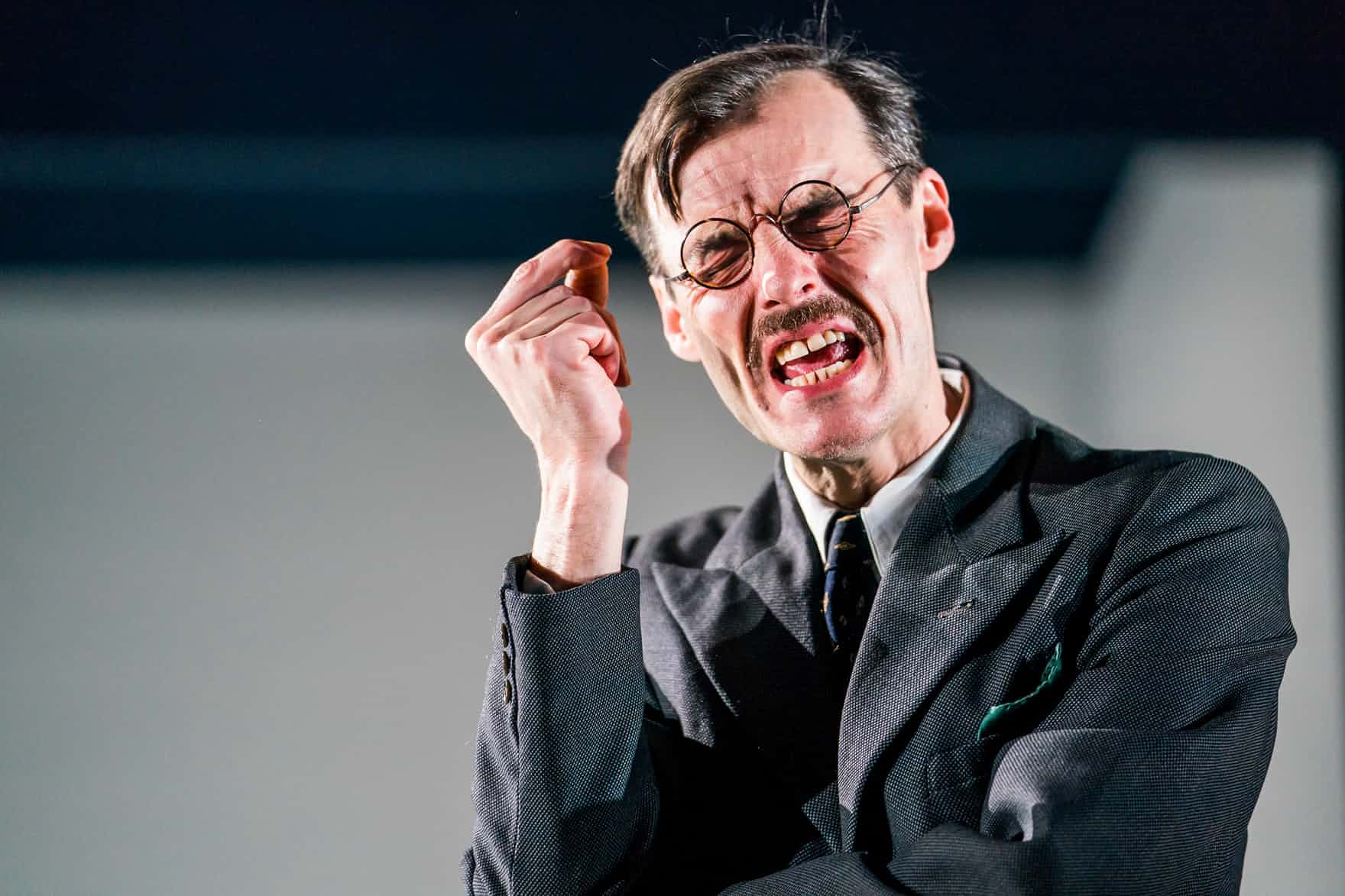 A companionable slump of young men sits on the floor and frown over notebooks and laptops. They squirm to tell their story, but they're struggling. One clutches a cherished volume – Howards End by EM Forster. Speaking in the third person, he announces, 'he opens his favourite novel, hoping to find inspiration in its first familiar sentence.' That sentence, which we'll hear more than once in The Inheritance: 'One may as well begin with Helen's letters to her sister.'
It's updated early in Matthew Lopez's searching, rapturously involving two-part epic The Inheritance, which resettles Forster's narrative in present-day gay New York. A selfish, damaged young writer called Toby leaves sozzled voicemails for his lover, Eric. The lovers succeed Forster's liberal Schlegel sisters, whose efforts to make meaning involve the well-defended wealthy, the aspirant poor, death and renewal. Eric and Toby too, during the play's seven hours, are enmeshed in love and lovelessness, in an unwitting bequest of a totemic house they make their own way towards. Same story, different world.
It feels important that we don't just intuit the book behind the play we're watching. In Stephen Daldy's spare, resolute production, we actually see it – from where I sat, it seemed a pale blue hardback, perhaps the elegant Hodder edition. There's a lot going on in the play that follows – the conflicted legacy of the Aids crisis, the ways in which unloved gay men can find ways to love and be loved, the search for a place and emotion that feels like home. Howards End walks beside it, holding out a hand from the past.
Read the past to find a present
The Jews are historically the people of the book, but the gays aren't far behind. The Inheritance charts the way queer people read their way into identity. You read the past to find a present you can live with, a person you can become. Milestone novels aren't just fictions, they're maps – pointing to paths along which your own liveable identity might emerge. Two questing young men (both played by Samuel H Levine, preening or abashed as necessary) hit the Strand Bookstore looking for the great and gay. Baldwin, Cavafy, Hollinghurst. Call Me By Your Name, obvs. And tweedy, timid Edward Morgan Forster: not just his gay-themed Maurice but Howards End, even though it pivots around women's choices in straight relationships.
Lopez finds a play through Howards End, and his characters find themselves through Forster. Morgan himself (a brilliantly impulsive and prissy Paul Hilton) is the animating spirit of the first play, standing admiringly, admonishingly in his charcoal suit among these enviably slouchy, barefoot modern men.
The book does a lot of work here. It's a great enabler for Lopez. He doesn't have to justify his unusually polished, literary register ('As a kid, I used to think America was shaped like an animal, charging in an easterly direction toward the sunrise'). Novelistic conventions – a will consigned to flames, a polite marriage of convenience, the eruption of a hooker at a society wedding – pique the story (and provoke gratifyingly audible responses in the audience). Forster pulls characters into usefully coincidental encounters or catalytic courses of action. Without him to tug the threads, a play built around the fitful bonds of modern city life might barely make it through the first hour, let alone into the seventh.
As the play develops, Eric stands at the centre of the connections. He's sublimely played by Kyle Soller, often a firecracker actor who here damps down the confidence, dials up the kindness, stands blinking under a trollish scrunch of hair as he works out what to do. Forster's plots test unassuming decency and trip up his characters' settled identities. The Inheritance in some ways occupies a more slender social palate – almost all male, almost all white, almost all middle class. It revists America's plague years, but the crises it faces are less stark. Yet Soller's Eric holds tight to kindness, has to grow, makes his choices matter.
At the time he wrote Howards End, Forster hadn't had sex. He admits as much here: his only appearance in the second part recounts with rue and rapture his sexual awakening – a casual buttocky caress that travelled up his spine and into his psyche with an electric crackle. If he did act on the revelation physically, he didn't publicly – Maurice remained under wraps until after the author's death.
Making maps
Productions based on novels often seem longer and talkier than strictly necessary, but Lopez doesn't apologise for his play's length. Following Forster lets him delay to repay. He makes a virtue of discursive disputes over brunch, of anecdotes (about a house, a bathhouse, a house again) that unobtrusively swell into troubled arias. He daringly delays understanding for Toby's monstrous behaviour until deep into the second play. However neat and rosy his sense of an ending, he lets us invest in the characters his narrative eventually blesses.
Shared narration has rippled through stage adaptations of novels since the RSC's Nicholas Nickleby and the early work of Shared Experience. Here it doesn't narrate the characters so much as offer them options, sifting choices that will shape them. For much of the play, the cast sits around Bob Crowley's platform stage like diners at a Japanese table (the discussions about how to live a decent life have a Symposium-style mealtime formality). They chip in lines, they listen intently (Luke Thallon engages so exquisitely, it's almost upsetting). The problem for rootless men isn't so much the anxiety of influence as the sense of being born into bereavement. Previous queer generations were silenced by secrecy, or illness. Where are the markers mapping out the road they came in on? Holding high a novel that frets over Edwardian mores won't liberate them, exactly, but can remind them that others have faced the struggle to live with integrity in a culture that doesn't quite fit.
Follow David on Twitter: @mrdavidjays