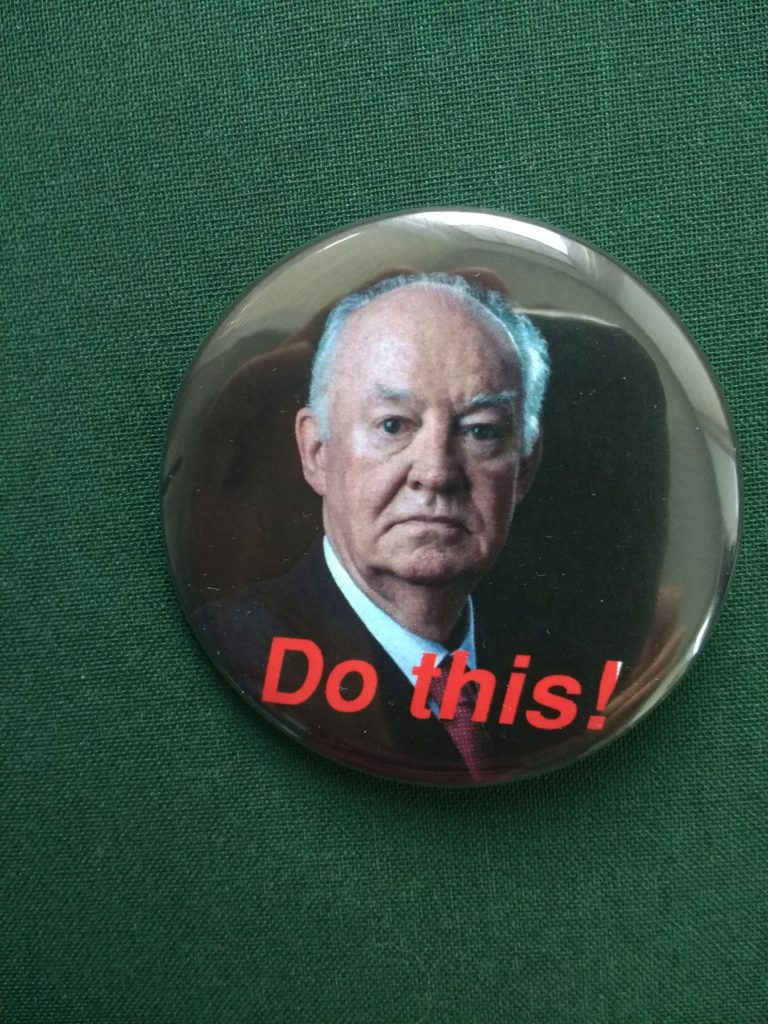 Be honest – would you vote for any of these dodgy, blundering political contenders? The talking point around Nicholas Hytner's production of Julius Caesar has been that many of us get to swarm around the action, gawping at the Roman elite, swayed by their rhetoric and shoved by security.
First of all we're whooping at Caesar's rally (there's beer! I bought a badge!), then eavesdrop as Cassius and Brutus tiptoe around conspiracy over a carafe of red. We stare as Brutus edges towards the spotlight, weighed down by reading material and a wife he can't protect from self-harm. We see assassination at close range, are pushed aside by processions and crowd round the platforms that rise from the floor. Pulsing towards each new rush of dramatic interest, we're the definition of fickle, the very incarnation of the popular will.
But Hytner and his propulsive cast strip away the shine on leadership. Proximity reveals matey blowhards and fretful policy wonks, showmen and charmless strategists. No politician is a hero to such adjacent eyeballs. We may glimpse Ben Whishaw's integrity as Brutus, but also his political naivety. We see him lecture rather than rouse the crowd, wagging his tortoiseshell specs. We notice him pull handwash from his pocket after battle, then grasp a telling novel for the insomniac night: Bulgakov's The White Guard, with its central characters, like Brutus, stuck on the losing side of a civil war.
You might feel for him, but I don't know if you'd vote for him. Or for Michelle Fairley's worn Cassius, a sharp strategist who can't seal the arguments. Or David Calder and David Morrisey, giving Caesar and Mark Antony a beery expansiveness that doesn't bear close scrutiny. The better the performances, the worse the choices:
Julius Caesar (David Calder)
Campaign slogan Do this!
Never without baseball cap, oxygen mask, trophy wife
Vote for him if you don't care that he makes no sense
Don't vote for him if you don't actually like autocrats
Brutus (Ben Whishaw)
Campaign slogan It's complicated
Never without tortoiseshell glasses, paperbacks, antibac handwash
Vote for him if you like policies that come with a reading list
Don't vote for him if you value practicality over purity
Cassius (Michelle Fairley)
Campaign slogan Death to tyrants
Never without frown, handbag, gun
Vote for her if you value reason above relatability
Don't vote for her if you don't like nasty women. Or, you know, women
Mark Antony (David Morrissey)
Campaign slogan Wanna hear Caesar's will?
Never without personalised tracksuit, conditioner, copies of Caesar's will
Vote for him if you see the bloke, not the bruiser
Don't vote for him if you don't believe a word of it
Casca (Adjoa Andoh)
Campaign slogan It's all Greek to me
Never without well-cut coat, well-cut sarcasm, gun
Vote for her if you prefer puns to policy
Don't vote for her if you're worried about who fires the first shot
Octavius (Kit Young)
Campaign slogan New Caesar
Never without battle plan, poker face
Vote for him if you like the winning side
Don't vote for him if you really really don't like autocrats
Hytner frames Julius Caesar like a political thriller – if it's also a tragedy, then it's our tragedy. We need new models of leadership in a world where strong is often stupid, or completely unscrupulous; where nuanced looks pale at the polls. This sharp show is hardly encouraging.
Follow David on Twitter @mrdavidjays