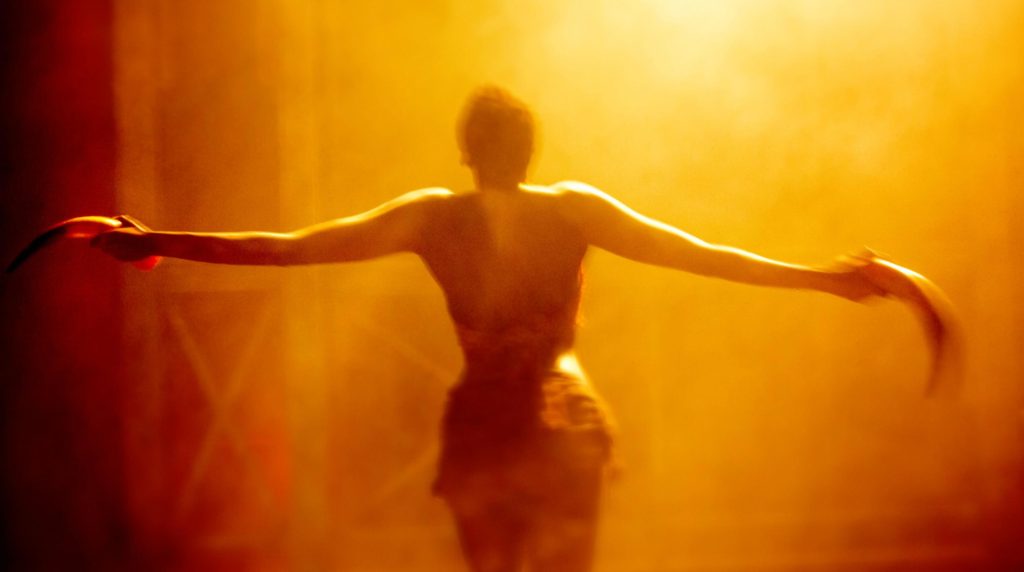 You'd know a Yaël Farber production at 100 paces. The air sweetly smoked and full of noises. The lighting crepuscular but sharded with moonlight. The movement deliberate, registering the actors' full body weight. And that's all before anyone speaks a word.
Becoming intimate with a director's style and sensibility is a theatregoing pleasure. It's not the author who delivers the screed or the actor who makes it live before us. Their work is unseen yet irresistible. Some directors have a style so transparent you can't confidently identify it; others a trademark that stains each piece like a tattoo, building on previous successes or (less happily) repeating them.
All the freight it can carry
Farber – a South African artist now living in Canada – has become an increasingly familiar theatrical auteur in Britain. She made her name at the Edinburgh Fringe in 2012 with a Zorro flourish (Mies Julie), and has since created work for London's prestige spaces – the Old Vic, National and Donmar theatres. Two of these productions (The Crucible and Salomé) were also screened in cinemas to an international audience.
The environments Farber creates are distinctive – elemental, all-embracing. Every inch of her world is filled, dense with soundscore and dusty light. That can be riveting – especially in Lorraine Hansbury's Les Blancs, a rediscovered epic of colonial Africa given the weight it deserved, all the freight it could carry to portray a land in flux.
But without the scaffolding of a steel-frame text, the style rots and cloys. Salomé – Farber's own panting adaptation of Wilde, the Bible and the Coco de Mer catalogue – was an overripe dud, because the language was as portentous and blurry as the visuals. But a dud, even if penitential to sit through, can be useful to think about – it shows the edges of an approach, the borders of a territory, a director's places of safety and adventure.
Mies Julie, in retrospect (though not only retrospect, as it returned to Edinburgh this summer), may have been an outlier. The rapid get-in demanded by fringe venues in festival frenzy doesn't allow for painstaking control of sound and light, for monumental visual statements. As Strindberg's play is rethought in post-apartheid South Africa, with race intensifying the wounding arguments about gender, an earth-floored kitchen must stand in for the entire contested nation. No revolving stage, no chorus – it's a domestic interior with the immensity of a landscape.
David Harrower's Knives in Hens is another intimate play with epic force. In Britain (though not elsewhere in Europe) it is a studio piece (it premiered in 1995 at the Traverse and Bush theatres). Just three characters knotted together in a story that might be a bawdy tale from Chaucer or Boccaccio, or a Hardyesque bind of misery. In pre-industrial somewhere, an unnamed woman works with her ploughman husband, until the despised neighbouring miller offers the potential of language so that she can begin to rethink her world. Like the texts of Farber's most successful productions, it feels written in flint and stone, words so harsh and heavy you could almost grasp them.
And here the hewn force of the design comes into unsparing focus. The unremitting soundscape by Isobel Waller-Bridge and Christopher Shutt, always on the edge of melody, suggests the woman's unvoiced world about to take shape. Soutra Gilmour's set in the half light – a stone floor lost beneath soil, a vast millstone looming at the back wall (no designer works more intensively through shades of grey as Gilmour: she's unmatched in charcoal, dove, slate). Tim Lutkin's lighting pools in weak sun and candlelight, dusted with handfuls of the miller's flour.
It's an elemental environment; but a world that is slowly leaving the enduring familiarity of the elements behind, edging towards the industrial revolution. To read, to write is to look within but also beyond. Communication, maybe even with persons unknown, wriggles free from the imperatives of sunrise, sunset. Farber's production is terrific, not just because it explores the sombre triangle of relationships with such rough-sweated precision, but because it summons a world that will pass, has passed, may be forgotten. The style that makes this world also unmakes it. It's the essence of Farber's style, and contains its own challenge.
Follow David on Twitter – @mrdavidjays