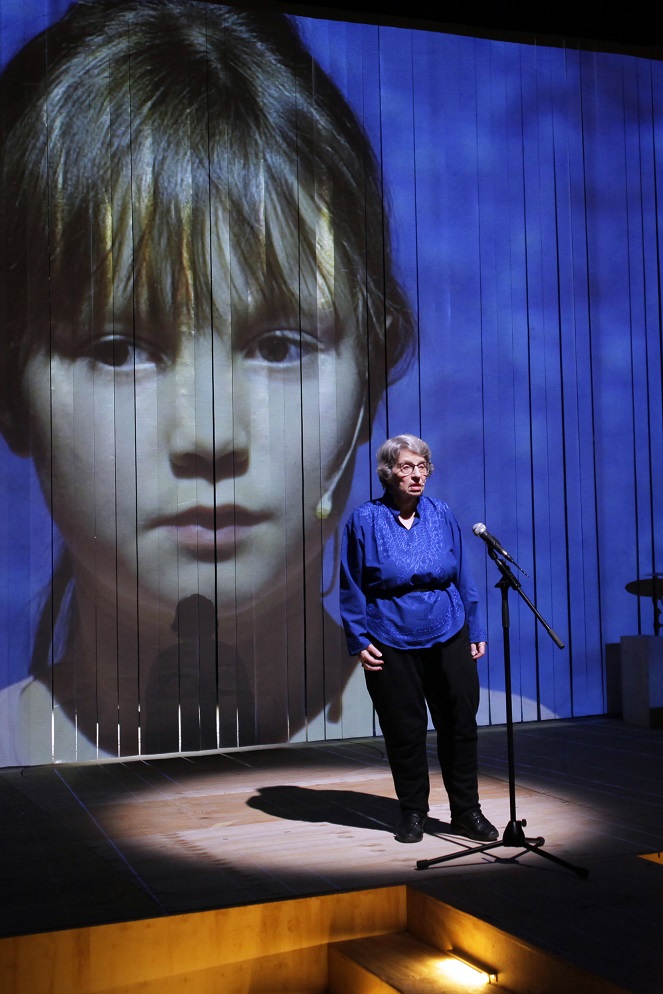 It's hard to dismiss someone who looks you in the eye and tells you their truth. We were in the front row for Atlas des Kommunismus at the Gorki Theatre in Berlin, so the amateur performers could and did catch our gaze – amateur because they were there to tell their stories not to dazzle with professional sheen.
This is a documentary play from the Argentinean director Lola Arias – whose Minefeld in LIFT last year was equally arresting, performed by veterans of the 1982 Falklands conflict. Atlas des Kommunismus is more ruminative – a citizen's relationship to tumultuous events isn't quite the same as a soldier's. But Arias cuts the speakers' recollections with theatrical panache – political anthems, melancholy ballads, famous speeches embodied by a nine-year-old girl. The cast don costumes, grab instruments, manipulate the cameras during live film sequences. Sitting on both sides of a traverse stage, close-up video of performers with their backs to us is projected on a fluttering paper barrier across the stage. (Is this the wall? So flimsy, so fragile? How did it hold up all that time?)
A history of communism might be male – Lenin to Gorbachov, Honeker to Helmut Kohl. Men – straight, governmental men – stamping their names in the record, their deeds in the chronicle. Arias' atlas is different – seven private women and a self-styled dissident queen marking out the boundaries of ideology by the impact upon their own lives. This isn't just a bottom-up telling but also a beguilingly sideways one.
The older speakers have been through the ideological wringer – living under fascism, embracing communism as a shining alternative, watching the shine come off. The middle aged came to adulthood with the socialist state already in place, so knew more of its shackles than its sparkle. The young activists, for whom identity politics are vital, long for such simplicity.
A woman in her eighties (Salomea Genin, pictured above by Ute Langkafel) describes being willingly recruited by the Stasi. She reported on the lives of others: friends, neighbours, colleagues – including, possibly, one of the other women in the piece. Slow-moving (she has a back problem, we're told), stern-featured, Genin carries the gravity of what she's done. She stopped working with the Stasi before the wall fell – and, bravely, straight away began telling people what she had been doing. It's a life worthy of a play in itself.
Everyone announces their age and relationship to this material as the piece began. For some, there's a poignant distance between the people they were and those they are now. The self-contained middle-aged stoic who bursts into snarling song and stompy movement as she relives her punk youth ('Nazis! Nazis! Nazis living in East Berlin!'). The Vietnamese woman, sent to Europe on a harshly-monitored student programme, describing decades of prejudice and privation as she made her home in the GDR.
Tease out the truth
These aren't professional performers. They shuffle, stumble, in one case read from file cards. Yet their amateur status is their authenticity. It's harder to know what to make of the elegant Ruth Reinecke, a member of the Gorki ensemble, whose anecdote concerns an adaptation of Three Sisters at the theatre in the last years of the east German state. Her warm professional poise occupied a different register to the people around her.
Far different was the irrepressibly twinkly Monika Zimmering, who looks utterly delighted to share absurdist stories or bang a pair of egg whisks as percussive accompaniment. Yet she's the most conflicted when recounting the decline of east Germany. She resisted a move to the west, but doesn't recognise the country regrouping around her. She stayed still, she says poignantly, but the country moved. The old GDR may have betrayed her hopes for a just international socialism – but it was still a repository of those hopes, however flawed.
Verbatim and documentary theatre can – and often do – feel fake. The National Theatre's calamitously wrong-note My Country sought out anxious voices of the Brexit debate, only to parrot them through accent-audition performances drained of all conviction. (And let's not forget the poems. I may never forget the poems.) Public-address voices, knotting a degree of stiltedness alongside the suit and tie, sound greyly convincing (as in the series of tribunal-style reconstructions directed by Nicholas Kent). Far happier are the verbatim texts swirled through a theatrical shape by artists like Alecky Blythe or Nadia Fall.
But Arias' speakers offer their own words in their own voice. Political systems engrave themselves upon their citizens – whether embraced, resisted or simply endured. That's why we listen, to tease out their truth and perhaps relate it to our own. Teetering as we are on the verge of a new world order, it's useful to look back at what an old world order felt like, for good and bad. I'm writing on the day before Britain votes in a general election. The last time we did this, I went to the theatre and allowed myself unguarded optimism. This time, I'm keeping my hopes in check.
Follow David on Twitter – @mrdavidjays