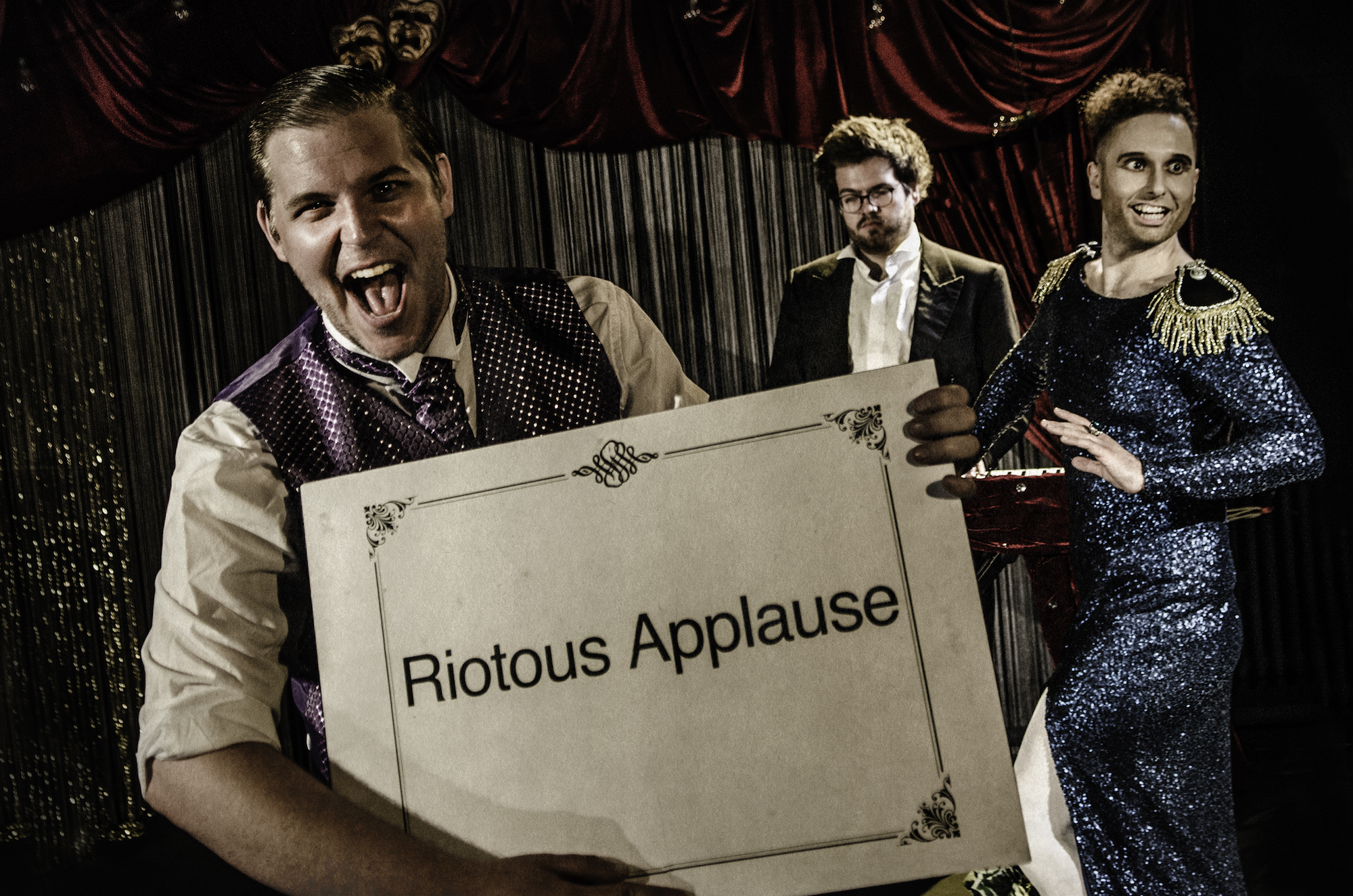 Tales from Edinburgh 1
What do you do when the world is broken? You can do worse than laugh. My usual taste is for dystopia, plays for endtimes that will sob you to sleep. I don't go to the theatre to enjoy myself, thankyouverymuch, I get enough of that at home. And yet, a brief scurry through the Edinburgh Fringe unexpectedly skewed towards the bright – raucous, ramshackle theatre which took on alienation and austerity through the medium of chuckle.
Shôn Dale-Jones, the Welsh theatremaker who often appears as his alter ego Hugh Hughes, works where whimsy meets integrity. The Duke, his solo Edinburgh show (Hoipolloi at the Pleasance) is about mid-career disappointment, about gestures that attempt to repair hurt and ameliorate pain. Shôn's mother, he tells us, has broken a figurine of the Duke of Wellington – her late husband's prize possession – and spins a shaggy-dog story about replacing it. A cop turned porcelain collector; a mysterious aged benefactor; a gaggle of pals and a treasure hunt and a car chase. It's a cockle-warming British comedy right there.
At the same time, Dale-Hughes struggles to turn his fantasy script about the island of Anglesey into a bankable screenplay. Each of the producer's sweeping, mandatory changes (it's fine, but Anglesey must become Manhattan) represents a pummelling compromise. (I hope it's not a betrayal to suspect that a hard-nosed movie producer may be right to doubt the commercial potential of Shôn's dream project).
Storytelling is a community-building medium – it feels personal – and narrating the show from behind a table, Dale-Hughes is a charmer, though his pre-show banter reveals a spikier persona than his eager grin suggests. He's a dreamer, but not a fool – and he wants to do the right thing. To make his ma happy, to make work he can be proud of, to gather a community of friends and, most ambitiously, to help refugee children arriving in Europe. He manages to tie those threads together and finally to make a practical contribution to the vast problems he identifies. Tickets are free, but audiences are invited to donate to Save the Children ('I wanted to make a piece of work that is as tangibly helpful as possible, and which has a real and concrete function,' he has said). The Duke won't mend the world (compensate for a lost husband and father, transform his career or solve the refugee crisis); but it may recalibrate our resolve to make it slightly better.
If you can't change the world, run away to the movies. Welsh playwright Alan Harris' Love, Lies and Taxidermy (Summerhall; produced by Paines Plough, Sherman Theatre and Theatr Clwyd) is a cheerfully ramshackle romance set in Merthyr Tydfil. No one mentions austerity, but they don't need to: in Merthyr (aka 'a shithole'), Tesco squats in the centre of town like a behemoth, wiping out trade for Mr Tutti Frutti's ice cream van. Aspirations are squeezed, and although the register is that of a caper (plotlines revolve around amateur porn, the world's smallest cinema, a stuffed owl that conceals a stash of cash), the context is economic gloom. Hiding out at Titanic or Pretty Woman seems plausible.
Harris writes dialogue with bounce and some great gags. A cute cast (Remy Beasley, Richard Corgan and Andy Rush) play multiple roles, interrupt their own and others' lines with quippish commentary, skip away from solemnity. The play is eager to please as a waggy-tailed dog, though its scamper to the finish line runs out of steam – the drawback of the fringe's standard 60-minute format, which cubes everything into breathless anecdote.
Rancid absurdity
Weirdly, the plot also hangs on the local branch of the Conservative Party – very much supporting players in Wales, which suggests (to be portentous) how little credit Harris gives mainstream politics as an agent of change. The same is true, times loads, in Sh!t Theatre's Letters To Windsor House (Summerhall), a piece made from and about the performers' illegally sublet, supposedly former council flat. Like so many London districts, Manor House is being viciously gentrified and economically cleansed. It may sound appealingly rustic, they point out, but Manor House, was named after a long-gone pub. Their block, Windsor House is one of four named for royal residences (alongside Buckingham, Balmoral, Holyrood) which represents either wishful thinking or bitter irony.
Rebecca Biscuit and Louise Mothersole are young theatremakers who inhabit a landscape of straightened opportunities. They're immensely pragmatic. They don't sentimentalise about community past or present. They don't know their neighbours – hell, they don't always like each other very much. They don't expect much can change – instead they get stuck into the rancid absurdity of ads for upscale housing developments (images of Harrods brazenly included), pulled between city slickery and fake arcadia. Of council helplines who shy away from investigating fraud ('In all fairness, that could be you someday'). Of the income-sucking rental market that seems to squash any chance of them moving on from their deathtrap flat. It's a London that is heartsinkingly familiar.
Their rage is subsumed in facepaint, selections from Oliver!, cutprice disco lights and a witty rummage through mail addressed to the flat's former tenants. This, the show's enticing hook, is a bit lacklustre – they try a bit of a Google, a flirt with Facebook, but don't turn up anything wildly exciting about their predecessors. Only a bloke who incongruously received catalogues for baby products piques their interest and gets them investigating/stalking, not to mention composing an alarmingly infectious ditty ('Rob Jeacock is an adult baby!'). Sh!t Theatre have little faith that they can either change the world, or avoid it. How long will their sharp, harsh enjoyment of it last?
Go down in flames
If the world won't support you, you might as well go down in flames. Seiriol Davies fashions a surprising and continuously delightful show from the biographical remnants of Henry Paget, fifth Marquis of Anglesey, a glitteringly fey Edwardian who lived lavish, died young, and was scrubbed from the records by his appalled descendants. How To Win Against History at Assembly George Square makes him a musical (a grand opera might be more fitting, but harder to achieve in a three-man show in a hot little theatre – 'our microwave').
After years in which Eton chaps have ruled us or parlayed their grinding snobbery into our so-called entertainment (bloody bloody Julian Fellowes), then there's something pleasing in seeing their entitlement turned upon them. In some ways, Henry refuses all the rules of his class: he razes the chapel to build a theatre; embarks upon a paper marriage and a ruinous career; dies at 29 in Monte Carlo. But at the same time, he takes that sense of entitlement and runs with it: he sings and dances and wears epaulettes and sequins and ribbons all at once, because he's a marquis and who's going to say anything? This is the spirit that won, and lost, an empire, with added eyeliner.
Davies and his collaborators give it a musical register that veers between X-Factor confessional falsetto and Gilbert and Sullivan patter; a dance vocab that's all scoosh across the stage and trembles on the brink of jazzhands; a performance style that is unerringly wide-eyed, beaming sweetly at disaster. Davies whittles down his voice to a quiet, sad refrain beginning 'Regrettably' whenever the Marquis makes a misstep (regrettably often). The paucity of surviving fact means that the production can shove speculation into a sparkly outfit and make it sing. It's an act of defiance that refuses a straightened world's rules of conduct. The show becomes a fopulent treat, a reminder that while history is written by the winners it can be sung by the fabulous defeated.
Photo, top (How To Win Against History), by Rah Petherbridge
Follow David on Twitter: @mrdavidjays