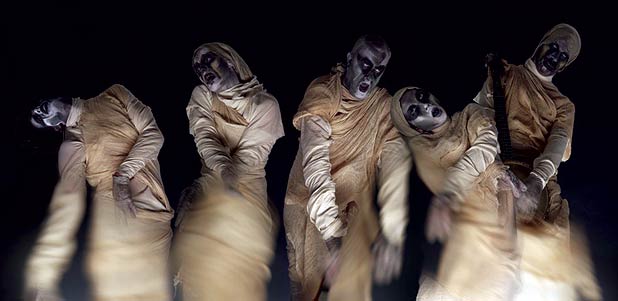 Dance: such a fragile artform. Written in bodies, tucked in memories, if it isn't seen, it dies.
I was reminded of this melancholy fact by two recent reports. First, the Swedish choreographer Mats Ek appeared to announce that he was calling a halt both to new work and to revivals of his pieces, as he wasn't prepared either to supervise them personally or let them proceed without him. It was a surprise – Ek is only 70 – and a sorrow too: it seemed that a major European choreographer's oeuvre might disappear at a stroke. (The decision had added poignancy as Bye, his rich solo for Sylvie Guillem, was the coda to her own farewell programme last year.)
Yesterday, Lloyd Newson, director of DV8 dance theatre, announced that he was taking a break from the company he co-founded 30 years ago, and that its work would be put on hold. Newson's investigations into sexuality, religion and the limits of tolerance (most recently, John) have been ambitious amalgams of squiggling movement and highly-charged interview: they no doubt demand vast reserves of time and energy.
In a subsequent interview, Ek suggested rumours of his retreat were exaggerated. He told Roslyn Sulcas that he wanted to 'get off the road' for a while: 'for the next two years, I am making a definite stop to performance and production and selling my works… If I want to come back to work with stage art in various forms after this experience of otherness, I will. And if not, I won't.'
Like Bagpuss, when the choreographer goes to sleep, all his works go to sleep too. Dance is unusual in tying works of art so closely to their creator. If a playwright takes time out, their existing texts are available for exploration. If a playwright dies, an estate may face difficult decisions about how to keep the work alive (as I discovered last year), but scripts are not interred with their author.
Dance is different, especially beyond ballet companies, who can maintain work in the repertoire and have made decisive strides in ensuring it is comprehensively notated and recorded. But, especially in contemporary dance and single-artist-led companies, the work is more dependent on the creator's presence. No one other than Newson will revive DV8's back catalogue (though it would be fascinating to see what would happen if they did). If Ek stuffs his dances under the floorboards, they may fade from view. Unperformed is unremembered.
Last autumn, I saw an eyes-on-stalks mash-up of work by Lea Anderson, who in 2011 lost funding for her companies (pictured top in Dance of Death) the Cholmondeleys (ladies) and Featherstonehaughs (gents). 25 years of inventive, gender-savvy and hilarious work vanished in an instant. In October, Anderson devised Hand in Glove for London Contemporary Dance School students: a brilliant collage of back-catalogue snippets, including amazing Elvis retreads, Weimar visions and Egon Schiele contortions. Many of the sequins, merkins and other astonishments were designed by Sandy Powell, now garlanded film designer (Carol). Hand in Glove will also appear at the V&A in April. But, with no company to sustain her, when will we next see Anderson at work?
I've written before about how it would be wonderful to see ballet companies take a fresh look at the artform's classics, new visions of its swans and princesses. How interesting it would be to revive modern dance works in the same way – to see if they are amenable to new stagings, radical new readings, being danced on new designs and bodies from another (dance) planet.
Slowly, some moves are being made to break the single-artist model – to save them from the Sisyphean grind of sustaining a body of work by will alone, to ensure it doesn't disappear when it all becomes too much. Film is doing a lot to widen the pool of available resource – the merry archivists of YouTube are heroes against oblivion – but live performance is where dance breathes. Some American companies are widening their pool beyond a single artist – notably Paul Taylor and Stephen Petronio, each of whom is welcoming modern classics by other choreographers into their repertoire. But until we find a way to think about the art beyond the artist, and about the work as distinct from its creator's will, then we may continue to shed brilliant dance without even noticing.
Follow David on Twitter: @mrdavidjays