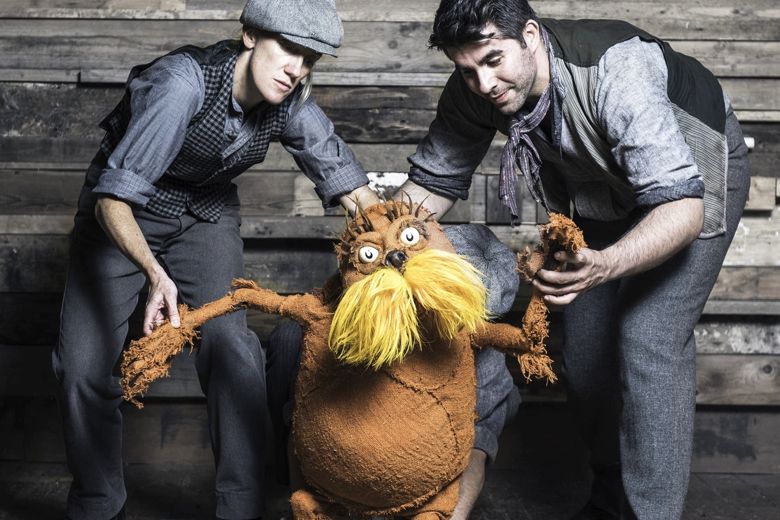 As a child, I was never afraid of the dark. I don't mean actual nighttime (you don't achieve inky darkness in light-spilling London). But cruelty, sorrow, isolation: these thread their way through many of the best children's books, reaching out a hand to the solitary reader in his ladybird dressing gown and first pair of glasses.
That doesn't mean gloom-drenched stories. Quite the reverse. My favourite protagonists – from Alice and Paddington to Abigail's Raven – were individualists, propelled by curiosity and a stubborn sense of integrity, which helped them navigate adventures and assess the baffling demands of an unpredictable adult world. Loss and peril might thrum behind them, but didn't preclude wit, ingenuity or sheer fun.
It's the same in the theatre. Delicious darkness steals into several holiday shows. Jon Klassen's poker-faced book I Want My Hat Back – a stone-cold modern classic – implies a conclusion of gore and injustice. Joel Horwood's National Theatre adaptation – which I haven't seen, to my sorrow – reportedly enacts Bear's grim retribution upon Rabbit. Scarlet ribbons all round.
Several family shows I've seen this month are happy to dance with the dark. wonder.land is the National's flashy update of Lewis Carroll's Alice adventures; Stephen Sondheim's fairytale mash-up Into the Woods was revived in Manchester; and the Old Vic produced eco-parable entertainment in Dr Seuss' The Lorax. Each may send you out sadder but wiser. Growing up is full of fear. Sometimes people leave you. Nature may not survive our greed. Happy holidays!
If each of these ambitious, large-scale shows sounds like a downer: well, they are. Matthew Xia's unfailingly lucid production of Into the Woods shuns the warmth of the recent Disney movie, and can seem overly earnest. Archetypal figures get bogged down in ethical quandaries and bereavements as they negotiate life in the happy-ever-after. Actors like Amy Ellen Richardson as the intrepid Baker's Wife or David Moorst as giantkiller Jack (so good in Gary Owen's Violence and Son, as another awkward adolescent with an overactive fantasy life) make every word count. If that means that Cinderella and Red Ridinghood get the bounce knocked out of them – well, that's what life does to you, kid. Yet the ripple of Sondheim's lyrics – backtracking rhymes and sharp puns – doesn't cease, even as they have to frame sombre subjects. They're a survival guide in themselves.
No escape from the witless
Carroll's corkscrew imagination – he was a rogue mathematician, letting logic roam into play – does something similar in his Alice books, as his heroine squares up to tyrants, tea parties and shape-shifting cats. Her resolve and questing scepticism form a tool kit that would stand anyone in good stead – 'You're nothing but a pack of cards' is a constant motto. But the National's misbegotten wonder.land steals that tenacity and sinks into self-regarding gloom. Damon Albarn of Blur, working with playwright Moira Buffini and the National's artistic director, Rufus Norris, makes his Alys a contemporary troubled adolescent (broken home, bullying school) and wonder.land her online refuge. A virtual gamescape makes sense – with attendant messages about internet safety and real life confidence – but what sinks the piece is the relentless misery. Everyone is unhappy, and bewails their woes at length – not just Alys, but her friends, her estranged parents, even the prime villain, a Cruella headteacher who laments her social isolation and trust issues.
However whizzy the production – and the costumes, video and choreography keep producing the dazzle, from sculpted fantasy clobber to a glittercannon teapot – there's no escape from the witless. Buffini nailed quixotic female agency in her zingy comedy, Handbagged, about the Queen and Mrs Thatcher. This glum trudge, on the other hand, was the only review gig this year that I longed to abandon. Damn you, sense of duty.
Puppets and muppets and trousers and wigs
If you think these fables of emergence into adulthood are grim, how about the death of the planet? The woofly-moustached Lorax, in Dr Seuss' slim, sad narrative, fails to prevent the Onceler from wiping out his beloved woods: helpless against the profit motive and the chainsaw. As a plotline, it's a stark, downwards diagonal. The Onceler, an inventor-turned-exploiter, chops down the truffle trees to make their lovely tufts into the essentially useless, bafflingly profitable thneed. There follows deforestation, pollution and eventually devastation. Happy holidays!
The sombre plot is nonetheless energised by the madcap relish of all involved. In David Greig's smart adaptation, the Onceler (a gleefully limber Simon Paisely Day) retains the kernel of idealism that made him strive to escape his subsistence upbringing. Destruction runs alongside dreaming. And the infectious rhyming never runs dry. Greig expands Seuss' text with pun-stippled glee, while Charlie Fink's songs are a genre jamboree. The actors all double and triple their roles. Trees unfold from the ground and then shrink into holes. There are puppets and muppets and trousers and wigs, as the Onceler's destruction just biggers and bigs. (The rhyming's contagious, I've caught the disease. Just creep away quietly – shut the door, if you please.)
Sorry about that. I mean that Max Webster's production rescues a helpless story from despond, because it insists that we each hold the seed of imagination and invention – and that we're not helpless.
There's no reason why family shows should be primarily celebratory, even at Christmas: children, like anyone else, can cope with troubling ideas and muddied emotion. Each of these sad-face productions carries a slightly anxious freight of message from their adult creators: Sondheim's Manhattan liberalism, or Albarn's acutely modern insistence that we are defined by our pain. In The Lorax, Seuss' hippyish innocence meets our climate-changed sense of futility, but holds faith with the future. The ushers hand out packets of seeds as we leave.
Follow David on Twitter: @mrdavidjays
Image at top: Laura Cubitt and Simon Lipkin with the Lorax. Photo: Manuel Harlan