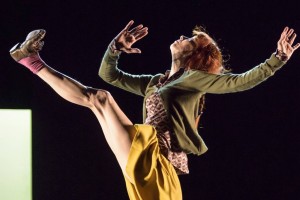 Sylvie Guillem and the changing shape of a dance career
The options for a dancer when the plié turns to rust have conventionally been restricted. Teacher, family or ballet mistress. Some became choreographers or artistic directors; others, it was rumoured, were lured behind the opera house with the promise of fresh pasture and sugar lumps and never heard from again.
Sylvie Guillem changed all that. The French star's choices have widened the sphere of what a dancer's second act might look like. When she stopped performing the major classical roles in her mid-30s – rather earlier than anyone expected – she took a decisive swerve into contemporary dance. The pieces she made with Akram Khan (Sacred Monsters), Russell Maliphant (Push) and William Forsythe (Rearray) are highlights of the last decade of dance.
Now, at 50 – later than her predecessors might have done, yet somehow rather earlier than anyone expected – she has announced her retirement from dance. An international tour of her farewell programme – puckishly titled Life in Progress – has just played in London and continues until December, where it will conclude in Tokyo.
Life in Progress is, seemingly, the final chapter of a dance career in which Guillem – guided by instinct, integrity and intransigence – made her own choices and followed her curiosity, parlaying a new career as muse and maker. She isn't the first dancer to find an outlet for her mature skills (Mikhail Baryshnikov is the obvious example); but it's striking that she has done so without joining an existing organisation or forming her own company. In a profession long muted by deference, Guillem has refused to cede control of her own career.
Guillem's activism is directed towards environmental charities, but she's no union rep for ballerinas. If she has ever made a stand – against being miscast, not consulted, pigeonholed – it is because it was what she felt she needed. As Adam Cooper, her former colleague from the Royal Ballet and himself a defector from Planet Ballet, told me, in the hierarchical atmosphere of a traditional classical company, it didn't take much to appear like a stroppy renegade.
Of course, few dancers enjoy Guillem's stature. Yet even on the corps-face, the notion of a second act has developed in positive ways. As the toiling tutus and sweat-gunnelled soloists now reach retirement, there is far more help available to aid their transition into something more than default teaching or the quiet hysteria of the scrapheap. The charity Dancers Career Development is the most prominent organisation working with dancers in the UK, and encouraging them to get in touch before they retire, so that they can assess their skills and consider their options. When Sally Howard visited DCD for Dance Gazette last year, she found life coach Isabel Mortimer (herself a former dancer with Matthew Bourne) conducting a session and urging a ballerina to credit the qualities (dedication, collaboration, focus) that she had developed during a lifetime in stage and studio. Former dancers can become anything from florists to dry stone wallers – though they need a passion to replace the vocation of their first act.
On the money
For a far more select band of star dancers, Guillem's career suggests a new route: étoile as entrepreneur, ballerina as brand. Guillem herself doesn't seem to have shaped her post-ballet life with spreadsheet-hungry strategy – rather, she has followed her own instincts, identified collaborators who will provoke and get the best out of her, and allowed the results to speak to themselves.
Other leading dancers seem cannier about their choices. The stable of blue-chip international artists who blow into American Ballet Theatre each season – including Diana Vishneva, Natalia Osipova, Alina Cojocaru, and a new generation of male virtuosi like the Royal Ballet's Steven McRae and Vadim Muntagirov and the Maryinsky's Kimin Kim – have realised that a top-drawer career doesn't merely involve treading the cloisters of a single company, but making a name beyond its confines. Alessandra Ferri, 52, returned to the Royal Ballet this year as the central figure in Wayne McGregor's Woolf Works – a landmark ballet because it not only casts a mature dancer but makes her questing maturity the subject of the piece.
Guesting with intent is the first step towards building a brand around your unusual talent. Vishneva, who has paid tribute to Guillem's example, continues to dance with the Mariinsky but also directs her own international Context festival in Moscow and commissions new contemporary-slanting work; earlier this year, she told me that she was 'a role model for a generation coming after me.' Putin's Russia doesn't reverence leading dancers as did the Soviet era; on the other hand, Vishneva take control of her own career choices and, as she says, 'you get paid much, much more money.'
She, like Osipova, Ivan Vasiliev and others, is promoted by Sergei Danilian – the genially terrifying producer behind Kings of the Dance. He's no doubt on the money, though it isn't always clear that he and his dancers are on the art. Osipova and Vasiliev's Solo for Two programme last year was on the skimpy side; Vishneva's On the Edge double bill edged towards diva camp, letting her stalk and glare in a silver Lagerfeld frock.
Absorbed in movement
Not all of Guillem's choices met universal acclaim, but her strike rate for new work was unusually high; you can't dispute her taste or intent. On Life in Progress, her final programme, neither Khan's scuttling force-of-nature solo nor Maliphant's russet-lit duo are exceptional pieces, though both showcase her almost casual gifts – the ease with which she lifts a leg, shapes an arm, channels intelligence and intention through every move. She closes with Mats Ek's solo Bye (photo top by Bill Cooper): a piece of adult seriousness and childish curiosity, absorbed in movement. When I first saw it in 2011, it seemed 'like watching a lonely, imaginative child at play.' As a farewell, it hints beautifully at new beginnings. Guillem will no doubt go on to find new challenges beyond dance; her successors may find that she's blazed a trail that will make their own second acts far easier.
Follow David on Twitter: @mrdavidjays